Interested in taking your pup for a swim? Swimming is well-touted by owners and veterinarians alike as one of the most enriching (and exhausting!) exercise activities for dogs to engage in. It's great for their health and is also a fun way for you to bond with your dog.
There are lots of places you can take your dog swimming in Dayton, Ohio, and we're covering four of the best in this article: two indoor swimming pools designed for dogs, a new platform where you can rent private dog parks, and natural bodies of water where pups can dive in.
No matter what time of year, you can add swimming to your dog's routine to strengthen their bodies, build their stamina, and have a lot of fun in the process!
Quick Takeaways
Swimming burns more energy per minute than walking or running, and it's better for your dog's joints at every age.
Splash Your Pup and Flyer's Paw Zone are two indoor swimming pools in Dayton designed specifically for dogs.
Sniffspot is a platform where owners can rent private land as their own personal dog parks, and many come with water amenities for swimming.
Five Rivers MetroParks features tons of lakes, ponds, creeks, and streams where dogs can splash and swim.
Why should you take your dog swimming?
Incorporating swimming into your dog's exercise routine is one of the best ways to keep them fit, happy, and healthy at every age. The benefits for both you and your dog are manifold.
For one, swimming can be a time saver. According to Dr. Arleigh Reynolds, canine physiologist and surgeon, 1 minute of swimming is equivalent to 4 minutes of running for dogs. That means you can fit a fulfilling exercise session into a much smaller time block — a 15-minute swim, for example, burns as much energy as a full hour of running outdoors!
Just like for humans, swimming is easier on your dog's joints. It provides natural resistance and eliminates the hard force of gravity on your dog's body as they move. Joint-friendly activities are important for dogs at every stage of life. As puppies, their bones need protection as they form and grow. Preserving your dog's joints in their middle years can extend their quality of life later on. And for senior dogs, swimming can reduce natural joint pain that comes with age.
Finally, swimming is great for rehabbing sore joints or other more serious injuries (you should always get guidance from your vet in these cases) and for weight loss in overweight dogs.
Let's look at 4 places where you can take your dog swimming right here in Dayton.
4 Great Places to Take Your Dog Swimming in Dayton, Ohio
Splash Your Pup
Splash Your Pup is an indoor pool designed specifically to offer enriching swimming experiences for dogs. The 37-foot pool is available for owners to rent for private sessions at $25 per 30-minute session, $45 for a session with a trainer, or $125 for a 6-session package. One of its coolest features is the 27-foot dock that can be used just for fun or to train for competition.
If your pup isn't accustomed to the water yet, not to worry — life vests are always available for new swimmers. Note that every dog is required to attend an orientation session before they're eligible for private sessions.
Check out dogs in action at Splash Your Pup:
Private Dog Parks from Sniffspot
Sniffspot is a fairly new platform being hailed as the "AirBnB for dogs" — users can rent out their land and yards as private dog parks. When you join the app, you search for locations in your area and book a time for a rate that's usually around $10-15 for one hour.
In the Dayton area there are a few spots great for dogs who love to take a swim. The Puppy Wonderland is an entire 8 acres of trails and woods that includes a pond and a creek. Another 2.5-acre spot has similar features, plus some amenities (like a trampoline) for young human visitors, too.
Note that these locations are not enclosed by a fence, so your dog should have strong recall or be kept on a lead while exploring. If you'd prefer a fence, you can easily filter to see only places that are fully fenced.
Five Rivers MetroParks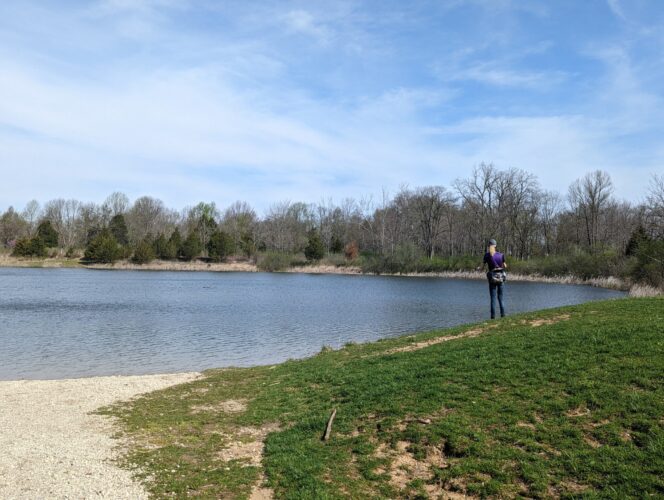 Five Rivers MetroParks is a hallmark feature of Dayton. Spread over an expansive 16,000 acres of land, you can find just about any type of terrain you can think of for your dog to explore — paved trails, meadows, wooded areas, and plenty of waterside areas to explore.
Across the 18 parks in the system are a number of rivers, lakes, streams, creeks, and ponds, and all but one park (Aullwood Gardens) is dog-friendly. That said, most require your dog to be kept on-leash at all times, so be sure to follow location-specific rules.
Flyer's Paw Zone
Flyer's Paw Zone is best known as a dog daycare and overnight boarding facility, but it also offers private pool rentals and assisted sessions for owners interested in swimming as an enrichment activity for their dog. Like Splash Your Pup, Flyer's offers the option for your dog to swim only or participate in dock diving.
Pool rentals at Flyer's are a standalone offering — you don't have to be a daycare or boarding customers to rent a session.
Moving to the Dayton area?
If you are moving to the Dayton area, Oberer Homes can help you find or build a home that you (and your pup!) will love. Contact us today to get started.