Creating an outdoor living space that's an extension of your indoor home is one of the top home building trends of 2022! Homeowners are going beyond the standard backyard patio seating to create relaxing, luxurious, and versatile spaces for their families to enjoy.
While this might sound like an expensive undertaking (and sure — it can be) there are plenty of DIY ways to renovate your backyard space without killing your budget.
Read on for 5 DIY backyard renovation ideas to inspire you to make your outdoor space your own. These can be completed in just a few days or weeks — in plenty of time to enjoy the fruits of your labor all summer long!
5 DIY Backyard Renovation Ideas
Define your separate spaces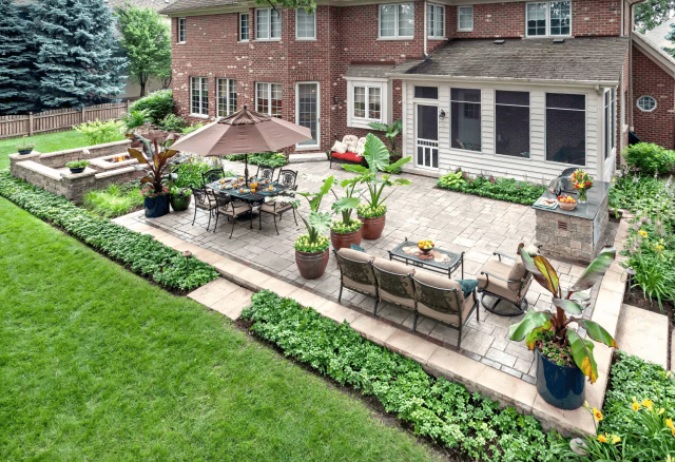 While we love an open floor plan (and most buyers do, too) our indoor living areas are defined for their purpose. We don't settle in to watch a movie in the kitchen!
Your outdoor space can be equally defined, creating separate areas for different activities you do in your backyard. You may want to separate your outdoor eating area, for example, from a space with more cozy furniture. Envision it: some family members or guests may want to sit around the table and socialize, while another may want to lay in the hammock and read. Now both can happen at the same time!
Similarly, you may want to position backyard games or your fire pit further away from your home for safety reasons.
Of course, your outdoor spaces will be separated more flexibly — not with permanent walls. Your backyard may be large enough that space itself is the separator. If not, you can try positioning furniture in a way that creates some space definition. You can also use hedges, lattice screens, or fences for walls.
Set the ambiance with furniture and lighting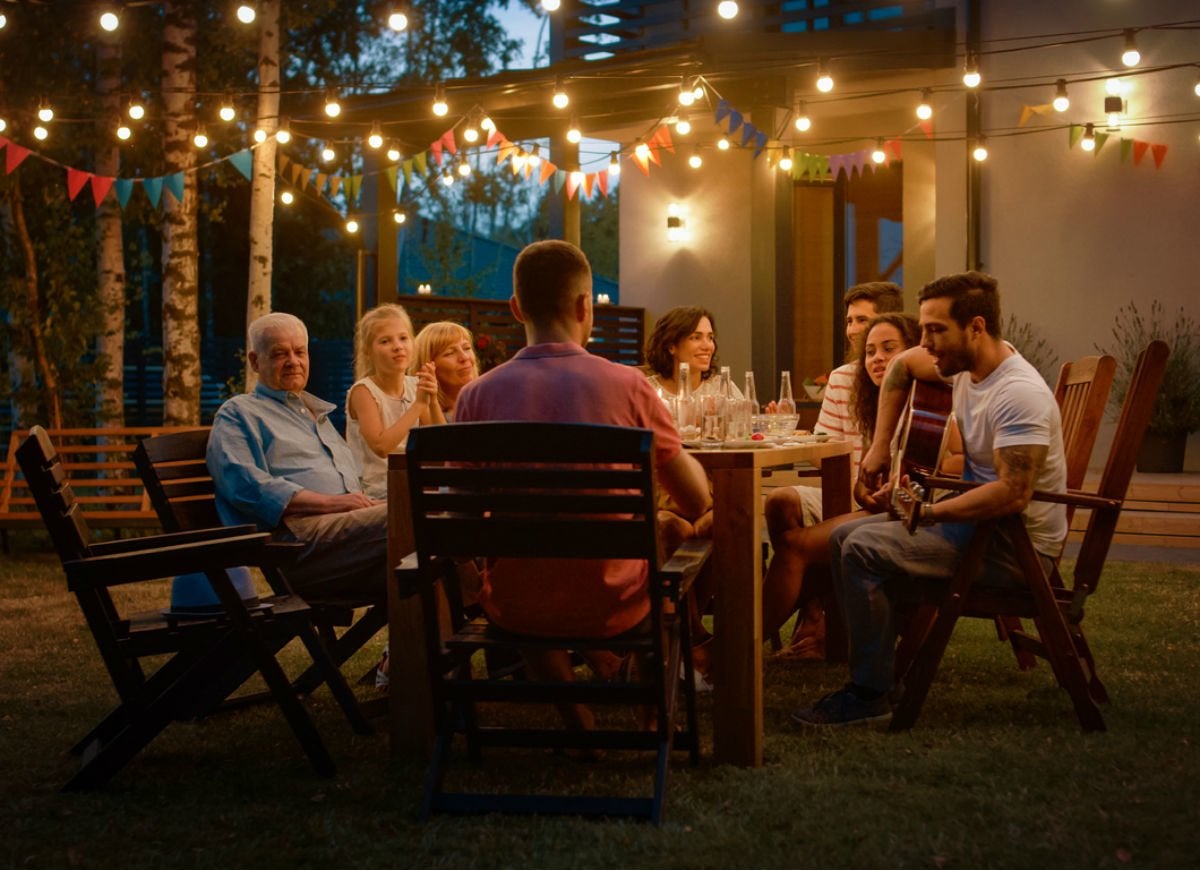 More than anything else, your furniture and lighting choices set the mood of your outdoor space. Updating your outdoor furniture or adding accents to bring it to life are two ways you can make your DIY backyard renovation complete.
Some quick DIY backyard furniture ideas:
Add weatherproof accent pillows to your outdoor sofas, chairs, benches, or poolside loungers to add color and an element of design.
Fill an empty nook in your backyard with a small bistro table and folding chairs.
Accent your outdoor tables with flower arrangements.
Hang a hammock between two trees (or a hammock stand) to create a cozy corner.
When it comes to lighting, you've got lots of options to keep your backyard bright even after the sun goes down:
Pathway and deck lighting keep your backyard walkable after dark and prevent tripping hazards.
String lighting hung on pergolas or trellises creates a warm ambiance perfect for entertaining.
Wooden lanterns and tiki torches are great for creating a more rustic look.
A spotlight can brighten up a particularly dark section of your backyard or keep a specific garden feature visible even at night.
Green, green, and more green!
One of the best parts of enjoying your outdoor space is the opportunity to connect with nature around you. No matter where you live — a big city or rural area — you can bring nature to your space with flowers and greenery.
The easiest DIY trick is to take care of the greenery you've already got in your backyard: grassy areas, trees, and existing gardens. If you don't have them but you do have the space for them, there are plenty of resources for learning the landscaping basics. You'd be surprised at how easy it can be!
Don't forget to add greenery to harder spaces, too. Driveway plants can be a welcoming way to lead people to your backyard space. Deck planters can add color and a natural element to the area. If you live in an urban area and your backyard is small, try a vertical garden to save space!
Build a pergola for shady space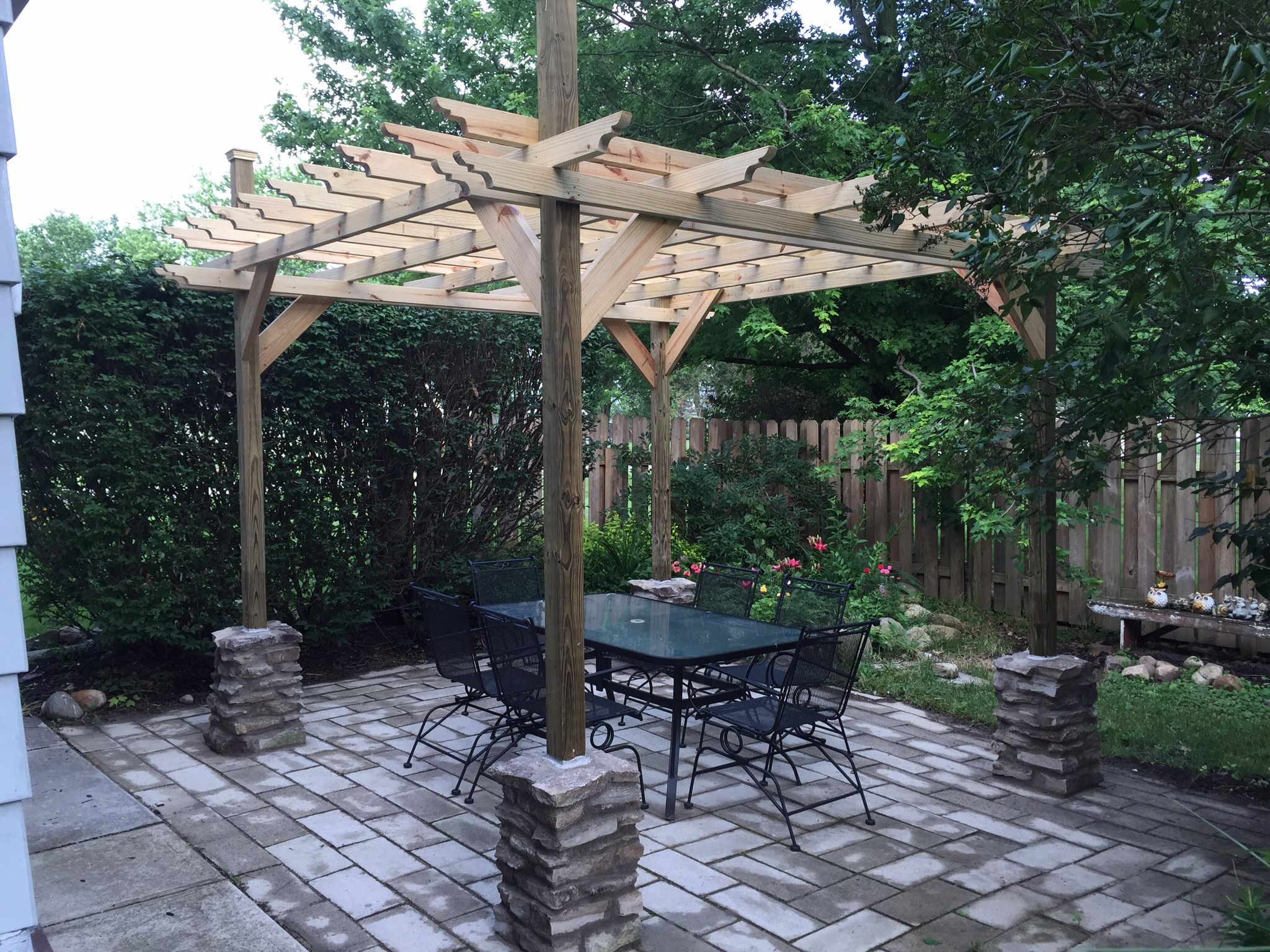 If you're looking for a more hands-on DIY backyard renovation project, we've got the perfect idea for you: building your own pergola! Pergolas create shade in outdoor spaces to make them enjoyable at every time of day — even during the sunniest hours of warm summer months. But they can be expensive to buy.
You can build your own pergola following this guide from HGTV. Below is a quick summary of the steps:
Choose a level site that can accommodate your planned pergola size.
Dig holes for the posts and pour concrete footers.
Prepare your posts (you'll need a circular saw, hammer, chisel, and sander).
Stabilize the posts with 2x4s and add 2×6 boards at the top.
Build 4×6 rafters and add them evenly spaced at the top.
The HGTV guide elaborates on each of these steps with specific instructions, plus a handy supplies list for the total project!
Build your own firepit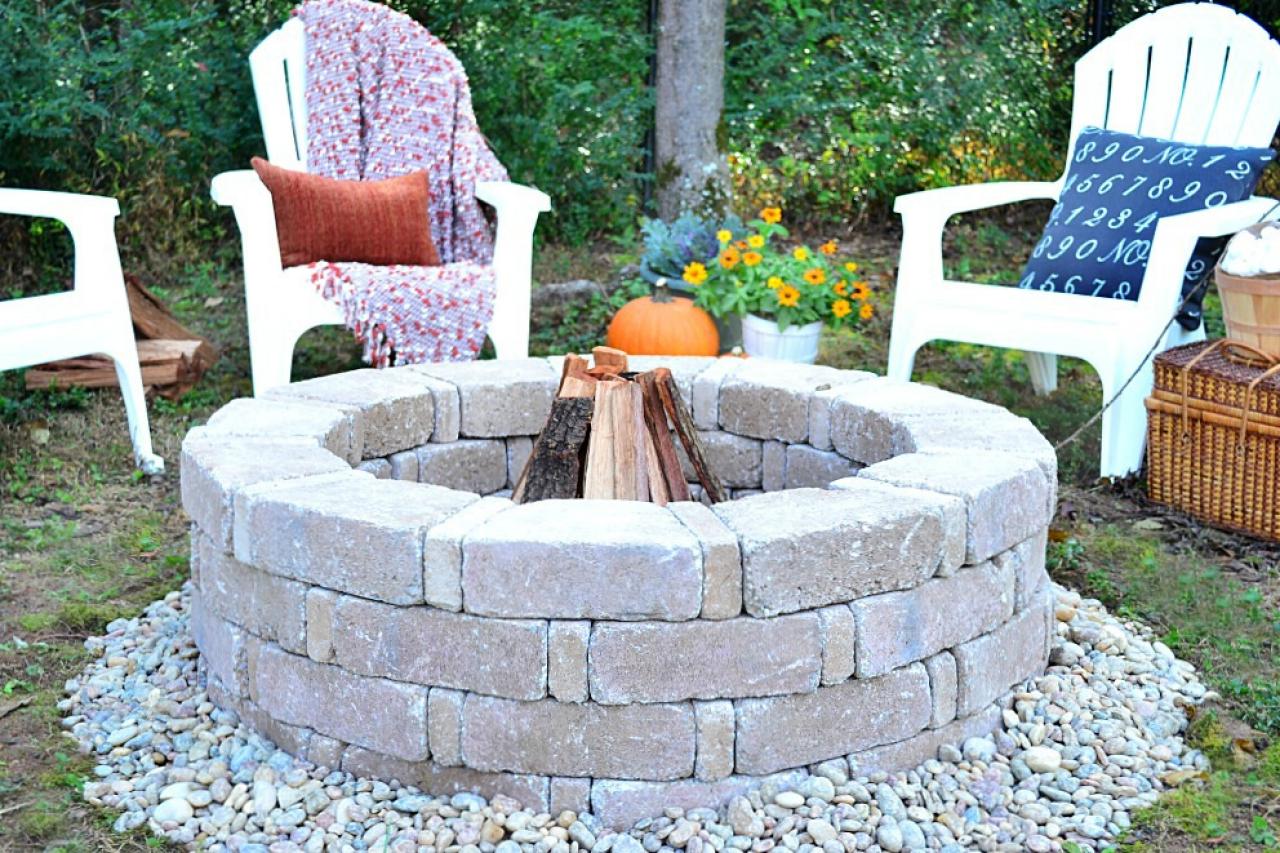 An even easier DIY building project is to build your own firepit! All you'll need is a level, shovel, garden hoe, rake, concrete wall blocks, and river rock. HGTV once again has a great step-by-step guide you can use to walk you through the building process. Below is a quick summary of the steps.
Create your circular foundation with small and large concrete wall blocks.
Use a level to be sure the foundation is even. Dig out underneath when needed.
Build up the sides of the fire pit with concrete wall blocks to desired height.
Clear the perimeter around your fire pit and add river rock to keep bricks from shifting.
Spread remaining river rock inside the fire pit for drainage and to reduce weeds.
Add a seating area around your fire pit and enjoy!
Get started on your backyard renovation
It's easy to let your outdoor spaces fall to the bottom of the priority list. After all, you don't actually live out there — and it can be a daunting project to take on! The thing is, even some of the smaller steps on this list like hanging lights or a few throw pillows make a huge difference.
Once you get started, you feel even more motivated to take on more renovation projects! Your backyard space will be one of your favorite places to be before you know it.
Are you moving to the Dayton area? If so, the team at Oberer Homes can help you find the home that's right for you. Contact us today to get started!