The pandemic turned the US housing market upside down — even completely shutting it down for a time. No one knew what to expect, but one thing is for sure: early predictions did not include the massive boom that occurred once the markets reopened.
Since 2020, demand for new homes has skyrocketed across the country, driven by historically low interest rates. And while it seems like prices and demand just keep going up, it can't go on forever.
So what's actually next for the US housing market? What can buyers expect to encounter if they're looking to buy a home this year or in the near future?
We've checked out what the experts are saying. In this article, we'll cover 5 predictions you can expect to see over the coming months.
Quick Takeaways
Rising mortgage loan interest rates will price some buyers out of the market and make higher-priced homes less competitive.
Home prices are expected to increase through 2022, but at a slower pace.
Inventory is expected to stay low across the US housing market, meaning homebuyers will experience longer wait times for a new home.
The end of pandemic-era mortgage forbearance programs is causing an increase in foreclosures.
Remote work permanence is driving more demand in suburban and rural areas.
5 predictions for the US housing market in 2022
Interest rates will increase
After historic lows in 2020 and 2021, interest rates are predicted to stay on the rise throughout 2022. Last month they surpassed 5% for a 30 year fixed rate mortgage — already higher than the forecasts of many top housing experts. These rates are comparable to what we've seen over the past few decades (before the pandemic), but mark a significant bump from the high 2s and low 3s many homebuyers were getting last year.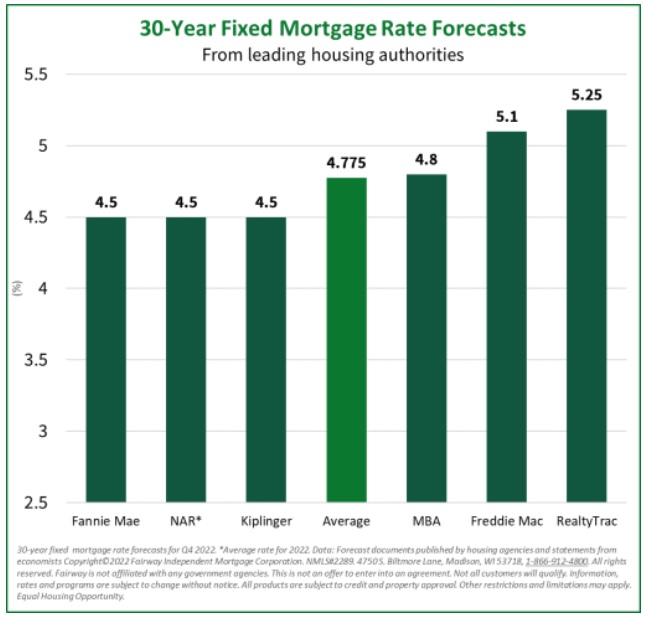 Higher interest rates impact both the number of buyers who can afford a mortgage and the price range people look for when searching for the right home. As rates go up, we'll see some buyers priced out of the market and less competition for higher-priced homes.
Prices will keep rising, but at a slower rate
Mortgage rates have been steadily trending upward for about a decade, but the pandemic saw a huge and unexpected surge amidst otherwise turbulent economic conditions. Historically low interest rates created opportunities for eager homebuyers. Between 2020 and 2021 home prices grew by double digits.
Experts predict that demand will stay high and prices will continue to increase, but at a much more moderate pace than we've seen over the past two years.
Inventory will stay low
Even as demand and home value skyrocketed, inventory remained generally low across the board over the past few years. At the end of 2021, homes on the market declined by nearly 27% compared to the same time the year before. Through the first part of 2022, all but four states have experienced low seller traffic.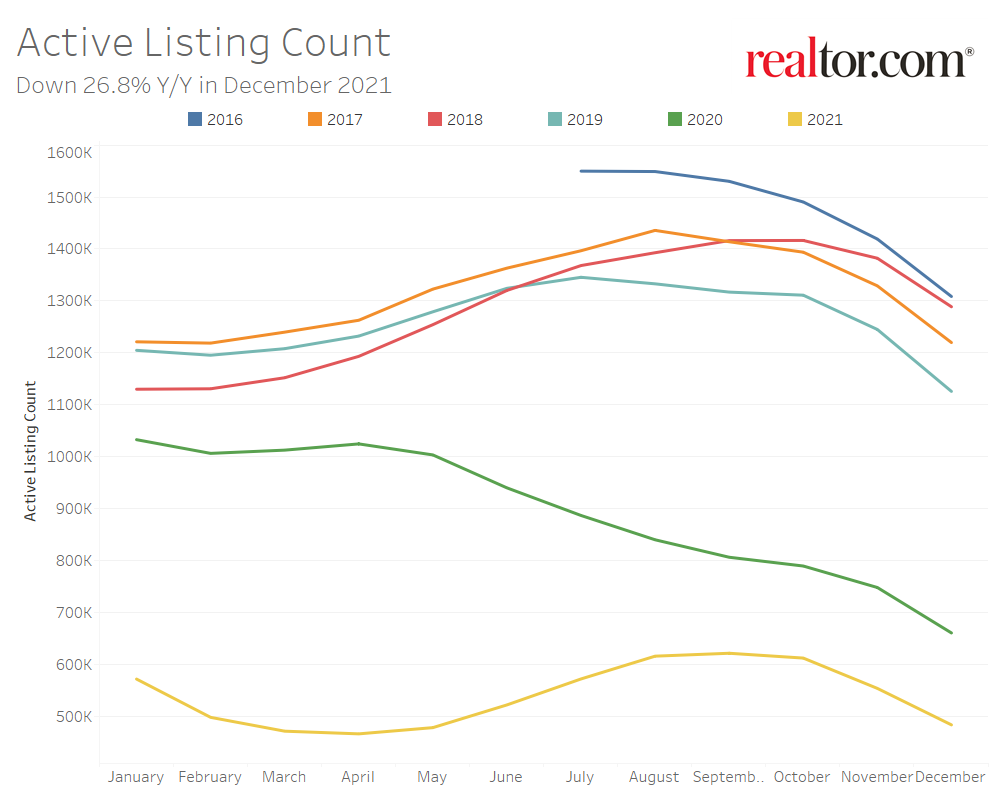 Lower inventory means buyers may have to wait longer than usual to find a home they love. Competition for homes that hit most of the checkboxes for the average buyer will continue to see high competition. Buyers may also become more willing to compromise on certain home features if it means finding a home in the right location and at the right price.
Foreclosures may rise
The pandemic period saw mortgage forbearance programs put into place to help homeowners manage the difficult time.  As those programs come to an end, the unfortunate reality is that many homeowners may not be able to make their mortgage payments. Homeowners who are still in forbearance in 2022 are likely experiencing more long-term financial hardships that impede their ability to make regular mortgage payments.
The end of 2021 saw bank repossessions and scheduled auctions increase by 37% to land at 67% higher than the same time in 2020. Experts expect homebuyer struggles with the end of mortgage moratoriums will extend through 2022.
Demand grows in suburban and rural communities
There's no doubt about it: for many professionals, remote work is here to stay. Without the requirement of showing up to an office, many people have begun to move out of urban cities to nearby suburbs and even more rural areas. People are finding that in these areas, they can get more home for their money (hello, home office!) and enjoy having outdoor property.
If you're a city dweller, moving to the suburbs is not without its sacrifices. Lower walkability and less to do in your immediate area are two of the biggest changes new suburbanites will notice. Still, the draw of more space and a community feel has driven many to look outside city centers.
In Dayton, that means well-known suburbs like Centerville as well as areas like Beavercreek and Huber Heights are seeing increased demand and home values.
Are you moving to the Dayton area? If so, the team at Oberer Homes can help you build the home that's right for you. Contact us today to get started!