Dayton, Ohio may not be near an ocean, but it has no shortage of beaches for locals to enjoy at one of its many fantastic lakes. Whether you're looking for a quiet, scenic walk along a lake shoreline, want to try a more adventurous activity like watersports or boating, or are looking for a place near the water to take in wildlife and nature, Dayton and its surrounding areas have lake options you'll love.
In this post, we'll cover the best lakes near Dayton and an overview of what to do at each so you can plan the perfect lake day (or weekend — many feature nearby campgrounds and overnight accommodations!).
Without further ado: 6 awesome lakes you definitely want to visit!
The 6 Best Lakes near Dayton, Ohio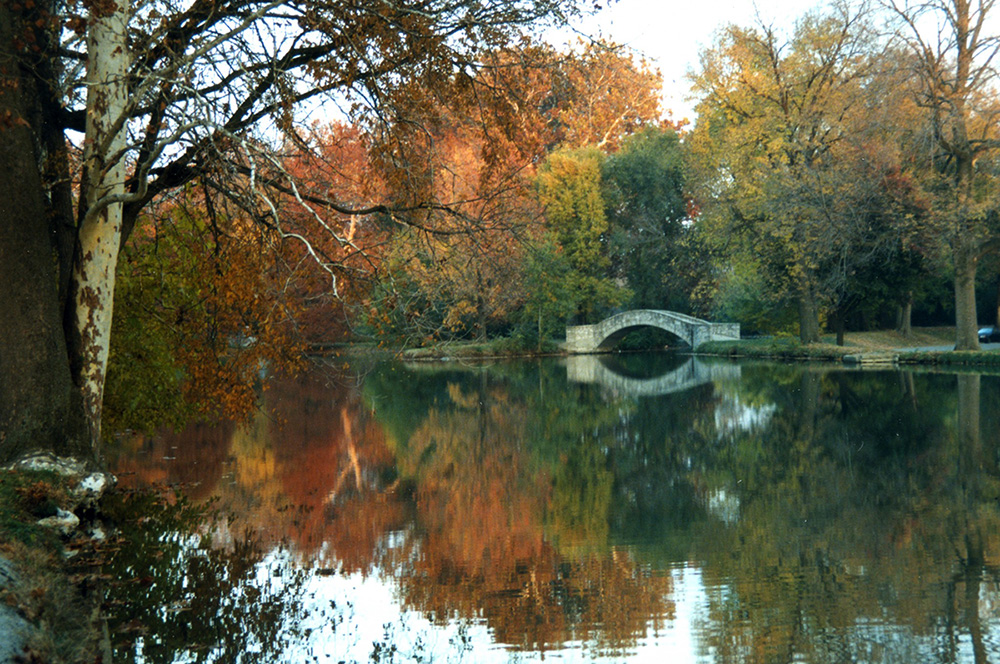 Located in Eastwood MetroPark, 185-acre Eastwood Lake and its surroundings are a hub of outdoor activity in the Dayton area. You'll find power boats, sail boats, kayaks, and paddle boats on the water (see the Lake's official boating schedule for guidelines) when the weather is nice, and it's also a popular fishing destination, including for night fishing (the lake is open 24/7 from April-October). Bird watchers in the area visit to observe the lake's populations of migratory species such as waterfowl, shorebirds, and osprey.
For locals, Eastwood Lake also provides a peaceful place to unwind and connect with nature. You can take easy strolls on the trails around the lake or find a place nearby to sit back, relax and enjoy the water view, including beautiful sunsets later in the day.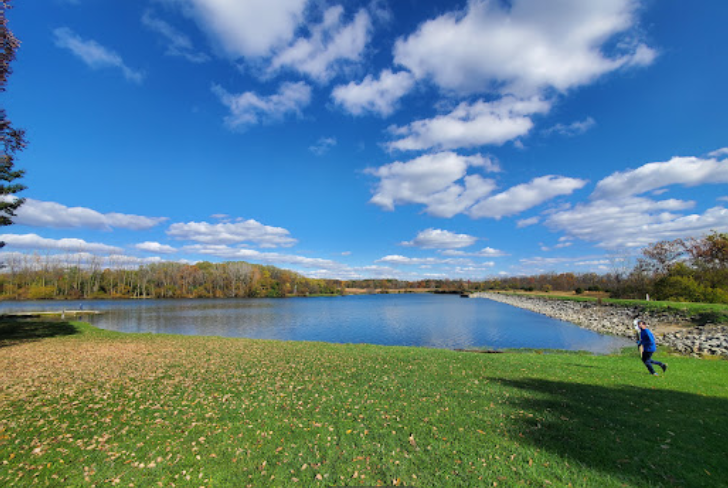 Cedar Lake is a picturesque fishing lake in Carriage Hill MetroPark. It's a quieter lake than Eastwood (it's smaller and kayaks are the only boats allowed) and its surroundings are serene. You'll find hiking trails along both the wooded and grassy areas around the lake, and in the spring and summer wildflowers bloom abundantly in many areas. Families and groups can enjoy time at Cedar Lake together by setting up at one of its nearby picnic areas.
Even better? Carriage Hill MetroPark itself offers lots to do in the wider surrounding areas, including a range of natural areas (prairies, forests, meadows, wetlands), a historical farm, a visitors' center with a history exhibit, and a horseback riding center.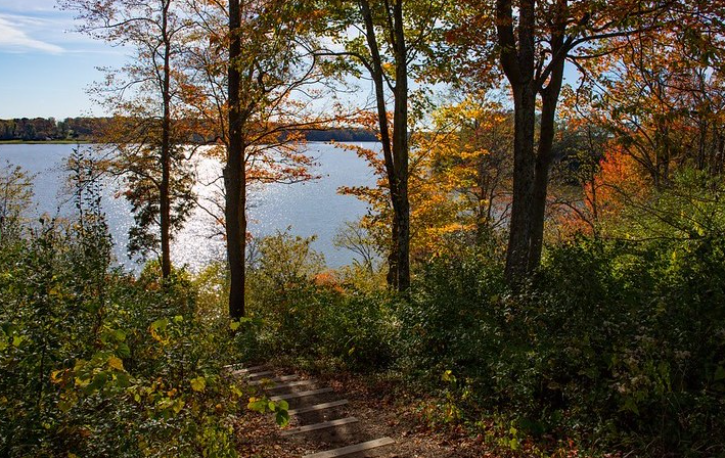 Cowan Lake is part of the State Park of the same name, and offers all kinds of water activities including swimming, boating, fishing, kayaking and more. The 700-acre lake itself has plenty of room for all its visitors, which it gets in droves during the day and from its nearby campgrounds (accommodations including cabins and tents with different levels of amenities).
The south lake shore features a 1,000-foot public beach for swimmers with a restroom and changing house so people can comfortably spend the day there. Those who prefer to stay out of the water will enjoy it's many walking trails, inlets, and scenic wooded shorelines. Other activities popular in the state park include picnicking (sheltered or open areas available), hiking, visiting the nature center, cross country skiing and sledding (in the winter), and bike riding.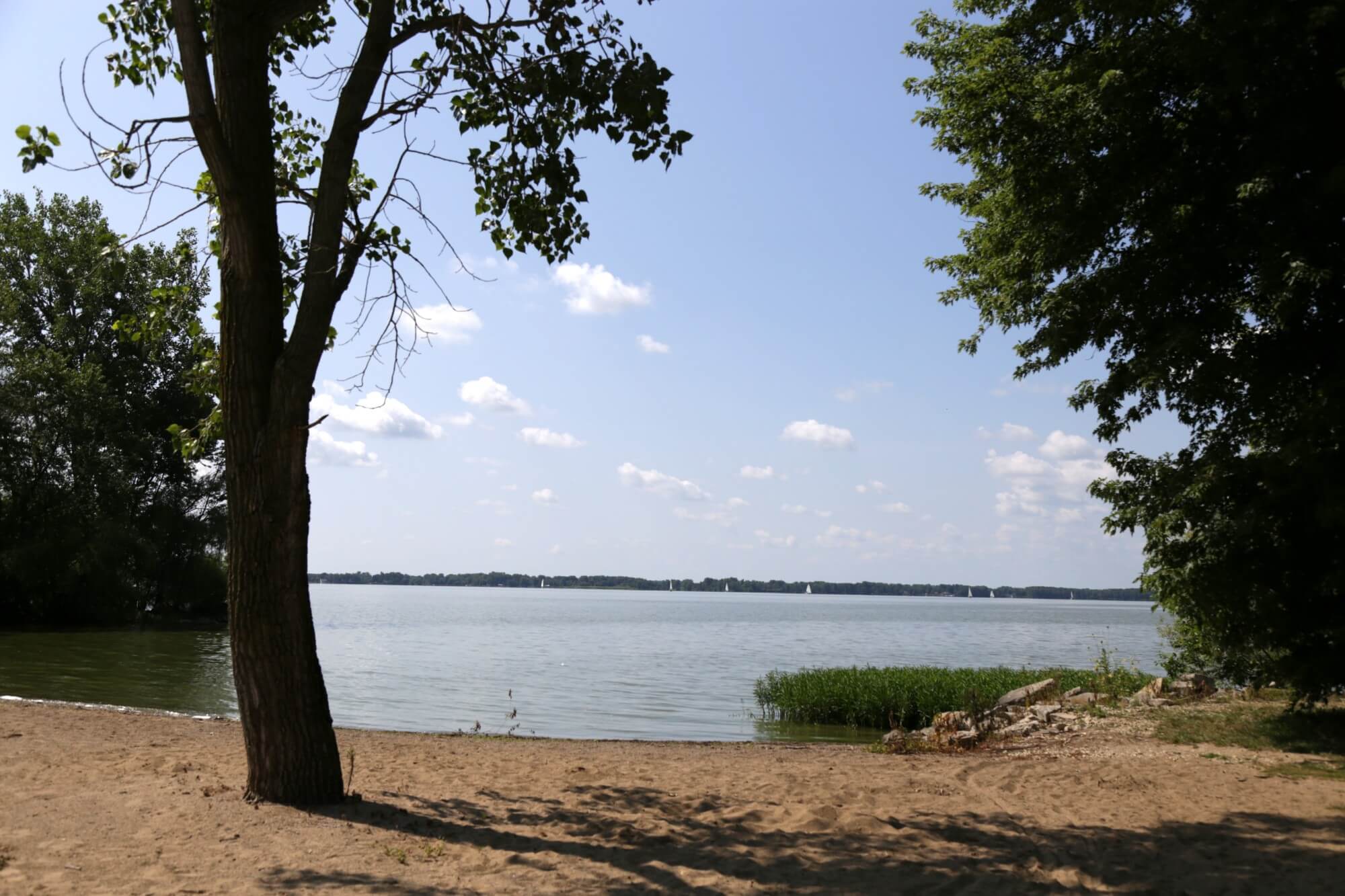 Grand Lake St. Mary's also shares a name with its state park and is a popular destination for outdoor enthusiasts year-round thanks to the wide range of activities and amenities it offers. The lake itself is an expansive 13,500 square miles and allows for unlimited boating horsepower (a no wake zone is enforced near the shore), making it a favorite spot for boaters. Four public swimming beaches are available at different points along the lake's 52-mile shoreline. Fishing access areas are located on the East and West Bank.
Nearby to the lake is a swimming pool, family campground, picnic areas, and well-maintained outdoor common spaces for visitors to enjoy. Tables and grills are available on a first-come, first-serve basis, making for a great spot to have an outdoor cookout while enjoying a day at the park. Bring your furry friends, too! They have to be kept on-leash in most areas but can run free in the park's two designated dog parks.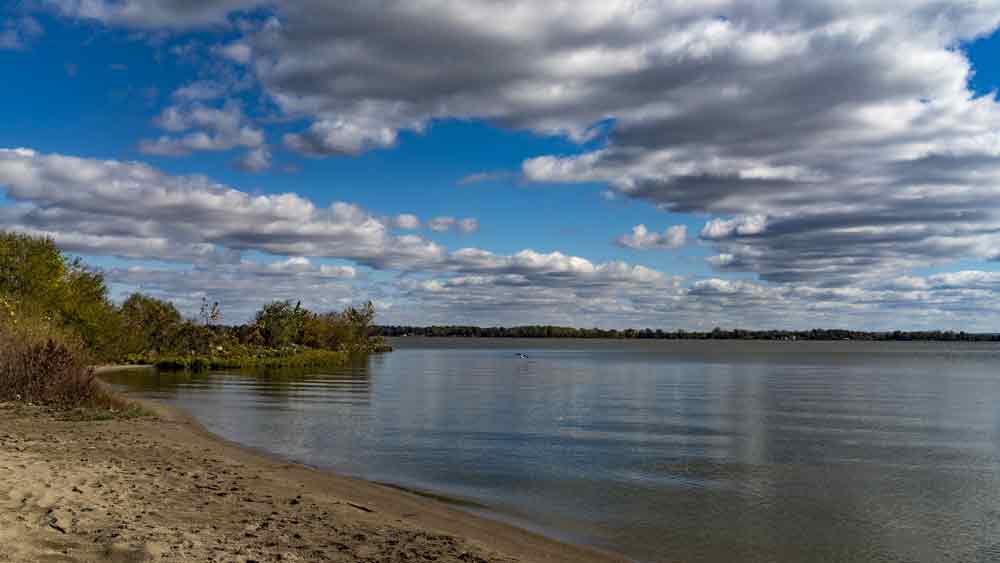 Located in Indian Lake State Park, this lake is a haven for outdoor enthusiasts in every season and stays active year-round with warm- and cold-weather sports. In the summer, the lake offers space for boaters and anglers to anchor and swim or fish. There are also designated areas for more high-adventure activities like water skiing and tubing.
Along the lake's 30 miles of shoreline you'll find inlets and bays, beach areas to rest and take in the scenic surroundings, and plenty of wildlife to observe. There are a number of campgrounds, cottages, and hotels nearby making it a favorite spot to spend a vacation or just a long weekend. Whether you're staying overnight or just spending the day, you can access the park's many picnic areas, playgrounds, fields, trails, dog parks and other amenities to enjoy in addition to the fun on the lake.
And while the activity may slow down in the winter months, it never totally stops — Indian Lake is also a favorite for ice fishing, cross-country skiing, and cold-weather hiking.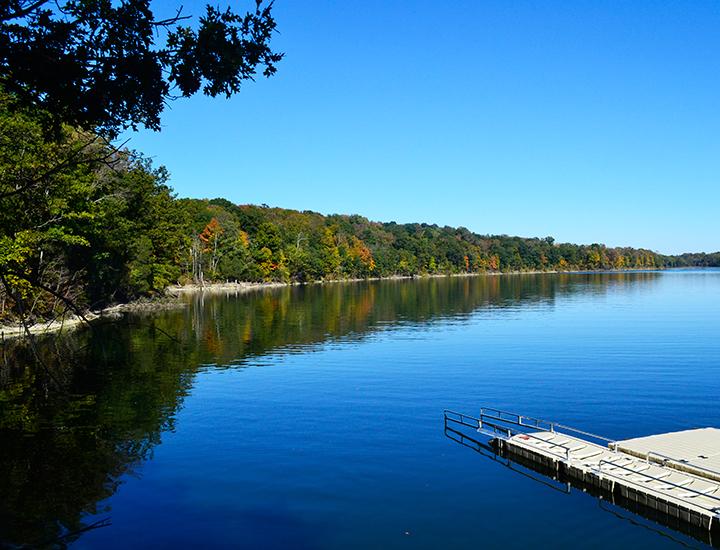 Caesar Creek Lake is another favorite for boaters, with no limits on horsepower, five launch ramps, and nearly 3000 acres of water space. It's also a swimming destination, complete with a 1,300-foot public beach. Surrounding the beach and other shoreline areas are plenty of picnic areas equipped with grills and tables.
If you're out to enjoy more than just the lake, you might enjoy one of the park's many trails created specifically for hiking and with varying levels of difficulty, ranging in length from less than a mile to Perimeter Trail, which is more than 12 miles long. The park also offers two specially designed mountain biking trails, Fifty Springs Loop (an easy 3.5 miles) and Mountain Bike Trail (difficult, 15 miles).
For those who want to stay overnight, the Caesar Creek State Park campground offers electric and full hook-up sites.
If you're moving to the Dayton area, Let Oberer Homes help you find the home that's right for you. Contact us today to get started!