What exactly does it mean to be a disability-friendly city? It's an ongoing question for cities across the United States and around the world. As we become more aware and educated about the many types of disabilities people live with and how their lives are impacted, cities are becoming better able to create indoor and outdoor spaces that are more accessible for all. 
But it's still a work in progress. According to the Centers for Disease Control and Prevention, 1 in 4 people in the United States — 61 million people total — are living with a disability that impacts their daily activity in some way.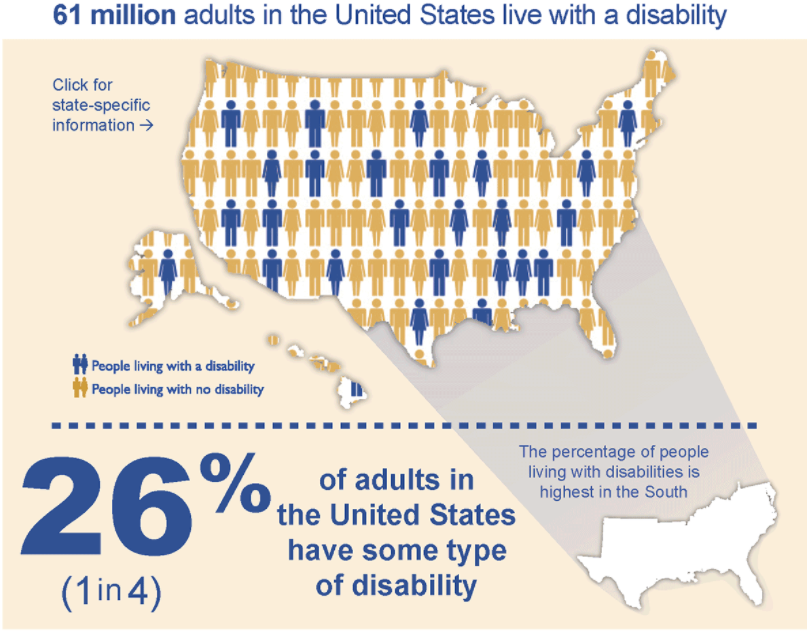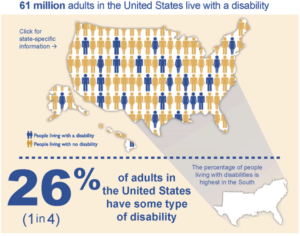 These statistics demonstrate how important it is for cities to gain a better understanding of what it means to live with a disability and take action to make their cities more accessible for every resident and visitor.
You can look at specific features in a city to evaluate its accessibility. Here are 7 important ones to prioritize.
Quick Takeaways
There are half as many accessible homes in the United States as there are households including a person with a disability. Accessible housing in cities should be a priority.

It's important to be sure a city has high-quality accessible transportation close to your home, job, and other important destinations.

Cities should also be enforcing accessibility standards in private spaces like corporate buildings, restaurants, and public venues.

Universal design principles are being utilized in cities to make spaces more usable and enjoyable for all.

A strong advocacy community and access to quality specialized healthcare are two key features to look for in a disability-friendly city
8 Features of a disability-friendly city
Accessible housing
Finding housing is often challenging for people living with disabilities because accessibility needs are wide-ranging. Although 15% of households in the United States include someone with a disability, only 6% of houses across the country are accessible.
Fortunately, cities nationwide are becoming more cognizant of the need for accessible housing and committing to providing it for their residents. When you're checking to find out if your potential destination is a disability-friendly city, look at its available housing to be sure you can find options that fit your needs.
Here are some good questions to ask while you research:
Are there accessible housing options available in your budget?

Is it accessible to transportation?

Are the city's accessible housing options convenient for you (near your work, in a desirable neighborhood, close to other places you'll frequent, etc.)?
Accessible transportation
According to statistics from the Bureau of Transportation, there are 25 million people in the United States who have a travel-limiting disability and 3.6 million people — about 1 percent of the country's population — are homebound due to disability-related transportation barriers.
Cities undoubtedly have more accessible transportation options available than other areas. The Americans with Disabilities Act has public transportation provisions that require cities to meet accessibility standards.
Still, not all solutions are created equal and some cities have been more successful than others at building and maintaining accessible transportation systems for their residents. When you're looking at a city, be sure to consider which accessible transportation options are available and map them to the places you'll go the most.
Accessible sidewalks
One of the best parts of living in an urban place is getting out and enjoying the hustle and bustle of its city streets!
Check to see if your city has accessible sidewalks — and this doesn't just mean ramps on each corner (although those are definitely important). Truly accessible sidewalks are wide enough to accommodate wheelchairs and walkers and aren't cluttered with excessive poles, trash cans, or other objects that would be challenging to navigate around.
Don't just look at street sidewalks, either. What about city parks and public spaces? Those should be equally accessible for every resident to enjoy.
Buildings, Restaurants, and Public Venues
Social activities should not be difficult for cities' residents living with disabilities. While your city's municipal organizations may show genuine attention to accessibility standards, it's important to know if that carries over to private businesses like restaurants, corporate buildings, and public venues (like sports stadiums).
Cities should and mostly do enforce accessibility requirements for private businesses, but adherence of course varies. Be sure to do your research and spend time in your community to best understand how accessible it truly is.
Visual and audio cues
Physical disabilities are not the only kind of disability. Check your city for visual and audio cues that create a safe environment for people living with sight and hearing impairments. Officially called Accessible Pedestrian Signals (APS), these signals ensure people living with every kind of disability can equally access, navigate, and enjoy the city where they live.
How Cities in North America Communicate Efficiently about Accessible Pedestrian Signals (video)
Here are some of the best ways cities are implementing APS:
Ensuring APS information is readily available so people can find APS-equipped locations and intersections

Installing APS on traffic lights and increasing pedestrian crossing duration

Utilizing mobile apps so that people can control APSs remotely from their phones

Designing new streets and intersections with APS accessibility in mind
Universal design principles
Universal Design principles aim to create environments that can be accessed, understood and used seamlessly by all people regardless of their age, size, ability or disability. Universal Design is not exclusive to making spaces disability accessible, but its overall commitment to smart, usable design does ultimately contribute to accessibility.
Check out these examples of city spaces designed with universal design principles in mind to see firsthand how they contribute to accessibility and enjoyability for all, including Tongva Park in Santa Monica (pictured below).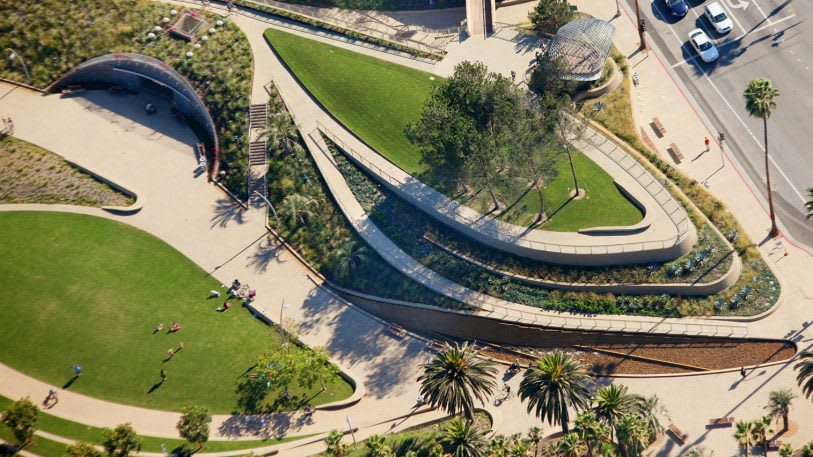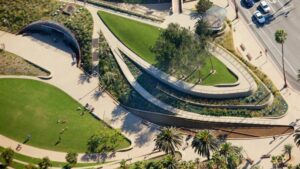 Strong advocacy
Look for a city that has strong advocacy groups and programs in place to help you navigate your city and access the programs and resources you need. A good place to start is the city's Center for Independent Living (required by the federal government for all large cities). 
In many cities you can also find independently-run organizations that build communities of support and advocate for important issues and projects related to accessibility. The presence of active advocacy groups is a good sign that your city prioritizes accessibility and responds to important issues and initiatives that come up.
High-quality healthcare
It's common for people living with disabilities to require specialized healthcare. Big cities by nature offer close access to hospitals and healthcare centers, but it's important to be sure the facilities in your city offer the specific specialties you need.
Consider the number of healthcare facilities available in the area and how they are rated for the types of care you'll need. Find out about the number of doctors per capita and what the wait time is generally like to make appointments and see providers. Be sure to visit and talk to your potential healthcare providers to be confident in the care you'll receive.
Dayton: a disability-friendly city
Dayton is committed to accessibility for all. If you're looking for a new home in the area, the team at Oberer Homes can help you build a new custom home that meets your specific needs. Contact us today to learn more and get started!