A lot has changed in the last few years, and homebuilding trends are no exception. Today's buyers prioritize flexibility, sustainability, and maximum functionality but don't want to compromise on aesthetics. In response, builders in Dayton, OH, have a new approach to home design that focuses on personalization and intentionality.
To help homebuyers stay up to date, we've reviewed the experts' opinions of emerging trends. Take a look at our top eight recommendations for inspiration!
Key Takeaways:
Patios with luxury features provide additional living space perfect for casual hangouts, kids' antics, and the ultimate staycations.
Functionality and accessibility are top priorities as homes accommodate multi-generational families, including members with age-related disabilities.
Sustainability is a major concern for younger homebuyers, who prefer eco-friendly materials and energy-efficient systems.
1. Expanding the Living Space Outdoors
Outdoor spaces are no longer "add-ons" — they serve as extensions of the indoor home. Gone are the days of a simple patio table and chairs. Today, homeowners are creating luxurious outdoor living spaces with the following:
Furniture
Appliances
Televisions
Temperature control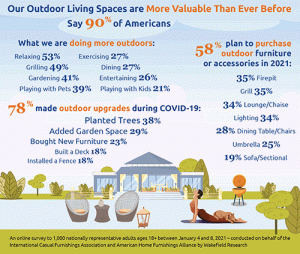 Homebuyers see backyards as potential vacation spaces to relax without breaking the bank. As a result, many people are on the lookout for luxurious features such as covered kitchens, pizza ovens, fire pits, and fountains.
An outdoor living space enhances the home for everyone: empty nesters looking to extend their patio, large families needing more space for kids to hang out, or professionals seeking an outdoor oasis where they can unwind after a long day.
2. Prioritizing Accessibility
Multi-generational homes are more common than ever, and recent reports expect the number to grow. With more homeowners entering old age and facing mobility issues, accessibility is paramount. Universal design is a step in the right direction with curbless showers, shower benches, no-slip flooring, grab bars, and wide doorways and hallways.
Technology is another excellent resource. Smart appliances offer both accessibility and convenience, especially when connected to a central hub. Voice-activated personal assistants allow homeowners to find an online recipe, preheat the oven, and start the dishwasher without leaving their couches. These appliances are also more energy-efficient than previous models, saving homeowners money on the electric bill.
For those using mobility aids, open-concept floorplans can be a lifesaver. These designs also make it easier to watch children or dependents while cooking or doing household chores.
3. Optimizing Kitchen Functionality
Fast-changing trends and ample fixtures mean kitchens can quickly become outdated. As a result, homeowners look for countertops, cabinets, and appliances that deliver long-term functionality and aesthetics.
Kitchen islands are among the top choices due to their versatility; you can use them as a gathering spot, workspace, dining space, countertop, or cooking area. You can also personalize them with added features:
Drawers
Outlets
Cabinets
Built-in dishwashers or refrigerators
Centerville residents and other homebuyers may also appreciate vertical storage. With more people sharing a space, clutter is a significant concern. Rolling racks and drawers offer the perfect solution for optimizing unused space for storage. Vertical spice racks and rolling compost drawers are just two examples of this design in action.
4. Incorporating Sustainability
Homebuyers are more environmentally conscious than ever, and their design preferences reflect that. Younger demographics are especially keen to create green homes and want to start from the ground up.
Sustainable materials are one of the most common trends:
Engineered or recycled wood
Bamboo in place of hardwood
Metal roofs
Eco-friendly insulation
Stainless steel
Reducing energy consumption is another top concern as homeowners try to reduce their carbon footprints. High-performance windows and solar paneling are two popular features, as they reduce energy usage.
The emphasis on sustainability also prompts the reverse of a familiar trend — bringing the outdoors inside. Ample natural light and living plants are quickly becoming staples for new homes.
5. Opting for Arches and Curves
It's official: Curves are in! Their presence in interior design trends is undeniable (curvy couches, anyone?) and a growing architectural trend for both exteriors and interiors of new homes. Arched windows, barrel-vault ceilings, and arched entryways are trends on the rise in 2023 and beyond.
Arches and curves can go a long way in softening a space against hard lines and angles. After years of straight-line syndrome in many modern homes, curves are making a comeback.
6. Utilizing Natural Materials
Bellbrook homeowners are bringing it back to nature with earthy colors. Rich color palettes create a cozy atmosphere perfect for relaxing:
Brick red
Sage green
Ocean blues
Gold, copper, and other metallics
Natural materials are also common due to their versatility:
Hardwood
Terracotta
Stone


When it comes to hardwoods, two-tone inlays, patterned layouts, and even multiple tones are gaining popularity. Terracotta makes great statement pieces, while natural stone provides durable floors and countertops.
7. Embracing Bold Colors and Textures
Bold color accents are at the top of homeowner request lists right now, and the daring goes beyond paint. Textured wall materials, statement features, and bright backsplashes are all ways color makes a statement in new homes. While bold color may seem questionable if you're looking for permanence, it can work if you strike the right balance.
For bold shades that stand the test of time, choose a hue that complements several color palettes. This way, you can update decor without your statement color sticking out like a sore thumb. Going bold isn't for the faint of heart, but it's one of the best ways to make your home unique.
8. Constructing Flexible Spaces
With people spending more time indoors and working from home, many homeowners are coming to realize the importance of having a home that fulfills all their needs. One way to boost functionality is to create multi-purpose spaces.
For example, Washington Township residents may want a crafting room that also serves as a guest bedroom on short notice. Multipurpose furniture, murphy-style beds, and roll-away desks all contribute to a room's flexibility.
As remote work has become more common, homeowners have also added flexible workspaces to their checklists. Quiet corners and countertop nooks provide privacy without taking up too much living space.
Building Your Custom Home
Oberer Homes heartily welcomes newcomers to Sugarcreek Township and the surrounding area. Our custom homes can become just what you need to settle down. To learn more, visit our website or call 937-531-5505.