The housing market is experiencing an absolute boom, and with it new home building trends are emerging! Homebuyers today are looking for flexible spaces, eco-friendly features, bold design choices, maximum functionality, and more. In response, new homes are being designed and built more intentionally and with more options for personalization than ever before.
If you're in the market for a new home, you don't want to miss this list of the top trends we're seeing for 2022 and beyond!
Quick Takeaways
Outdoor living spaces are being built and designed as extensions of the indoor home.
Universal design is becoming increasingly popular with homebuyers who plan to age in place in their homes.
Sustainability and eco-friendliness are top priorities for current homebuyers.
Homebuyers are using permanent building fixtures like patterned hardwood floors and arched windows to make a statement.
Flexible spaces are in-demand now that more people are working permanently at home.
8 home building trends we're seeing in 2022
Outdoor living spaces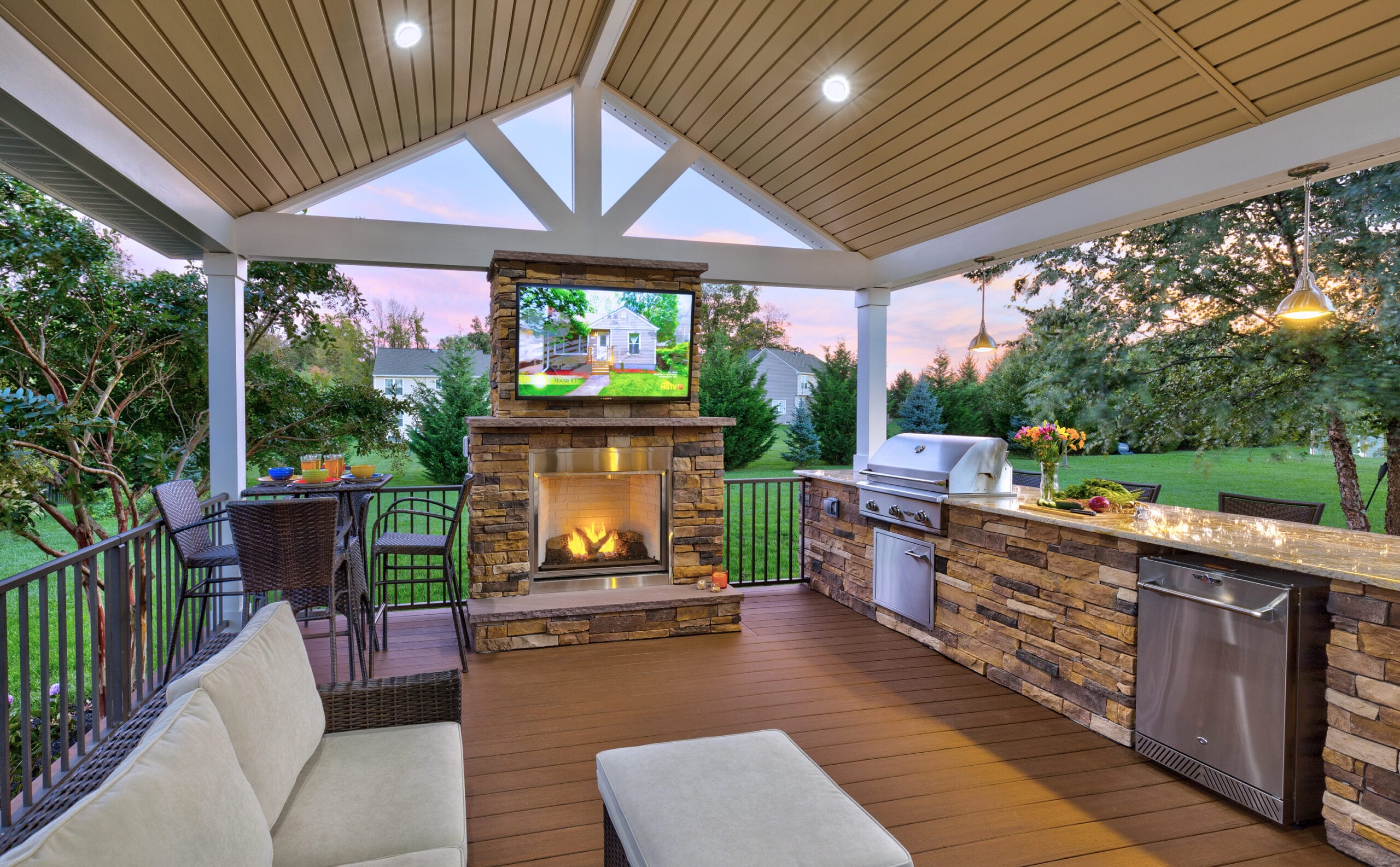 We'll start with one of the biggest home building trends happening right now: outdoor spaces created to be extensions of the indoor home. Gone are the days of a simple patio table and chairs. Today, homeowners are creating luxurious outdoor living spaces complete with furniture, appliances, televisions, temperature control, and more.
We love this trend! It enhances the home for everyone — empty nesters looking to extend their downsized patio home, large families needing more space for kids to hang out, or professionals seeking an outdoor oasis where they can unwind after a long day. The luxury outdoor living space is one trend that truly has us asking: what took so long?!
Universal design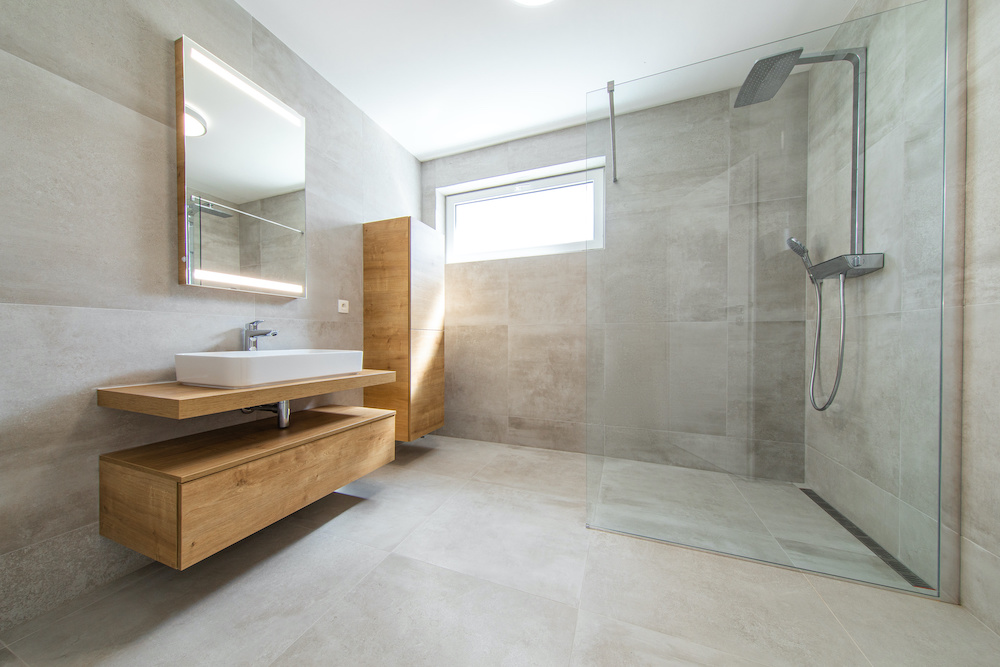 Universal design equally prioritizes attractiveness and functionality. It's a principle popular with homebuyers seeking their forever home — one they can still live in safely and happily even as they grow older and their accessibility needs change.
In homes built by universal design principles, you'll find features like curbless showers, shower benches, no-slip flooring, grab-bars, and wide doorways and hallways. Universal design features are being installed with increasing attention to design so that homeowners don't have to sacrifice an aesthetically-pleasing home in order to have the practical features they need.
Kitchen islands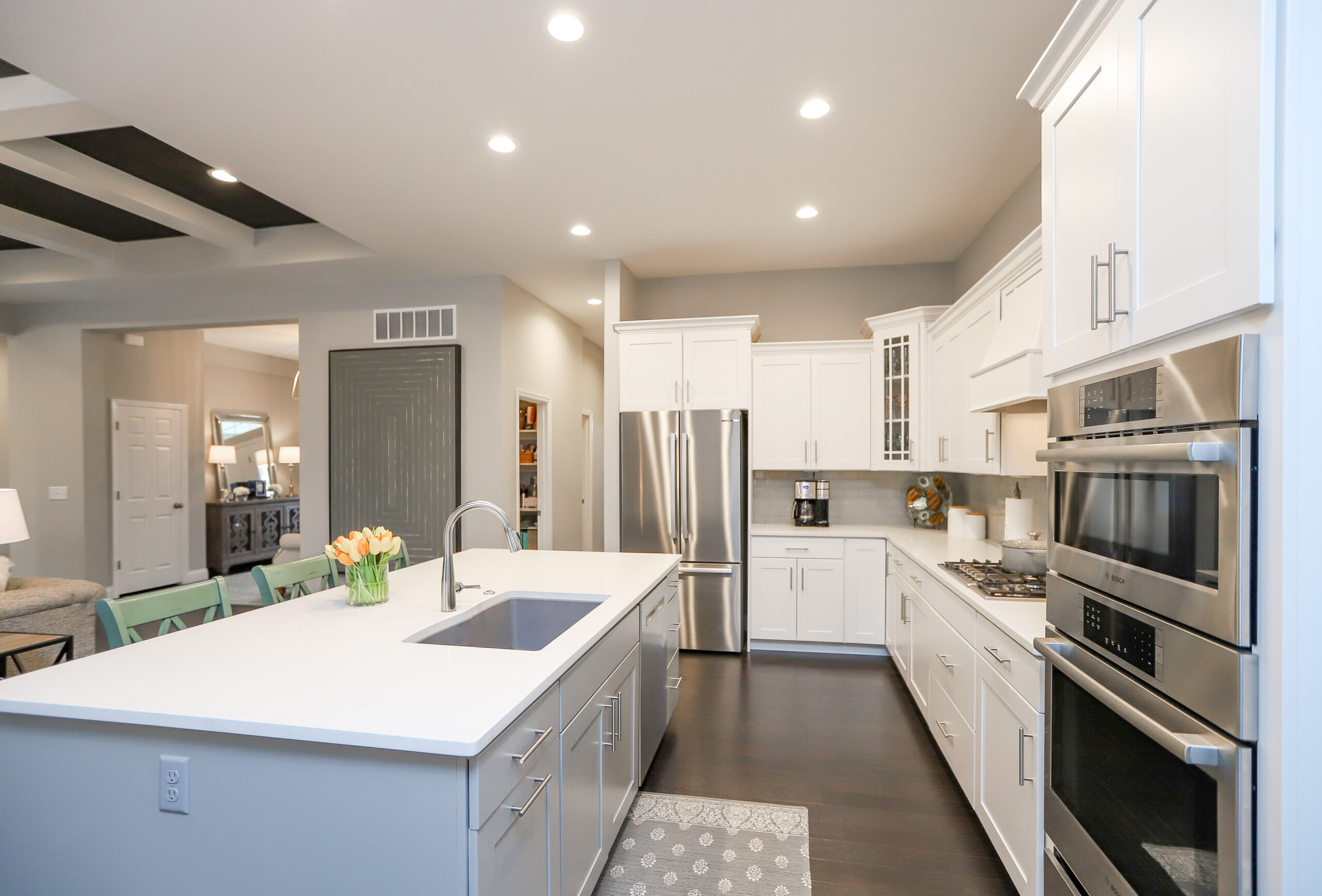 Image Source: Oberer Home Design
Kitchens are the room in most homes that becomes outdated fastest. Kitchen trends change often, and fixtures in the kitchen are much more difficult to change than, say, living room furniture or the paint in your dining room. Choices like countertops, cabinets, and appliances hang around for years (if not decades) and are expensive to replace.
One kitchen trend we're seeing right now is the oversized kitchen island, and we like it for its versatility. Given its many valuable uses, it's likely to stand the test of time. Islands can be used for additional counter space, a cooking area, additional dining space, and an area for guests to gather and hang out.
More and more, kitchen islands are being equipped with additional storage space and/or built-in appliances (like a dishwasher or wine refrigerator), saving space in other areas. Sounds like a win-win!
Sustainable materials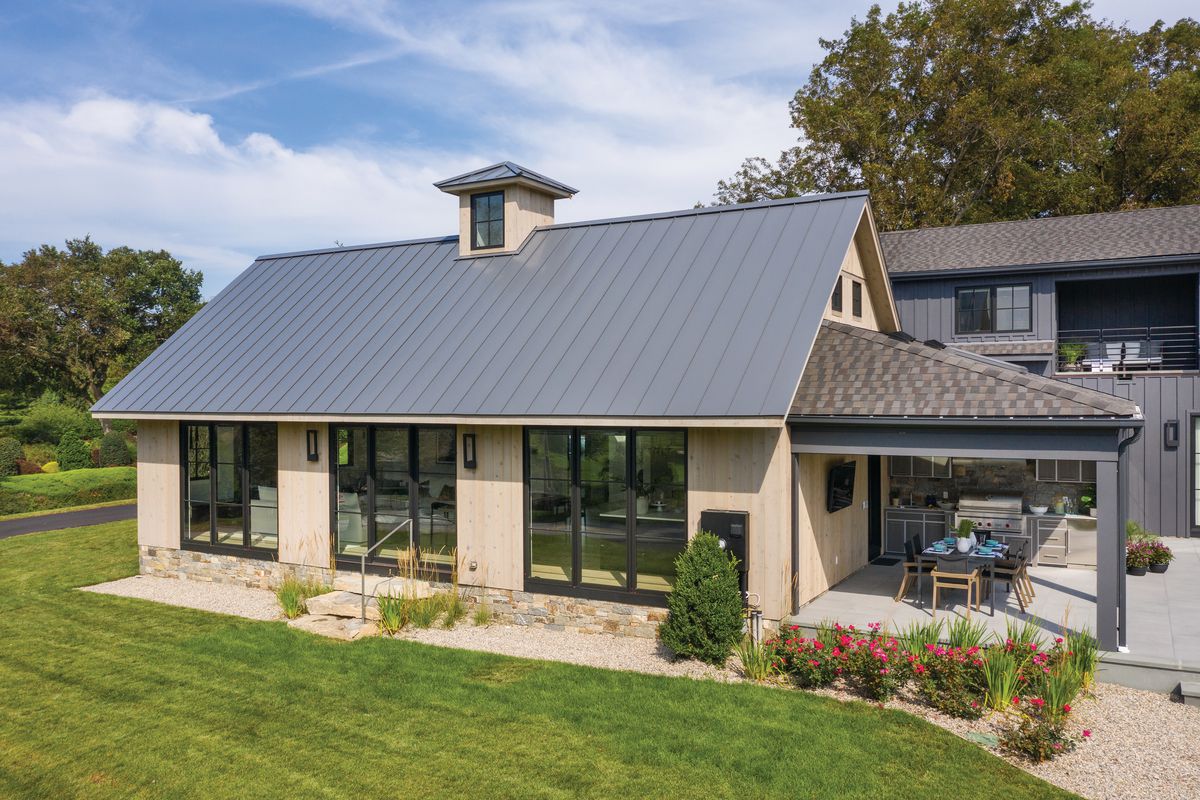 Homebuyers are more environmentally-conscious than ever, and we're seeing it reflected in certain requests they have for their homes. Homebuyers today — especially those  that fall into younger demographic groups — are looking to create truly green homes, and they want it to start with initial construction.
High-performance windows and solar paneling to reduce energy consumption (and save money!) are two of the most common sustainability trends for new homes. But sustainable materials are also becoming more commonplace across the board — metal roofs to reduce indoor cooling costs, recycled wood, steel, or other building materials, and eco-friendly insulation to name a few.
Arches and curves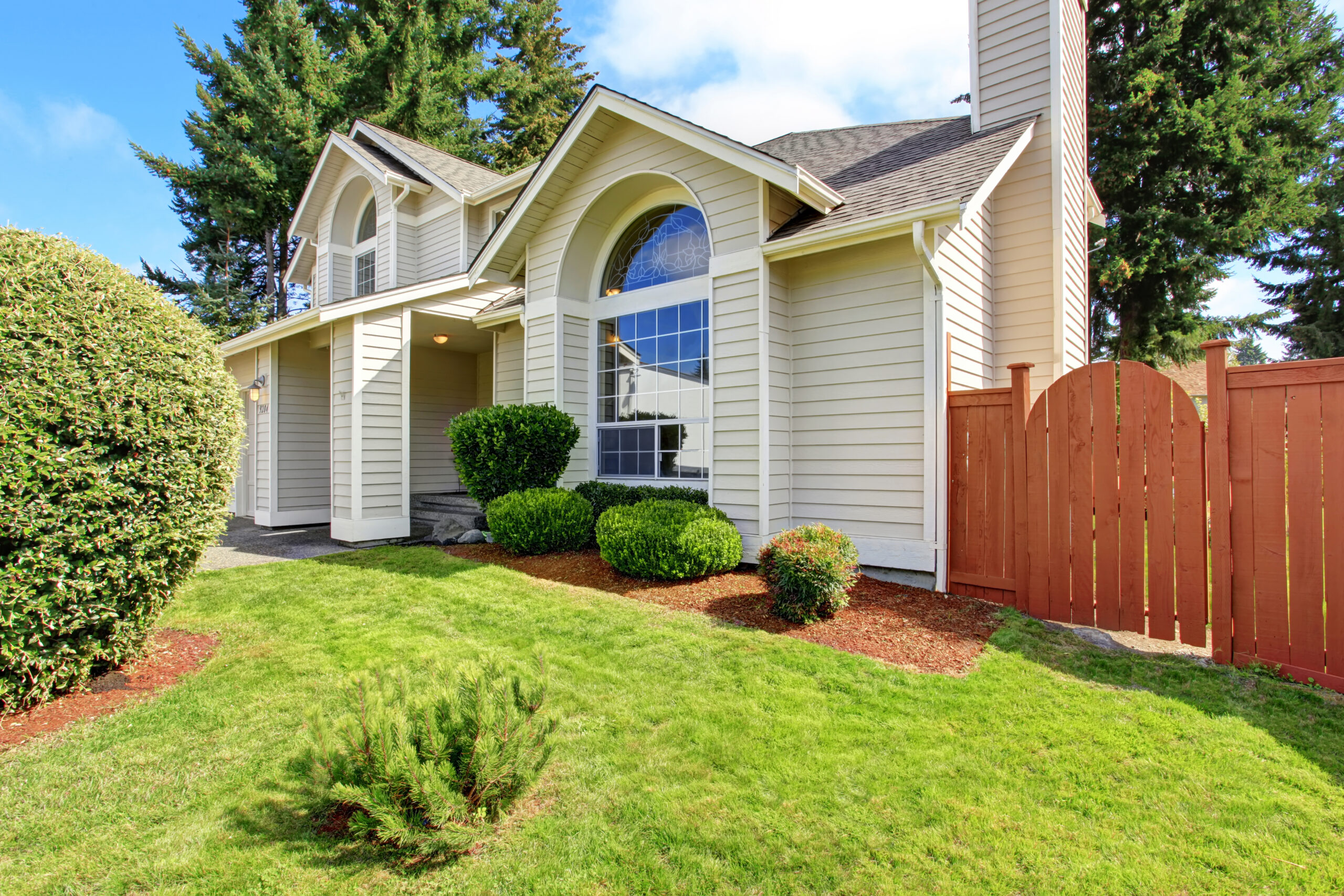 It's official: curves are in! We're definitely seeing them reflected in interior design trends (curvy couches, anyone?) but it's also a growing architectural trend for both exteriors and interiors of new homes. Arched windows, barrel-vault ceilings, and arched entryways are all trends we are likely to see more of in 2022 and over the next few years.
Arches and curves can go a long way in softening up a space against its other hard lines and angles. After years of the straight-line syndrome takeover in many modern homes, we're happy to see the return of the rounded angle!
Patterned hardwoods and backsplashes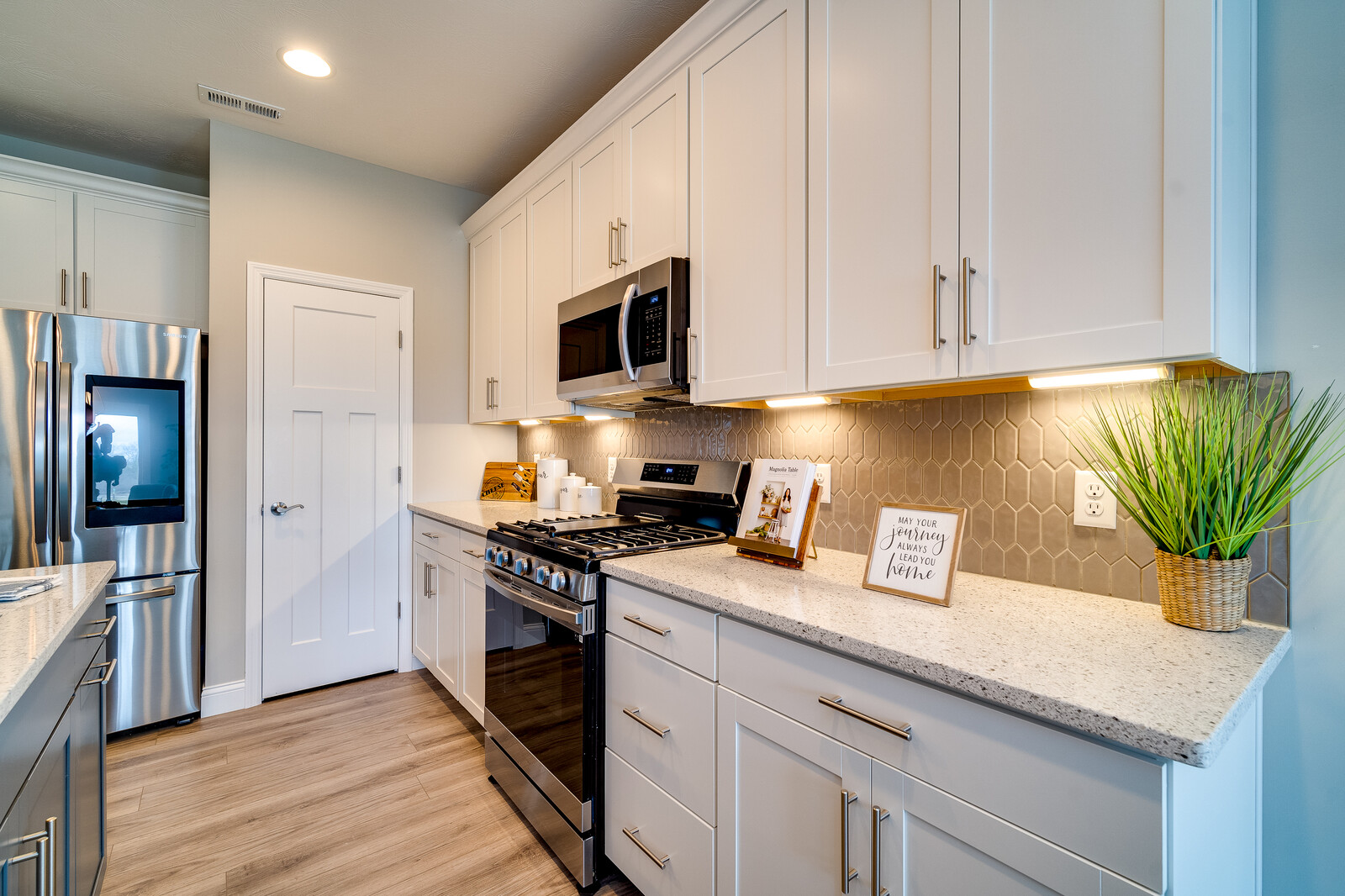 Image Source: Oberer Home Design
Homeowners are making a statement with hardwoods and backsplashes throughout their homes! We love this trend for its ability to make a room stand out in unique and unexpected ways.
When it comes to hardwoods, we're seeing two-tone inlays, patterned layouts, and even multiple tones in a room. Backsplash statements are coming in two forms: a pop of color (more on that next!) or a creative twist on traditional trends (like the chevron subway tile above).
Bold color accents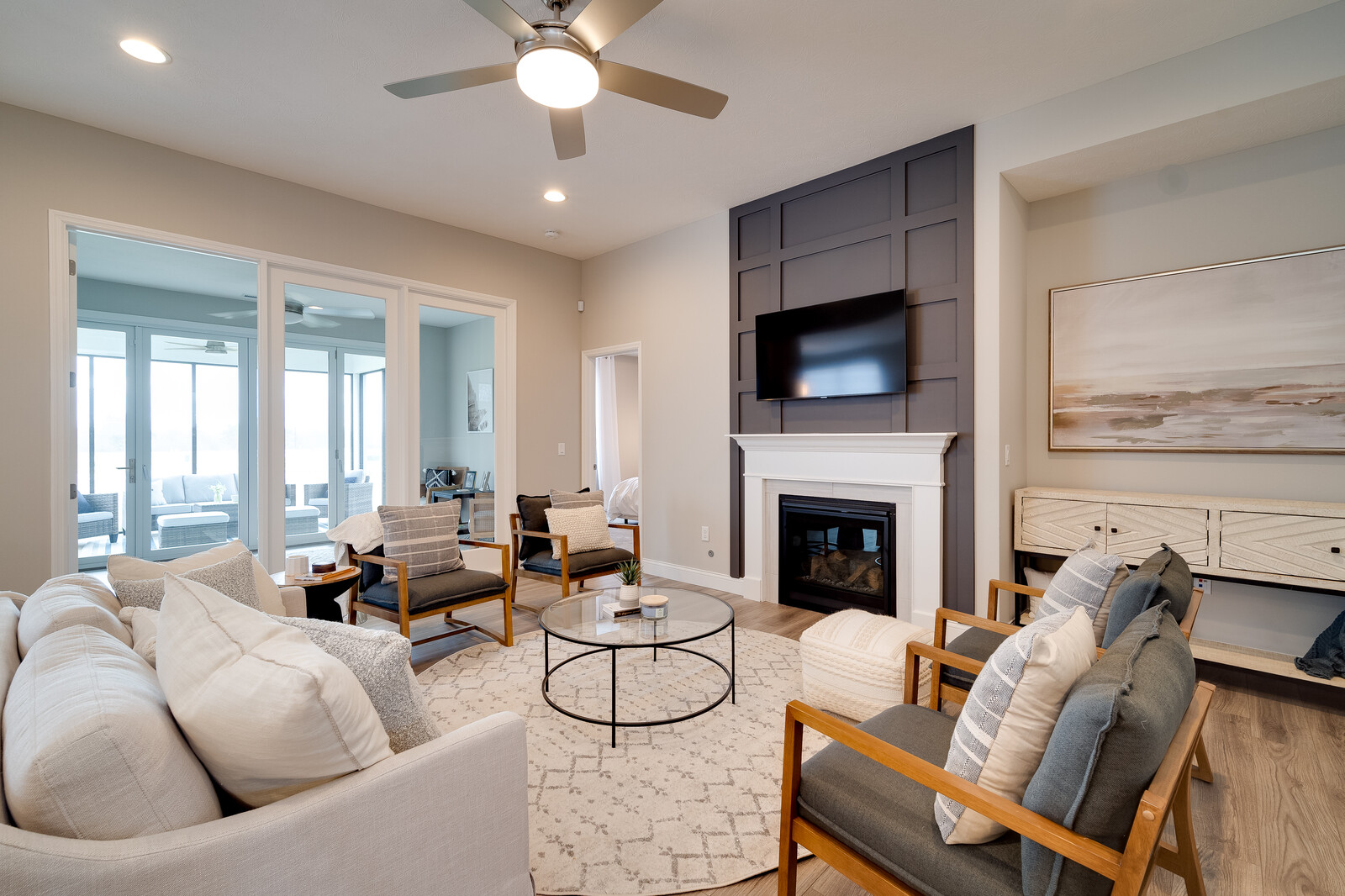 Image Source: Oberer Home Design
Bold color accents are at the top of homeowner request lists right now, and we're talking about more than just paint on the wall! Textured wall materials, statement features (like the fireplace above), and bright backsplashes are all ways we're seeing color coming out in new homes. And while bold color may seem like a questionable choice if you're looking for permanence, we're seeing homeowners strike the right balance.
For bold color that ensures the test of time (and trends!) choose a color that can match with many accent color palettes. This way, you can change your room without your statement color sticking out like a sore thumb.
Make no mistake — bold color is not for the faint of heart (or the overly-fickle homeowner). But if you love the idea, we say go for it. It's certainly one way to make your home one-of-a-kind!
Flexible spaces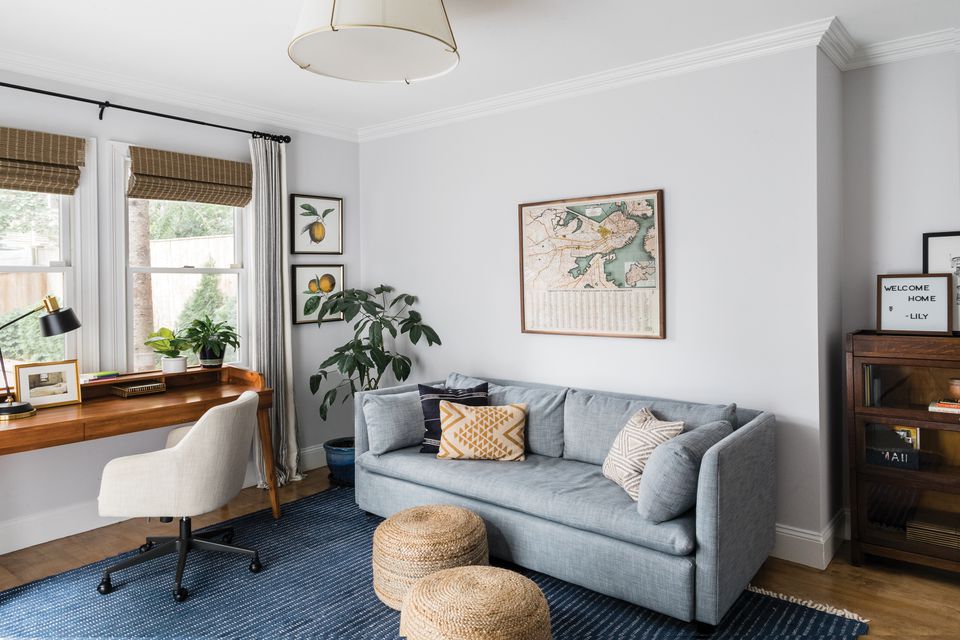 The way we use our homes has radically changed since the COVID-19 pandemic. We've spent more time at home and realized how important it is to have a home you love being in. There's also one part of many people's lives that now lives permanently at home — work.
As a result, we're seeing a rise in demand for flexible spaces that can serve multiple purposes in the home. Multipurpose furniture, murphy-style beds, extra usable spaces for office equipment, and dedicated rooms (in addition to bedrooms) for offices or studies are all top requests from homebuyers in 2022.
If you're moving to the Dayton area, Oberer Homes can help you find the home that's right for you. Contact us today to get started!