Staging a home means highlighting its best features and creating attractive, inviting spaces to make it more appealing to potential buyers. In the real estate world, home staging is like an art and a marketing strategy packed into one — it requires creativity to make each space unique and knowledge of what makes a home more likely to sell.
Staging a home for sale has significant financial ROI for the seller, too. On average, staged homes spend 33-50% less time on the market and earn 8-10% higher returns.
In the sections that follow, we'll explore more about the impact of home staging, plus 9 tips to stage your home for a best-value sale.
Quick Takeaways
More than 80% of homebuyers can better envision themselves living in a home when it is staged.
TV shows featuring professional home staging have impacted buyer expectations about what homes should look like.
Outside curb appeal should be considered when staging a home.
Decluttering, depersonalizing, and removing extra furniture makes it easier for buyers to picture a home as their own.
Lighting and fresh paint can make spaces feel more clean, light, and airy.
Small touches like greenery and fresh scents make a home feel more welcoming.
Why is staging a home important?
The aesthetic appearance of your home is its first impression with homebuyers, and today it's more important than ever to the home purchase decision. Nine in ten homebuyers are now using the internet to find potential new homes, and they decide which ones to consider based largely on what they see in online photos.
Once they do visit a home in person, their final decision about it depends on their ability to envision themselves in the space. To that end, home staging makes a huge impact. According to a 2021 study by the National Association of Realtors (NAR), 82% of buyers report that it's easier to visualize a property as their future home when it has been staged.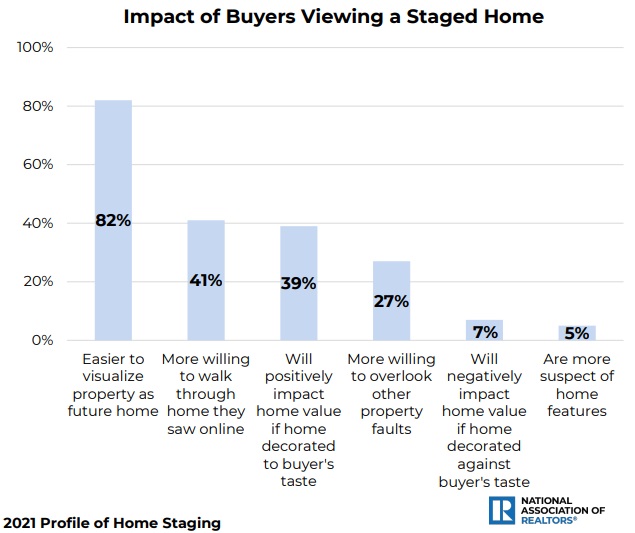 At the same time, buyer expectations of home appearances are also being impacted by HGTV and other TV networks that showcase professional home staging. NAR reports that 61% of realtors say that buyers now have higher expectations of how homes should look as a result of watching TV shows about buying or selling homes.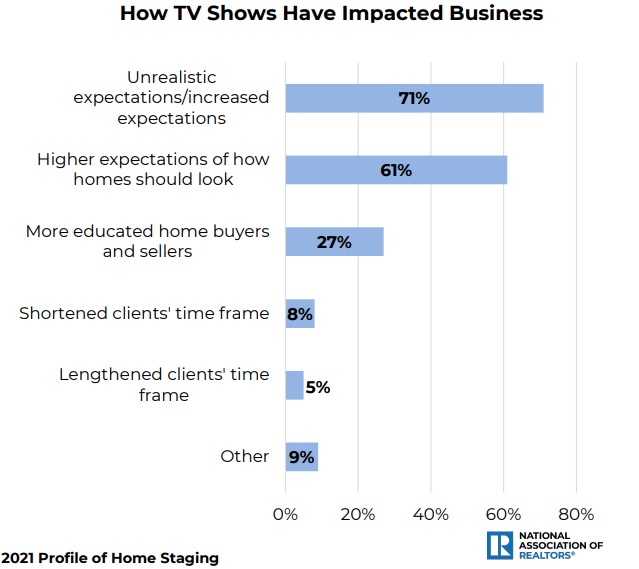 What does all of this tell us? Well, mostly that the homebuying decision is an emotional one. A buyer's decision about your home will be impacted by the way they feel when they walk through it. Home staging is a way to ensure your home feels welcoming and visually appealing, setting it up for faster success on the market.
9 Home Staging Tips to Earn Top Value for Your Home
Start with curb appeal
Curb appeal is the first thing buyers see when they visit your home, and it no doubt impacts their initial opinion. Take simple steps to make your home stand out from the outside, like mowing the lawn, power washing, replacing old house numbers or light fixtures, and adding greenery or outdoor furniture to your front porch.
Declutter, declutter, declutter
Clutter around your home takes the focus away from the space. Instead, buyers end up focusing on your stuff — and it doesn't give them a good feeling about your home. The first step to staging the inside of your home should be removing extra clutter to free up surface spaces like counters, table tops, shelves, and floors.
Eliminate furniture for a minimalist feel
Keep it simple when it comes to furniture, and consider eliminating pieces that don't add to the aesthetic of the room. A minimalist approach to furnishing gives rooms a more streamlined and open feel and helps buyers picture their own belongings in the space.
Depersonalize
Personal items like family photos, children's art projects, and other mementos are no doubt what makes your house feel like a home for you. But to potential buyers, they can be a distraction. Depersonalize your spaces as much as possible to help buyers envision your home as their own.
Give every space a clear purpose
We all have our own unique home setups that make sense for us — the bin of toys in the living room, the treadmill in the bedroom, the dog bed in the corner of the dining room (you get the picture). These things are part of everyday life, but they make it hard for buyers to define each room. Stage each room for its primary purpose, and remove anything that distracts from it.
Give kitchens and bathrooms extra TLC
Kitchens and bathrooms often earn the highest ROI on upgrades in the entire home. While you don't have to do a remodel to stage your home, simple steps to make them stand out can go a long way.
First, give them a deep clean to make every surface shine. Then, take whatever steps you can to make the room feel clean and new. Some examples: replace old caulking or rusty hardware, give cabinets a fresh coat of paint, and replace old light fixtures. Remove everything from counters except the essentials (like hand soap) to make the rooms feel extra sleek and clean.
Optimize lighting in every space
Dark spaces can make a home feel gloomy. Go room by room in your home and maximize the light in each one, whether that's by opening the blinds to welcome natural light or strategically placing light fixtures to brighten up spaces that don't get much sun.
Use paint to freshen up a room
Fresh paint is one of the easiest and most impactful ways to increase your home's attractiveness to buyers. Consider replacing bold colors with bright neutrals (whites, grays, beiges, etc.) to make your home feel open and airy. Neutrals also help buyers more easily envision how they'd bring their own personal design aesthetic to your home.
Add small touches
Last but not least, add some small touches to make your home feel welcoming and complete. Add greenery around your home, flowers to the kitchen table, a fruit bowl on the kitchen counter, or a welcome mat by the front door. Fill your rooms with clean, fresh scents like green or citrus. Open the curtains and blinds to make every room open, airy, and bright.
Are you considering a move to the Dayton area? If so, the team at Oberer Homes can help you find (or build!) a home you'll love. Contact us today to get started!