Custom homes are a popular option with homeowners in the U.S., and for good reason — they give you the ability to build a home that meets your own unique vision and needs. But it also comes with specific requirements and considerations you'll need to know about in order to make the process run smoothly.
In this article, we'll walk through the most essential things to know about building a custom home in Ohio — what it's like to live here, permit requirements, and best practices for building a home you'll love at an affordable price.
Let's get started!
Quick Takeaways
Ohio is the 7th most affordable state in the U.S. and ranks equally high for safety.
Building a custom home requires building a detailed but flexible budget that accounts for unexpected costs that may arise.
Homebuyers building a custom home should always hire their own real estate agent.
Other important considerations include: neighborhood, community rules and amenities, and features you'll need in your home for the long-term future.
What to Know About Living (and Building) in Ohio
First thing's first — if you're moving to Ohio, you'll want to know what it's like to live in the Buckeye State! Let's walk through some of the most important things to know: cost of living, geography, safety, building regulations and more.
What it costs
Ohio is one of the most affordable states in the nation. It ranks 7th according to the Missouri Economic Research and Information Center, with a cost of living index score of 89.4. Even Ohio's busiest metro areas — Columbus, Cincinnati, Cleveland, Toledo, Akron, and Dayton — all fall well under the national average.

Building costs for a custom home in Ohio depend on the plan for construction. A plot of land costs around $30K per acre (average compared to other states). If you're buying a semi-custom home that's already partially planned, you'll pay closer to average home value for that area. Final home price will also be impacted by the decisions you make about building materials and indoor finishes.
What it's like to live here
Ohio has a healthy balance of big cities, suburban and rural areas, state parks and natural land. Bordered by five states, you can choose to live in close proximity to Pennsylvania in the east, West Virginia and Kentucky to the south, Indiana to the west, and Michigan to the north. Ohio also enjoys four distinct seasons and is ranked in the top 10 for safety in the U.S.
Permits you'll need
Building a custom home requires certain permits and permissions. In Ohio, you'll need at least three permits to build:
Occupancy permit – Certifies your home will follow code regulations necessary for occupancy.
Utility permit – Needed to install necessary pipes and wires (etc.) to run utilities in your new home.
Septic permit – Ensures that septic systems are designed and installed properly according to code.
The exact type and number of permits you'll need depends on the municipality where you are building. Your home builder should know this information and will typically include it in the cost to build.
Custom Home Buying Best Practices: 4 Things to Remember
Create a detailed but flexible budget
Creating a budget is one of the most important first steps to building your custom home. It's important to be both detailed and flexible, planning for some unexpected costs — usually an inevitable — that may pop up during the home building process.
You'll want to consider your hard costs (land, labor, building materials, and other construction essentials), as well as soft costs (not related to construction, such as taxes or design). Be sure you also have a strong sense of both your must-haves — things that are non-negotiable for your new home — and nice-to-haves that you would like to include if you can.
Hire a real estate agent
A common question homebuyers ask when purchasing a new construction home or building a custom home is whether or not they need a real estate agent. The answer is a resounding yes — you should have your own agent to guide you through the process.
Even the best builders ultimately operate with their own business interests in mind. Your real estate agent acts as your advocate throughout the entire process, plus has the experience and expertise to help you navigate important steps like builder negotiations and financing.
Know your neighborhood
For most homebuyers, their neighborhood where they live is just as important as their actual home! Neighborhoods place a key part in quality of living, determining things like the types of neighbors you'll have, quality of schools, safety, entertainment options, and commute time.
If you're building a custom home in a new construction community, you'll have some additional considerations to think about, including:
HOA fees — While they're an additional cost, they come with attractive benefits such as snow and trash removal or outdoor landscaping.
Community rules — Many communities have rules and regulations homeowners must follow, and it's important to know if those rules align with your style of living.
Amenities — Private communities often have amenities for residents such as pools (like the one in Oberer's Washington Trace community below), playgrounds, walking trails, or recreation areas. If you're seeking a private community, find one with amenities you'll use and enjoy.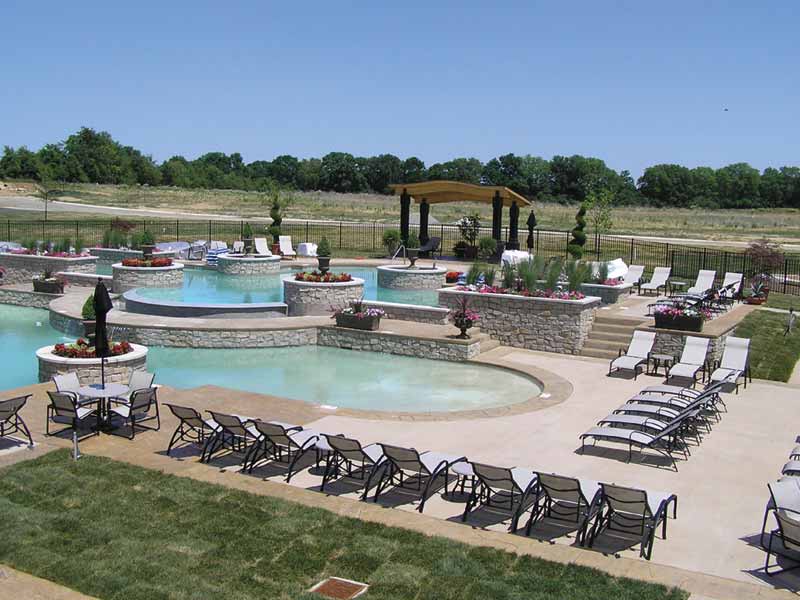 Plan for your long-term future
Building a custom home is a big investment! As you design your new home, don't just think about the next few years — consider the entirety of the time you plan to live there.
For example, you may want to include universal design features that make aging in place easier down the road. If you're planning to start a family, you may want to include more bedrooms than you need right now.
Thinking long-term ensures you get the most out of your home and can enjoy it as long as possible.
Over to You
Thinking about building a custom home in Ohio? The Dayton area is a great place to live and work, and Oberer Homes can help you find (or build!) a home in the area that you'll love.
Contact us today to get started.