We've been living in a seller's housing market for more than two years now. And while we expect it to swing back in favor of buyers soon, it doesn't mean that homes will automatically become uber-affordable.
If you want to buy a luxury home, this conundrum can feel frustrating. Home prices are inflated, supply chain issues have made building materials more expensive, and luxury options may simply feel out of reach — even if you've saved and been patient.
But what if we told you that you could make your home luxurious without breaking the bank?
Semi-custom and custom homes offer an opportunity for homebuyers to play a part in designing their own homes and customize everything from floor plan to fixtures to finishes and more to their unique preferences and vision.
Further, you can make design choices that give your home a look of luxury all at a reasonable price. In this article, we'll explore 5 ways to do it.
5 Ways to Buy (or Design) Luxury Homes on a Budget
Add high-end materials where you can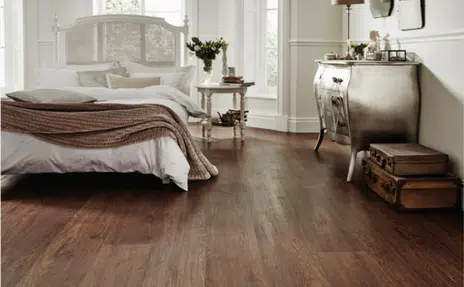 A little bit can go a long way when it comes to adding high-end design touches. If you can't go full-out luxury for every part of your home, not to worry — choose the options that will add the most to your spaces and that are most important to you.
You might dream of marble countertops in the kitchen, but that may also mean sacrificing the authentic hardwoods you considered. In cases like this, spring for the counters you love and choose a flooring option that looks like wood even if it isn't the real thing. Luxury vinyl flooring, for example, is now made in planks to closely mimic the look of hardwoods (pictured above).
Consider other design opportunities where you can choose options that look luxurious but fit into your budget. Statement light fixtures, metallic hardware, art on the walls, overstuffed pillows, area rugs — these are just a few examples of items you can find at an affordable price that can really bring a space to life.
The point: Don't get discouraged if you can't purchase every luxury option you want for your home. For now, prioritize those you want the most, and look for other options that don't have the high price tag but still provide an elegant look.
Use color to create a luxurious feel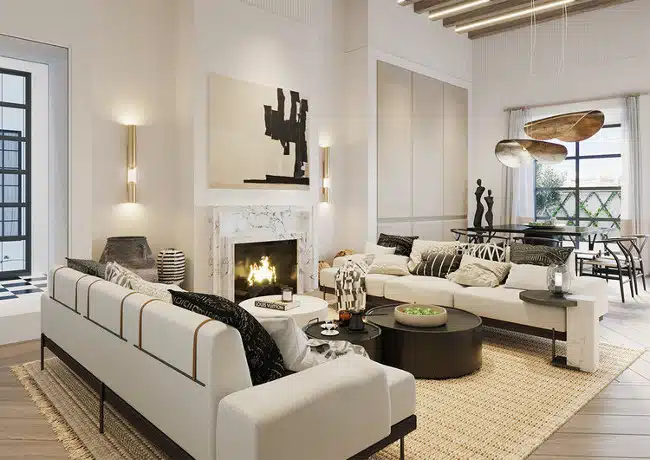 It's no secret that paint color — and really, color in any form throughout a room — sets the mood and in many cases dictates the overall design theme of the space. Using it to create a luxury aesthetic throughout your home is not only budget-friendly, but also fun.
So which colors are most luxurious? That really depends on your own preferences.
For some people, stark neutrals (like in the white room pictured above) make a room feel open, bright, and luxurious. Others prefer darker colors that create a cozy atmosphere, like a rich plum or navy blue. Still others go the bolder route, choosing options like jewel tones or bright primary colors to make a space stand out.
Luxury then — at least as far as color is concerned — is subjective.
But there are some shades that most people would agree give off more of a high-end vibe than others. Luxury color trends in 2022 according to Luxury Lifestyle Magazine seem to be understated hues — they list tonal whites, warm greens, tranquil blues, and dusky oranges as top choices.
Buy secondhand
Buying secondhand has historically been considered the opposite of luxury, but today it's all the rage! DIY-loving homeowners and professional designers alike turn to flea markets, thrift shops, secondhand boutiques, and online platforms like Facebook Marketplace to find hidden-gem items that can add luxury throughout their homes.
It's true that shopping secondhand often requires a bit of hands-on rehabbing — it's rare you'll find a secondhand piece in mint condition on a budget — but it's one of the most effective ways to find truly high end items for a reasonable (even low) price.
Plus, most DIY jobs are much less difficult than they seem — especially when you can YouTube or Google instructions for just about anything.
Need some inspiration? Check out these furniture rehab projects from Good Morning America and Flea Market Flip host Lara Spencer, who makes secondhand items look new and expensive. She even says you might find some treasures right inside your home already!
Add flowers and greens
Flowers and greenery not only suggest luxury, they also provide an excellent mood booster for any space.
Natural elements incorporated into rooms make them more pleasant to be in — in fact, the Washington Post reported earlier this year that even science says indoor plants make us feel better (and in as little as 5 or 10 minutes!).
While real plants are most effective, artificial ones or even photographs of plants can do the trick, too. That means even those of us who perpetually forget to water the plants can have flowers and greenery in our spaces.
An outdoor garden is another way to up the luxury appearance of your home from its very first appearance to visitors. Curb appeal — powered largely by landscaping — can even increase the value of your home by 7%!
Be a minimalist — seriously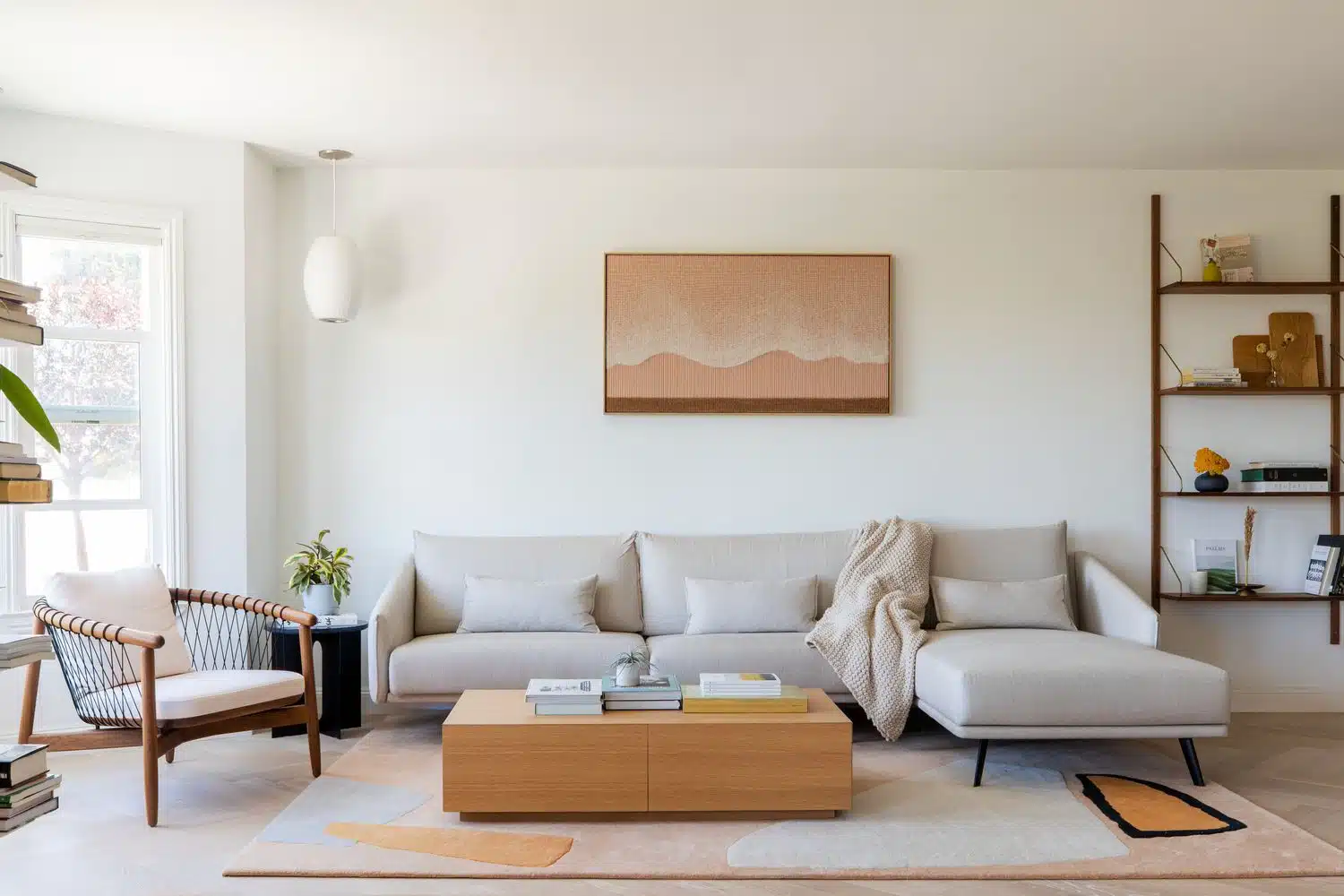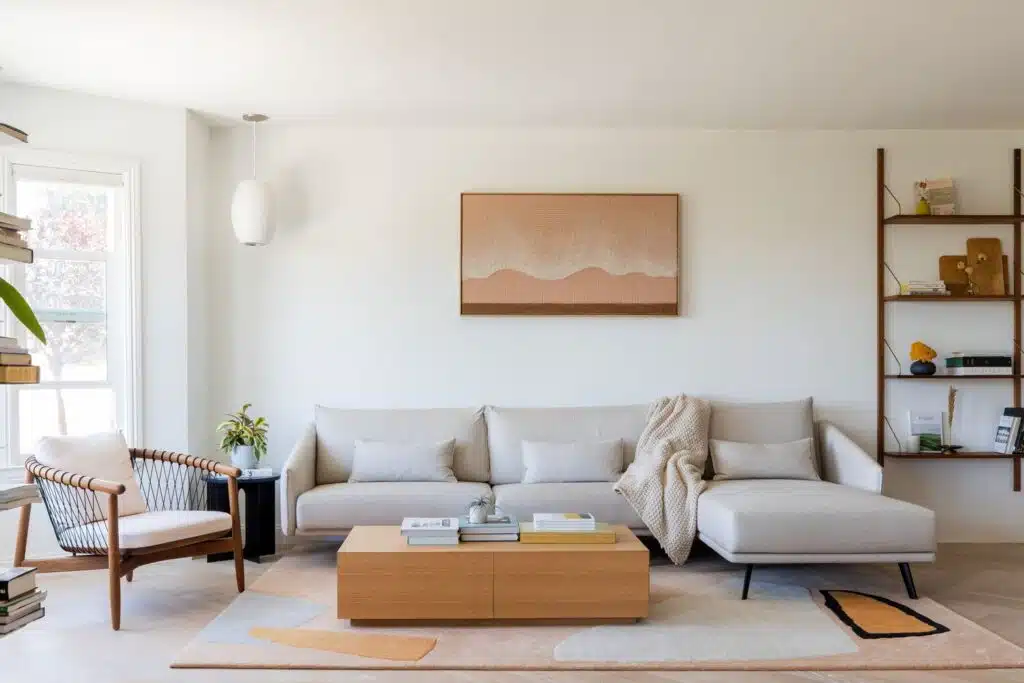 Nothing detracts from the luxury features of your home like rooms full of clutter. If you feel like you're constantly chasing after clean and peaceful spaces (but that your stuff always gets in the way), it's probably time to do a round of decluttering.
You can go the Marie Kondo route — spend a few days getting rid of everything you don't want or need all at once — or you can commit to decluttering over time by finding a designated place for everything in your home.
Either way, your home will feel a lot more pleasant (and yes, luxurious) once it's filled only with things you use and love.
Buying a luxury home in the Dayton area?
Oberer Homes builds homes uniquely designed for you. With over 20 home plans to choose from, we offer countless options, features, and customizations to fit your lifestyle — including upscale finishes, beautiful quality, and trusted designs.
Contact us today to find your dream home!