All homebuyers have a vision of what their perfect home will be like. New construction homes can make those unique visions a reality.
By working directly with home builders, you can design a new construction home tailored exactly to your preferences — and enjoy additional benefits and conveniences to boot.
In this article, we will cover:
The many benefits of buying a new construction home
How to find new construction homes for sale in your area
Tips to keep in mind as you go through the process.
Let's get started!
Quick Takeaways
Many homebuyers are choosing new construction homes for their high levels of customizability, long-term cost savings, and low maintenance living.
New construction homes are often built-in communities with amenities and/or close to schools, parks, and shopping centers.
You can find most of the information you need about new construction homes for sale by doing online research.
It's a good idea to work with a real estate agent who has experience with new construction home sales.
Why choose a new construction home?
First thing's first: why should you choose to buy a new construction home?
In short: new construction homes offer the highest level of customizability while remaining cost-effective for homeowners thanks to new, durable materials, modern design and building features, and (most of the time) sustainable, energy-efficient construction.
If you have a specific vision in mind for your new home, new construction can be the surest way to bring that vision to life exactly the way you want.
It's also more accessible than ever before. While new home construction may have once been considered an option for the uber-wealthy, today families at all income levels can find new construction options that fit their budget. Dayton, specifically, is one of the most affordable cities in the Midwest — it ranks #1 for housing affordability out of Ohio's four major metro areas and has a reasonable overall cost of living.
7 benefits of buying a new construction home
Totally customizable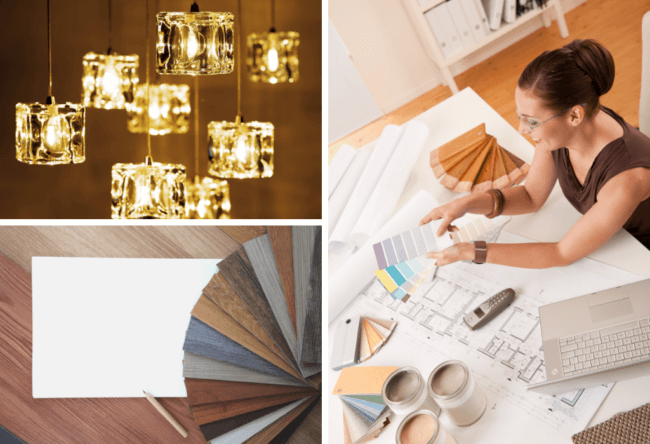 Customizing is one of the most exciting parts of buying a new construction home. From exterior color to flooring and countertop materials to lighting fixtures to small finishes, new construction allows you to choose the home features best suited to your taste and preferences.
Completely updated
You won't have to worry about updating old building materials or outdated features when you buy a new construction home. Everything will be brand new and updated to modern standards.
Low maintenance
Low maintenance living is all the rage right now, and for good reason. New construction homes built with durable materials and convenient design reduce the amount of work and upkeep that homeowners have to do over time.
Modern floor plans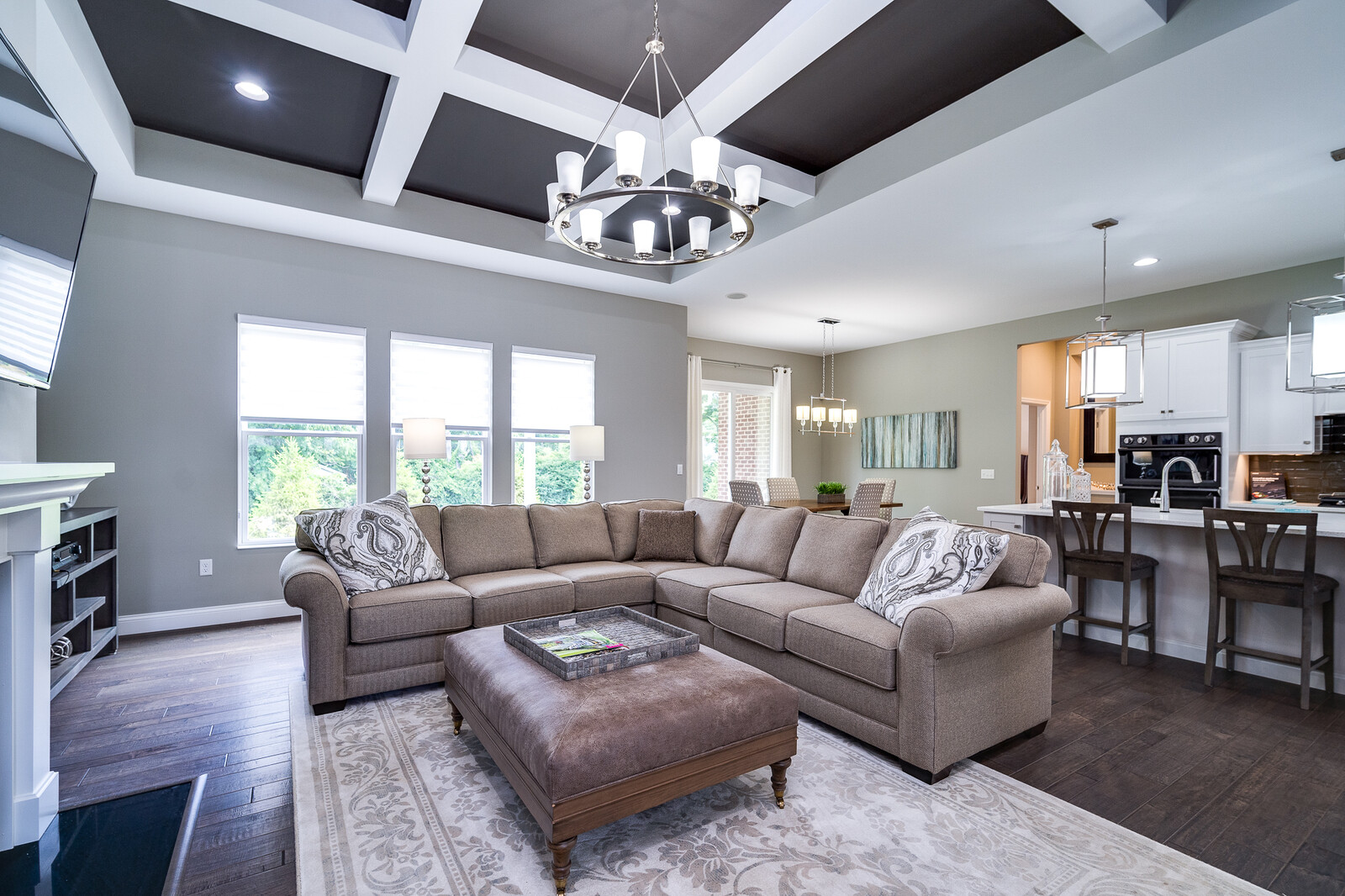 Image Source: Oberer Home Design
Homeowners of the past had different needs and expectations than we do today. Single shared bathrooms, formal living and dining rooms, and closed floor plans no longer align with the way we now live and operate in our homes. New construction homes are typically designed with open floor plans to accommodate modern living needs.
Energy efficient
New construction homes can be built with features like solar paneling, smart irrigation systems, and building materials that offer greater insulation from the elements. These energy efficient choices are environmentally friendly and cost-effective for homeowners, reducing waste and lowering utility bills.
Warranties
New construction homes often come with warranties, offering additional assurance that any unlikely structural defects that occur after move-in will be covered by the builder. Duration of these warranties is typically 1-2 years.
Community amenities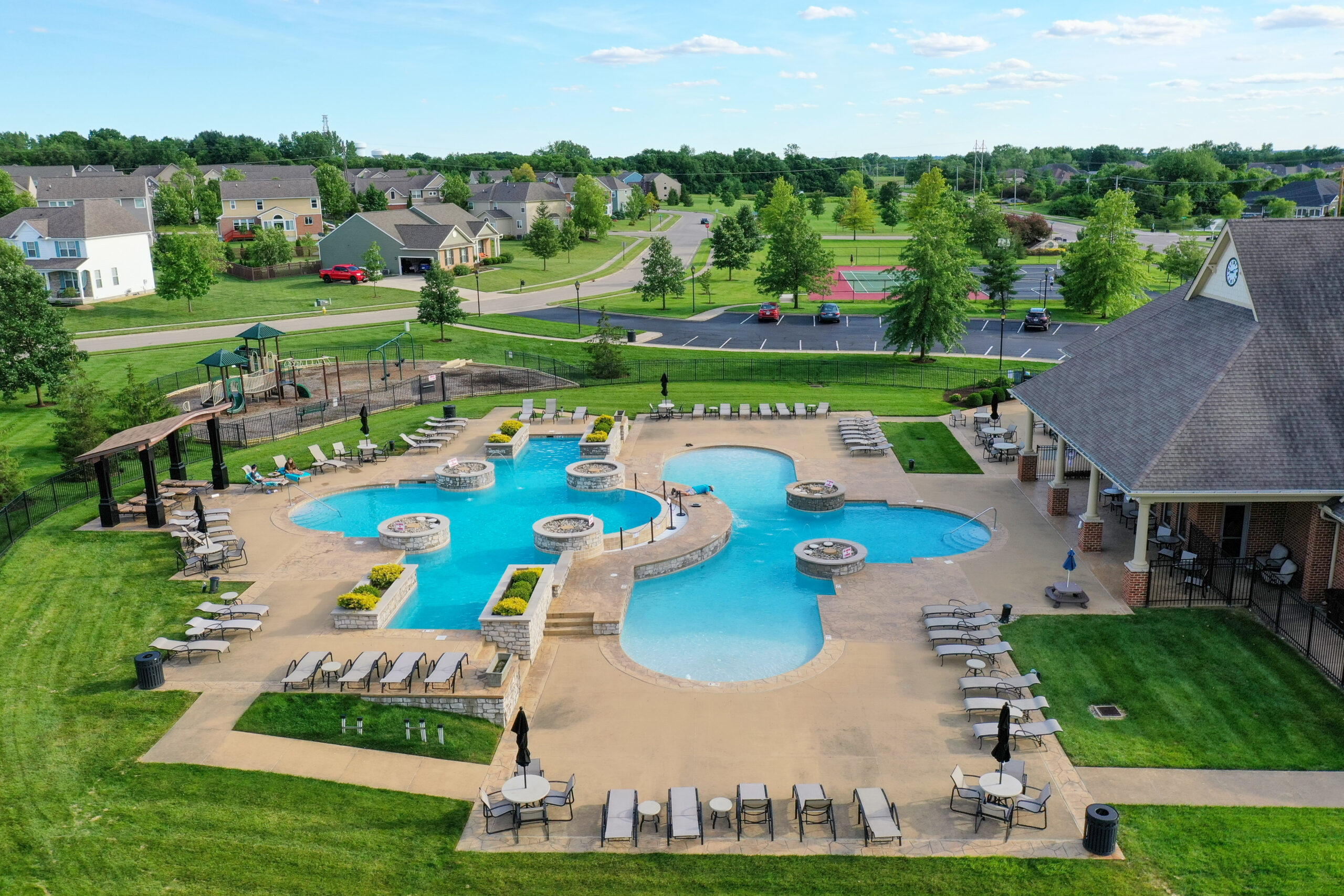 Many new construction homes are built in community settings, offering shared amenities like parks and pools or even golf courses, restaurants, and club houses. Even if these amenities are not located within your new community, most new construction homes are built in up-and-coming neighborhoods close to conveniences like shopping and dining, high-quality schools, and healthcare facilities.
How to find new construction homes for sale
Search for communities online
The internet has made it easier than ever to find new construction homes in your area. A simple Google search for "new construction homes near me" should yield many results you can browse and begin researching.
This is a great method to start with because you can find tons of information on builder or community websites. This can help you narrow your search so you don't spend time visiting homes that aren't a good fit for you.
Research home builders
Another productive place to start your research is with new construction home builders. These builders are usually constructing homes in multiple communities and can show you examples of what their finished product looks like. They can even refer you to happy customers who can share their firsthand experience.
Drive around your area
This is a tried-and-true method that homeowners have been using for decades! Driving around your area is a good way not only to spot homes for sale but to get to know your potential neighborhoods and communities. It's also a good second step after you complete your online research. Once you have a few homes or communities in mind, you can drive through to see them for yourself and decide if you want to pursue them.
Work with a real estate agent
In any home-buying scenario, it's best practice to work with a real estate agent who can guide and advocate for you. When it comes to buying a new construction home specifically, you can find an agent who has experience navigating that process and can help you find and work with a trusted home builder.
Other tips to keep in mind
Be patient during your search
It's important not to rush the process of finding and buying a new construction home. You're already taking the time to pursue customization, and you want to be sure you find the home that's truly right for you. You don't have to compromise — know your priorities (make a list!) and keep looking until you find a builder, community, and home that is the perfect fit.
Read reviews from current homeowners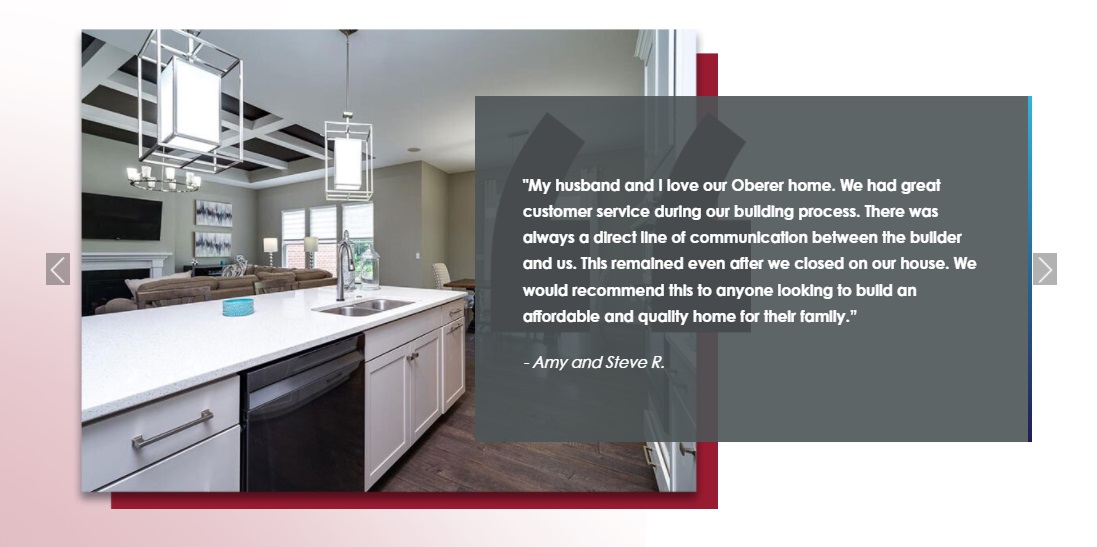 Quality home builders and new construction home communities will be able to demonstrate their track record with reviews and testimonials. Most of the time you can find them online, but don't hesitate to ask for them if you can't find them.
Get to know the community
Your community can determine the quality of your living experience nearly as much as your actual home. New construction home buyers usually visit a model home to envision what their finished home will look like. When you do, don't skip out on getting to know the surrounding community, too. Set aside time to walk or drive around to see community amenities or those located in the area.
New construction homes in Dayton
Homebuyers in or near Dayton have lots of options for new home construction. In both Dayton metro and the surrounding suburb communities, new construction is happening right now. To help you get started, check out some of the most up and coming neighborhoods in Dayton!
Oberer Homes can build you a new construction home in the Dayton area that you'll love. Learn more about our communities and contact us today to get started on your search!