Multi generational living has been a cornerstone of family life in many cultures for centuries. In the United States, the trend is making a resurgence. According to Pew Research Center, multi generational living quadrupled in the U.S.  between 1971 and 2021, and 20% of the population now live in multi generational homes.
There are many benefits to having multiple generations in one household — shared costs, closer family bonds, and easier aging-in-place (to name a few). The challenge for many families is finding the perfect home to meet the unique needs and preferences of each member.
We wrote this article to help. In the sections that follow, we'll cover common home building features common in multi generational homes, plus 6 tips for building a home that's the perfect fit for your family.
Quick Takeaways
Multi generational home floor plans typically include features like multiple living areas, more than one kitchen, and separate entrances to maximize privacy.
Large common areas like great rooms, open kitchens, and extended outdoor living spaces are also common in multi generational homes.
Universal design standards provide accessibility for senior-aged family members.
Building a new-construction home offers more customizability (and is often more affordable) than renovating an existing home.
Features of a multi generational home plan
Before you develop your family's multi generational home plans, you probably want to know what's working for families that have already done it. Let's take a look at 6 common features of multi generational homes that maximize livability for everyone in your household.
Multiple living areas
While common spaces are important for togetherness in multi generational homes, multiple living areas are key to personal space and privacy. In most multi generational home floor plans, you'll find more than one living area that can be utilized for different purposes (or for the same purpose by different family members).
For example, a home may have a great room where the children keep their toys and watch TV as well as a den where grandparents have their own space to relax.
The sample multi generational home floor plan below is a great example of this concept — it includes a great room, "nook" area, and living room that can all be utilized for living space at the same time.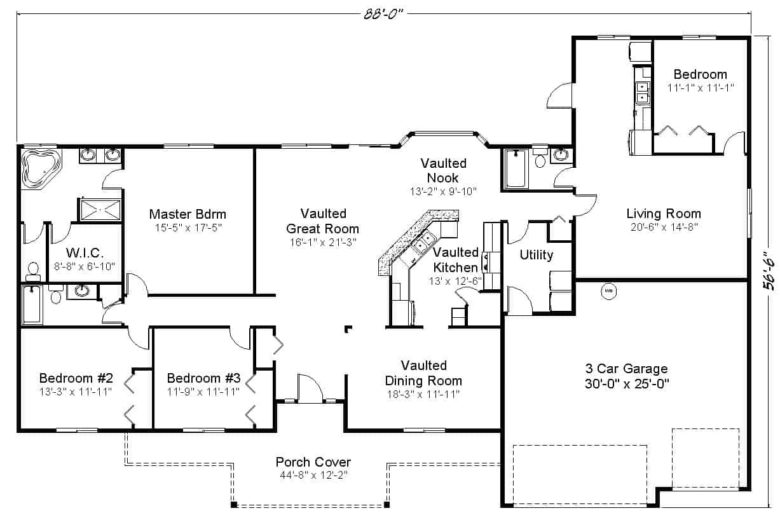 Multiple kitchens
Like multiple living areas, having multiple kitchens provides extra space and privacy for family units within the same multi generational home. A common design found in multi generational homes is a large "main" kitchen and a smaller kitchen or kitchenette located in designated in-law suites.
The sample floor plan below provides an idea of how an in-law suite can be designed with a kitchenette for a more complete private living area.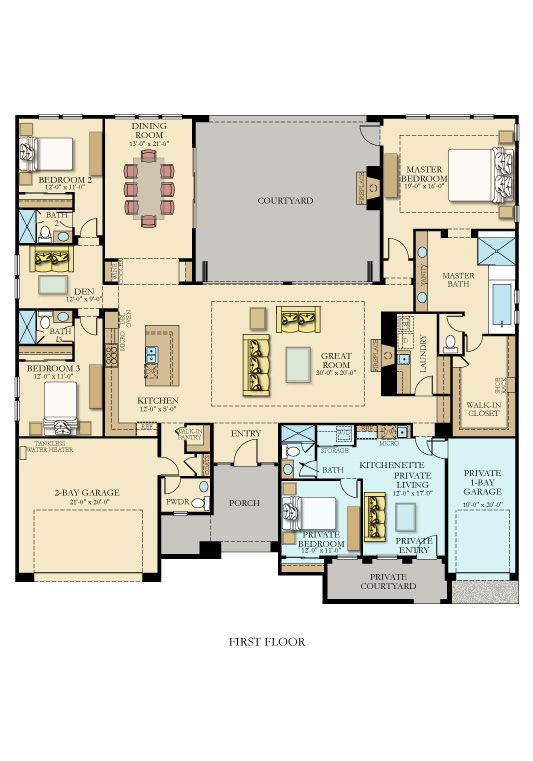 Separate entrances
Adding separate entrances to a multi generational home gives it the feel of individual living units even when they are part of one larger home. For example, in-laws may not want to walk through the main house to get to their in-law suite in the basement. Adding an extra entrance that provides direct access to the basement suite makes it feel more private and adds convenience.
Separate buildings
Another common approach to multi generational living is separate buildings on the same property. Some common options include private apartments over detached garages or small separate houses built behind the main home.
The floor plan below shows a simple design for an in-law suite apartment above a garage:
Extra privacy considerations
Extra outdoor entrances contribute to privacy, and similar approaches can be implemented to extend the same to a home's interior. Pocket or french doors are flexible ways to make spaces more private when needed while also maintaining flow throughout a home.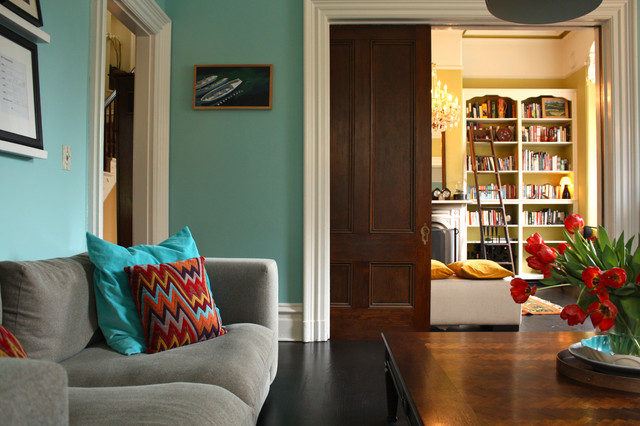 Some families even go as far as soundproof walls and doors or locks between sections of the home to create true separation (when it's wanted).
You can also create flexible spaces that can be used for different purposes by different family members when they need their own space (think a sunny porch room that also has open space to be used as a home gym).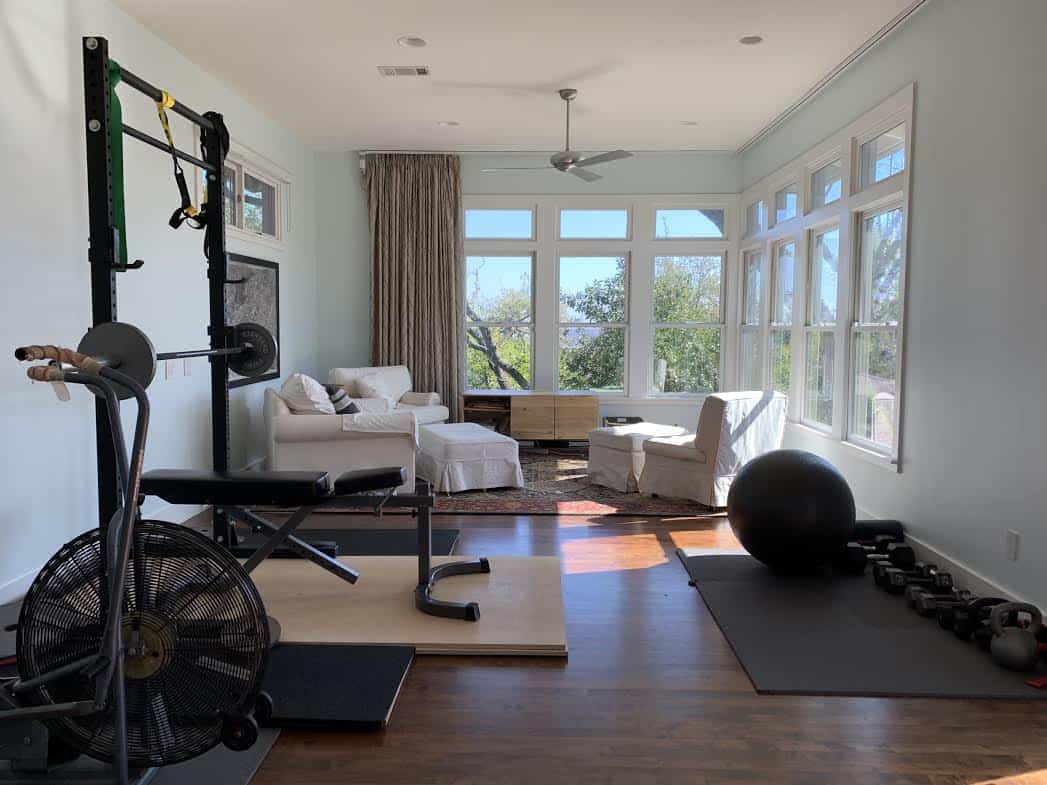 Large common areas
Large common areas like great rooms, open kitchens, and extended outdoor living spaces give multi generational families the ability to comfortably congregate in one place at home. In multi generational homes you'll often find these types of large spaces built in favor of more numerous but less usable spaces, like formal living or dining rooms.
Universal design standards
Universal design is important to making a multi generational home comfortable for everyone who lives in it. Built with accessibility in mind, a universally-designed home will include features like walk-in showers with no step, wide hallways and archways, bedrooms on the first floor, and flat walkways in favor of steps outside the home.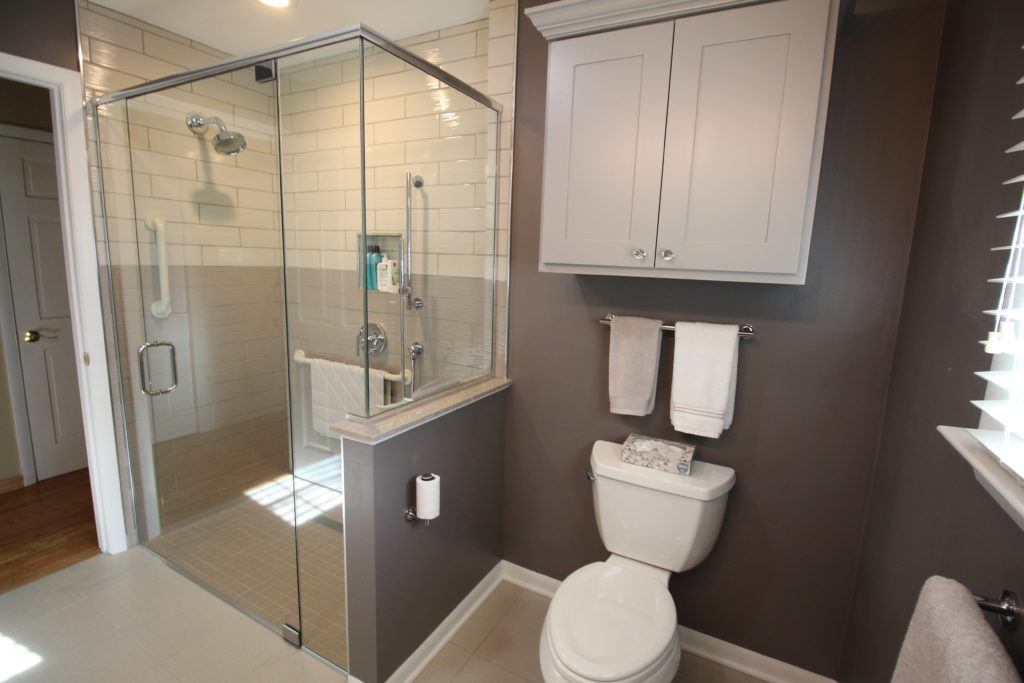 6 Tips for Building Your Perfect Multi Generational Home
No single multi generational home feature is a perfect fit for every family. Let's walk through 6 ways you can be sure you're building a home designed specifically with your family's needs in mind.
Build from the ground up
Home buyers usually consider new construction the more expensive option, and in a traditional sense that's often true. But when it comes to multi generational homes, it can be more affordable than making renovations to existing homes that weren't built with this type of living in mind.
Couple that with the fact that new construction offers much higher levels of customizability, and it's easy to see why it's the better option.
Optimize common spaces
We know that large common spaces provide areas for large families to congregate at home. But not all common spaces are created equal for every family.
For example, one family may prefer a huge eat-in kitchen where the family can sit around the table for dinner every night. Another might want that space allocated to a living room where they can add extra seating and create a common hangout space.
Families living in mild-weather regions might want to dedicate a large part of their budget to an outdoor living space. A family living in a colder city may not prioritize outdoor spaces as highly.
The point is, it's important to think about what types of common spaces are best for your family and make them a focal point in your home plans.
Consider all your "in-law" options
In-laws live with adult children and grandchildren for many reasons. Some may need at-home care, in which case it may be optimal for them to live in the main house. Others may want the privacy and independence that comes with a separate building altogether. Consider the option that will make multi generational living most enjoyable for your unique family.
Keep accessibility in mind
Accessibility needs change over time, especially for aging family members. Even if there aren't any drastic accessibility needs for your family right now, consider what they may be down the road and plan proactively for the future.
Create options for privacy
Privacy needs vary depending on the makeup of your household. If you have multiple teenagers at home, you may prioritize an extra jack-and-jill bathroom for them to share. If your in-laws want to live in the main house but have their own space, multiple owner suites may be on the priority list.
Extend your living space outdoors
It's not the most important common living area for every family, but outdoor living spaces are a popular home design trend that can be especially valuable for multi generational homes where space is a commodity.
If you've got a lot of yard space to use, consider the potential purposes that could make it useful for your family. Should it be a relaxing outdoor oasis? A playground area? An extra dining space? There are many options to choose from. Even if designing a large outdoor living space isn't in your official home building plans, make the most of your outdoor property with easy additions (like patio furniture or outdoor lighting).
Looking for a multi generational home near Dayton?
Oberer Homes can work with you to customize one of our floor plans for comfortable, convenient living with multiple generations in one home.
Contact us today to get started on building your family's dream home!