Are you selling and buying a house at the same time? If so, the process ahead may seem daunting — and there's no denying that it can be complicated. That's why it's important to know exactly how to navigate it successfully.
With the right preparation, you can buy and sell simultaneously with limited stress (and even some enjoyment!). In this article, we'll outline 6 best practices for making it all run smoothly.
Quick Takeaways
It's important to look at both national and local market trends before beginning the home selling and buying processes.
Preparing your home for sale with steps like decluttering and curb appeal improvements makes it more likely to sell quickly.
Bridge loans are short-term loans taken out on home equity to be applied to a down payment on a new home.
It's best to work with real estate agents who have experience with simultaneous buying and selling.
No matter how well you plan, expect the unexpected.
Selling and Buying a House at the Same Time: 6 Steps for Success
Know the market
Does the market favor buyers or sellers? If you're selling and buying a house at the same time, both scenarios can work in your favor. The important thing is to do your research ahead of time so you know what to expect.
Look at larger market trends as well as those in the immediate areas where you're selling and buying. Local markets can differ significantly from national ones due to home values and other unique factors.
Prep your home to sell
Living in a home and selling it are two very different activities. What works for your family as you live day-to-day may not be ideal for a home on the market. Take proven best steps for readying your home to be sold, like decluttering, depersonalizing, and handling any needed repairs that may turn buyers away if left as is.
This helpful checklist can help you make sure you don't miss any important steps: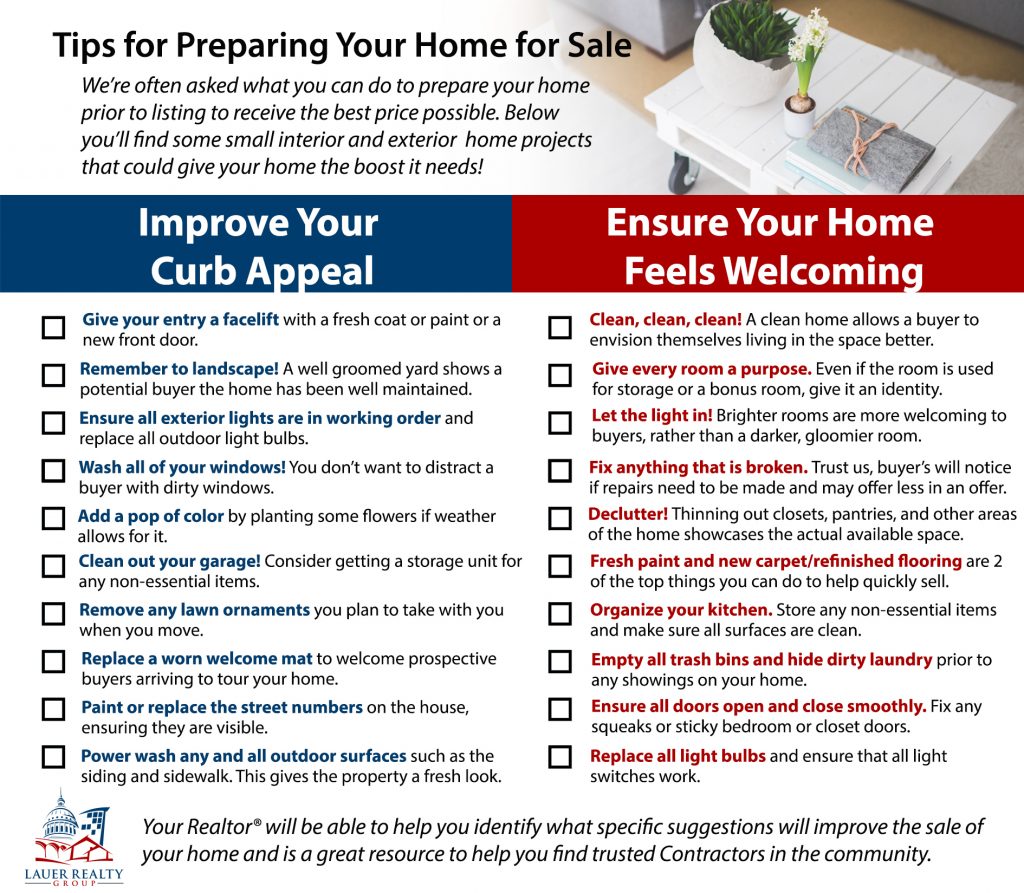 Get your finances in order
Finances can get tricky when you're selling and buying a house at the same time. In most cases, people plan to use the proceeds from selling their current home to pay off the remaining mortgage and make a down payment on their new home. But what about if you need to buy before you sell?
In these cases, you can take advantage of options like home equity lines of credit (you'll need to do this before you put your home on the market) and bridge loans to help make a smooth financial transition. Bridge loans are designed specifically for this situation — they're short-term loans taken out on home equity to be applied to your new home's down payment.
Here's more on how they work:
Be sure you also get preapproved for your new mortgage to avoid delays with your new home purchase.
Time the process
Timing needs to be orchestrated carefully to make it possible to simultaneously buy and sell a home. An ideal scenario goes something like this:
Prepare your existing home to sell
Get pre-approved for your new home loan
Search for your new home
When your new home is under contract, put your new home on the market
Close on your existing home, then your new home
Sometimes you can even close on your existing home and new home on the same day. In other cases, there may be a gap in between that requires you to store your belongings and have a place to stay.
Partner with an agent that can help
There are many moving parts to both buying and selling a home — when you're doing both at the same time, there's even more to keep track of throughout the process. When you're choosing a real estate agent, be sure they have experience handling these situations and can guide you appropriately.
Prepare for the unexpected
No matter how well you prepare, timing and other plans can get thrown off by unexpected hiccups in either the buying or selling process (like a home inspection that doesn't pass, or issues with financing approval).
Take time to learn about these potential surprises and consider if you're in the right situation to deal with them should they occur. It's important to have backup plans, especially if your budget is tight or you have a strict timeline.
The Big Takeaway
Selling and buying a house at the same time is a big and complex undertaking. The name of the game if you want to succeed is to prepare, prepare, prepare. Do your research, ensure your financial situation is solid, and work with professionals who can help you navigate the process.
With the right planning steps, you can avoid common mistakes and make both home transitions low-stress and even enjoyable. After all, moving is exciting! The steps above will help you enjoy the process.
Moving to the Dayton area? Oberer Homes can help you find (or build!) a home you love. Contact us today to get started.