Choosing a new paint color for your home can feel either really fun or totally overwhelming (or somewhere in between) depending on how you look at it. Some people love choosing new paint colors while others feel unsure about what would look best. The best house paint colors to choose also depend on your goals — for example, are you selling your home or just refreshing the look of your bedrooms?
This quick guide will help you narrow down your paint choices and choose shades that you'll love for your own unique spaces.
Quick Takeaways
New interior paint has a 100% ROI and can increase your home's value by 5%.
Light colors tend to make rooms feel larger and more open, while dark colors make them feel smaller and cozier.
Accent walls are a great way to incorporate bold paint colors without making them overwhelming.
When purchasing paint, it's important to know the different sheens and which you prefer for your space.
Neutral colors are a good choice when you're selling your home or for people who like to make frequent design changes.
Paint: A Simple Upgrade with a Big Impact
Painting is an easy upgrade to make in your home that has a big impact — whether you're just looking to refresh your rooms or you're thinking about putting your home on the market.
For homeowners looking to stay in their homes, paint has the power to make familiar rooms feel new again, create a new mood, or totally change a room's design aesthetic. If you're looking to sell your home, paint is one of the ways to get the biggest bang for your buck. According to interior designer Liz Walton, new interior paint has an ROI of 100% and can increase the value of your home by 5%.
Best of all? It's an upgrade that can be completed quickly, with minimal disruption to the rest of your home, and even without hiring a professional if your budget is tight.
The bigger question for many homeowners, however, is this: how do you go about choosing new paint colors? You might love a certain color, but will it really look good on the wall of your home? To complicate matters, paint stores have thousands of colors to choose from, making even the surest decision maker likely to second guess their color choice.
We're here to help. In the next section we'll walk through a list of 5 ways to confidently choose paint colors that will create spaces you love in your home.
How to Choose the Best Paint Colors for Your House
Choose the Mood of the Room First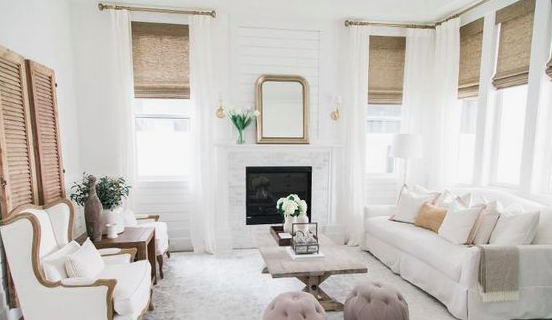 It's not a myth — paint color can truly affect the mood of your room. Different shades of the same neutral color can create a relaxing space. Brighter and/or contrasting colors will make for a bolder feel. White and light colors can make even small spaces feel more open, while darker colors will create a cozier feel.
Deciding how you want your room to feel will help you begin to narrow down your paint color choice and choose one that aligns with your intended purpose for the room.
Select an Inspiration Item
Still not sure where to start? Find an item in your room that you love. It could be as large as your sofa or as small as a print framed on your table. Whatever it is, it should have colors that inspire your vision for the overall look of the space.
You can use that item to help you determine potential color choices for your room, whether it's a different shade of the same color or a different but complementary color.
Create an Accent Wall for Balanced Bold Color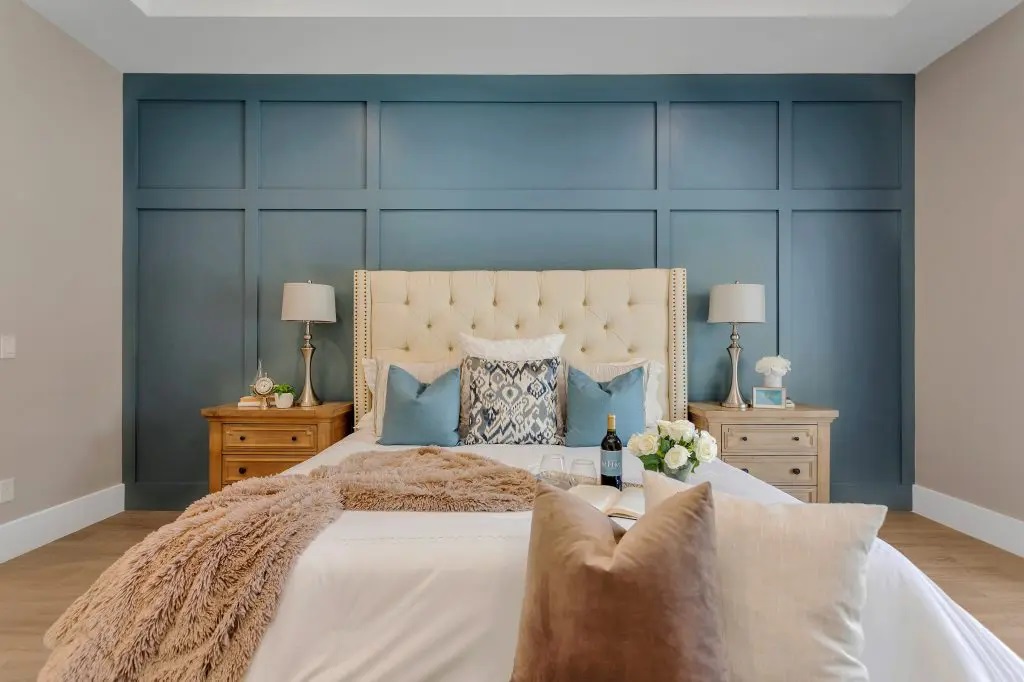 If you want to go bold but you aren't sure about painting the entire room a bold color, an accent wall might be a good choice for you.
Choose a neutral color for most of your walls and your ceiling, then choose one wall to be the focal point of the space. People choose different accent walls for different spaces. For example, in some bedrooms, people may choose the wall behind the bed, while others may choose the wall opposite.
It really depends on the space and your own personal preferences. There is no wrong choice!
Choose the Right Paint Sheen
Paint has different types of sheens you can choose to give them a different look after they dry. Sheen depends on the amount of light reflected off the paint's finish. The higher the sheen, the more light is reflected off the paint.
Low-sheen paints like eggshell and satin finishes are better on walls, while high-gloss paints generally look better on accents (like molding, for example). One thing to consider, however, is that high-gloss paints are easier to clean. If, for instance, you have small children, you may choose a high-gloss paint because it can be quickly wiped clean.
Here's more from Home Depot on how to choose the right paint sheen:
When in Doubt: Go with Neutrals
Even though paint can be easily changed, it can also feel pretty permanent when you're doing it in your home. After all, it takes a lot of time and effort to repaint rooms!
If you change your mind often or you feel like you just can't come to a decision, it might be a good idea to go with neutral paint colors. Then, you can use furniture, window treatments, accent pillows and other decor to bring color into the space. This way, you can easily switch up the color scheme in your room without having to repaint every time.
Neutrals are also undoubtedly the best choice when you're selling your home. It makes it easier for potential buyers to envision their own design aesthetic in the space!
Searching for a new home?
If you're looking to buy a new home in the Dayton area, the team at Oberer Homes can help you find (or build!) one that you'll love. Contact us today to get started!