Kitchen trends change more often than almost any other room in your house! It's not surprising, then, that kitchen remodels are one of the most common projects homeowners take on in newer and older homes alike. But it can be an expensive and overwhelming endeavor if you don't plan appropriately.
We've put together this handy guide so you can:
Learn more about average kitchen remodeling costs
Access kitchen remodel cost estimators and make your budget
Discover tips for saving money throughout your remodel
Let's dive in!
Quick Takeaways
It's recommended that homeowners invest 5-15% of their home's total value in their kitchen.
Kitchen remodels fall into three categories: minor and midrange (which are mostly cosmetic) and upscale (which is a total renovation).
It's important to pad your budget by about 15-20% to account for unforeseen expenses throughout the project.
Knowing your must-haves and prioritizing them in your budget helps you spend smart.
You can save by taking on some DIY work like removing cabinets or painting the walls yourself.
How much does a kitchen remodel cost?
The cost of your kitchen remodel will of course depend on your unique vision and project. That said, there are some averages you can look at to understand what your potential costs will be.
A smart question to start with is: how much of my total home value should be spent on the kitchen? According to Home Advisor, spending 5-15% of your home's total value on a kitchen remodel will earn you the highest ROI. From there, you can follow the rule of thirds:
Spend one-third of your budget on cabinetry. Cabinetry is usually the largest cost in a kitchen remodel.
Spend one-third on countertops, backsplashes, flooring, hardware, and other upgrades.
Allocate one-third of your budget to design and labor costs.
It's also important to consider the level of remodel you're planning on your home: major, minor, or upscale.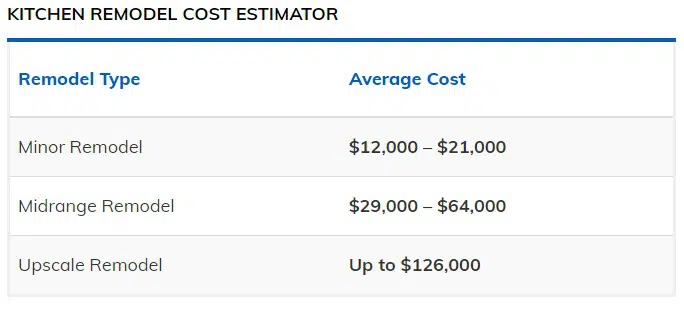 Here's what you can expect to get at each level:
Minor kitchen remodel: Retain current layout but get a refreshed look. Remodel is focused on cosmetic upgrades like painted walls and cabinets, new countertops, and new affordable flooring (like laminate).
Midrange kitchen remodel: Still retains current layout and focuses mostly on cosmetic changes, but with some more expensive upgrades. Examples include tile backsplash, new kitchen island, and upgraded appliances.
Upscale kitchen remodel: Includes a total remodel. Layout, plumbing, and electrical can be changed. Major cosmetic upgrades are made in every category.
No matter what level of remodel you plan to take on, it's also a rule of thumb that you should pad your budget by about 15% to account for inevitable unforeseen costs that arise.
Kitchen remodel cost estimator guide
Once you've got an idea of what you want to include in your kitchen remodel and how much it costs on average, you can use a kitchen remodel cost estimator to help you create an accurate budget.
We recommend these steps:
Measure the size of your kitchen. Consider the cost per square foot as an average starting point.
Make a list of the things you want to include in your remodel. Sort them into must-haves and nice-to-haves.
Look at your list and determine which remodel level you fall into. Set your expectations.
Use an online kitchen remodel cost estimator like this one from Home Depot. You can use this tool to crunch numbers and look at multiple scenarios.
Know your budget. What do you really have to spend? Look at your must-have and nice-to-have lists and the estimates you created. Then, adjust your lists and your budget as needed.
How to save on kitchen remodel costs
Keep the same layout
Remodels that fall into the minor and midrange levels generally do not involve changing the layout of your kitchen. Keeping your layout the same can save you big bucks because you won't have to pay for labor or heavy electrical and plumbing costs.
While it may feel like a limitation at first thought, saving money this way may allow you to invest in more affordable cosmetic changes that still make your kitchen feel like a brand new space.
Here's an example:
Make a budget (and stick to it)
It's a must! Have your budget created before you take any other steps to begin your remodel. A detailed budget helps set your expectations from the start, allows you to make smart decisions throughout your remodel, and enables designers and contractors to be clear about what they can deliver within your budget.
Remember: pad your budget by about 15-20% to account for unforeseen expenses (which will definitely crop up). This way, you can take care of them without spending more than you plan.
Here are a few more kitchen remodel budgeting tips to help you get started:
Know your must-haves
Knowing your "must-have" items and prioritizing them in your remodel helps you to avoid spending on things you don't really need (or even want all that badly). Make your must-haves list before the remodel starts. Prioritize them in your budget. As your remodel progresses, be intentional about not investing in things that sound nice but aren't necessary for your vision to come to life.
DIY when you can
Especially when it comes to preparing your kitchen for its remodel, there are some things you can do yourself to save on labor costs. Try removing old cabinets on your own or picking up your materials instead of having them delivered. If you're up for it, you can even do some painting.
While we recommend leaving the heavy lifting of your remodel to the professionals, you can get in on the action on easier tasks to free up your budget for other things.
If you're moving to the Dayton area, Oberer Homes can help you find the home (and kitchen!) that's right for you. Contact us today to get started!