Wondering how to find the right senior living community? You're not alone! As baby boomers age and the average age of life expectancy increases, so does the number of seniors living in the United States. In fact, the 65+ age group will make up more than a fifth of our total population by 2030!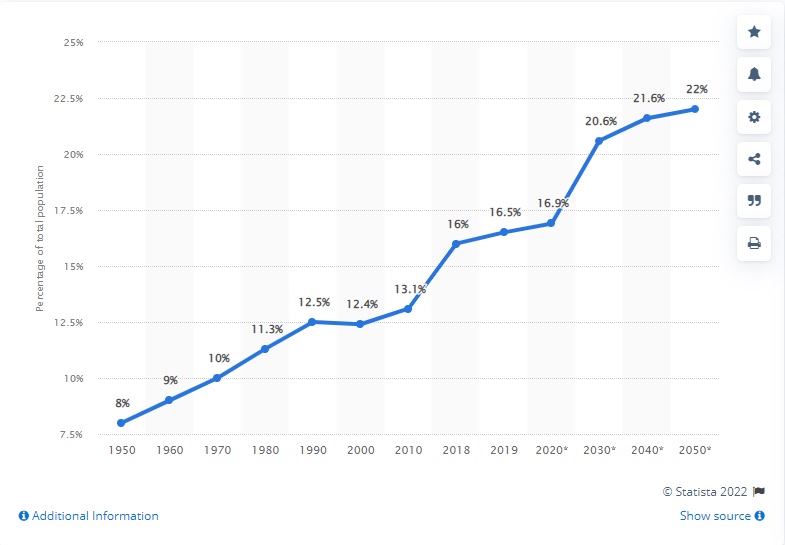 In response, the number and types of senior living communities available across the country is growing. Depending on personal preferences, level of care needed, and geographic location, seniors have plenty of options to choose from as they decide where to live their golden years.
In this article, we'll cover the different types of senior living communities you can choose from and additional tips for navigating the selection process.
Quick Takeaways
Senior living communities are generally designed to align with a particular level of needed care.
Budgeting for senior living requires unique considerations such as living on a fixed income and planning for changing care needs.
Visiting facilities in person, asking plenty of questions, and talking to current residents (or their families) are important steps to gather all of the information you need to make a decision.
How to Find the Right Senior Living: 6 Tips to Guide You
Know your options
There are several types of senior living communities to choose from, and the first step to finding the right one for you is to determine which type best meets your needs and preferences. Options range from age-restricted communities, which are regular residential communities that usually restrict to age 55+, to full-time care nursing homes.
Housing is generally designed to align with a particular level of needed care, outlined visually below on the commonly-used senior living spectrum.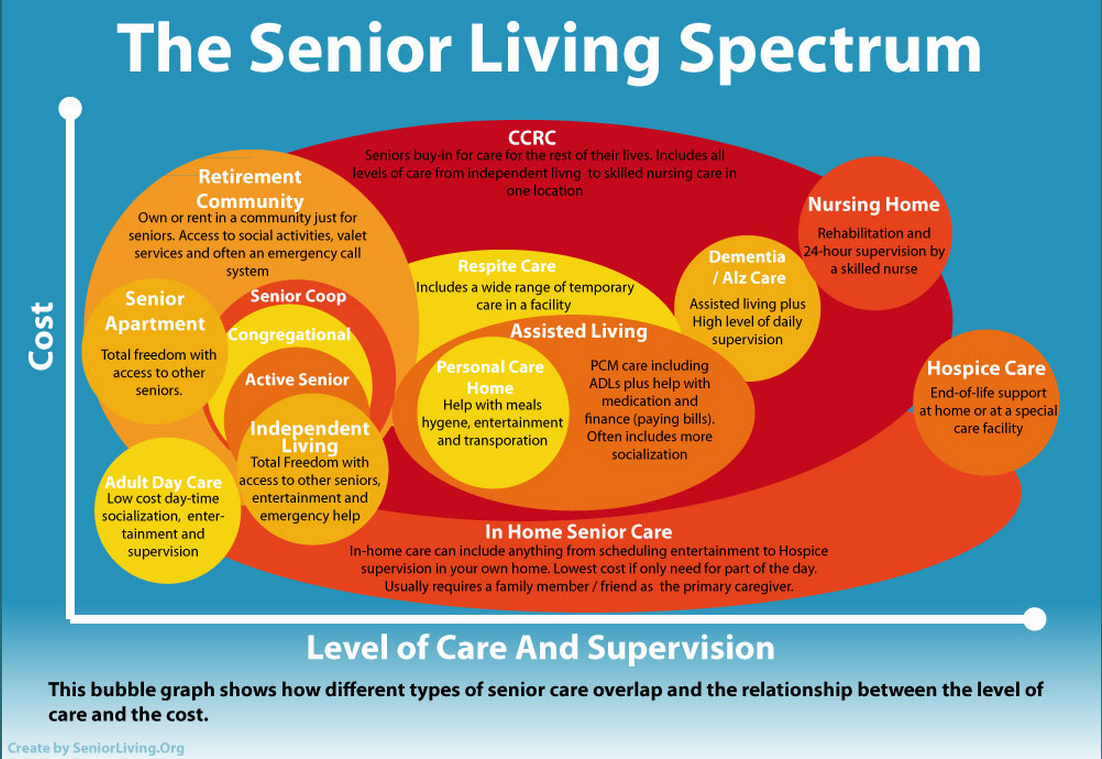 Let's go into more detail on the most common senior living community options.
Patio Home Communities
Patio home communities aren't age restricted, but they're a popular choice for seniors who want to live independently while enjoying conveniences and amenities that make for easy living in their golden years! Patio homes are one-story and have no indoor or outdoor stairs (though some do offer bonus rooms, should you need more space). They're typically located in communities that offer services like landscaping and snow removal in exchange for HOA fees, and are equipped with low-maintenance products and finishes. If you're considering a plan for aging-in-place, a patio home community could be right for you.
Age-restricted communities
Also often referred to as retirement communities (although you don't actually have to be retired most of the time), age-restricted communities offer totally independent living in communities with people of similar age. In age-restricted communities you'll typically find a range of housing options from apartment/condo to townhouse or even single home. Age-restricted communities also run social events and have amenities on-site (such as tennis courts, pools, clubhouses, and more) that keep residents active and engaged.
Adult Family Care Home (AFCH)
This unique option provides small-group care in a residential setting. It's a good option for seniors who require higher levels of care but prefer a more personalized, at-home environment. Services included at AFCHs usually include housing, daily meals, living assistance, and social outings and activities.
Assisted Living Communities
Assisted living communities provide a medium level of care for seniors who can live somewhat independently but require assistance in certain areas, such as housekeeping, bathing, tracking medications, and transportation. Assisted living communities provide these services as well as daily meals and social activities.
Skilled Nursing Facility
Skilled nursing facilities are nursing homes that provide 24/7 care under the supervision of a physician and medically-trained staff. They offer many of the same amenities and services as assisted living communities — including social activities and recreation — but are typically designed to take place on-site. Skilled nursing facilities can be designed for either long-term or short-term care (the latter is usually for seniors who need physical or occupational therapy to recover from a surgical procedure).
Continuing Care Retirement Community (CCRC)
Continuing Care Retirement Communities are comprehensive facilities that provide an entire spectrum of living options that encompass all of the options above. CCRCs are an attractive option for seniors who may be able to live independently at the time they move, but want to remain in the same community long-term, even as their care needs increase.
The video below dives into even more detail about each of these senior living options (including how they're paid for either privately or with insurance). Check it out for a deeper understanding of each option:
Create a long-term budget
Budgeting for your new senior living community is different than it is for traditional home buying or renting. Seniors are generally retired (or soon-to-be retired) at the time of their move and need to plan for long-term housing costs on a fixed budget. In addition, housing costs often increase for seniors as their level of needed care increases.
It's a good idea to talk to a financial advisor who specializes in budgeting for senior living who can help you understand your current and future income outlook and plan for both current and future living expenses. Then, you can narrow your search for senior living options to those that best fit your budget.
Here is more helpful information about vetting and choosing a financial advisor who can help you navigate this process.
Visit in person
This is a tip that applies to just about any new home purchase. That said, it can be even more crucial when choosing a senior living community because aspects such as quality of care come into play. The short advice: always visit a community or facility in person before committing.
That said, we know it can be difficult for seniors to tour multiple communities and it can be made even harder when the move is further (for instance, when seniors are moving to a new state with milder weather). In these cases, a good option is to find a loved one who can make the trip for you to tour the community.
When that's not possible either, look for a video or 3D tour of the space (these are often available on communities' websites) to give you a feel for what it's like.
Explore the surrounding community
Your extended community can be just as important as the one you live in. When choosing a senior living community, consider things like:
Is there close and convenient access to medical care and/or hospital facilities?
What transportation options exist?
Are there options for nearby social activities and outings (restaurants, theaters, etc.)?
For many seniors, it's also important to be close to family and friends. Priorities may differ for every individual, but in all cases it's important to know what you'll have access to beyond your immediate living facility.
Ask questions
As you explore senior living community options, you'll have plenty on your mind. Our advice: don't hesitate to ask questions throughout the process! Here are some we recommend:
What is the visitor policy for your facility?
How are care staff trained? What is their level of qualification?
What kind of social and recreational activities are offered?
What is the meal service and menu like?
How is resident and family feedback collected or evaluated?
It's helpful to brainstorm questions and topics that are important to you both before, during, and after your talks with and visits to potential communities. The main takeaway is to always ask! You want to have all of the information you can possibly have, especially about things most important to you, before you make this important decision about your future.
Talk to other residents
Whether you're looking into an independent living community for yourself or a full-time care nursing home for a loved one, you should be able to talk to residents (or their loved ones) to get more information about the experience of living at a particular senior living facility. It's often the best way to get a true feel for what it's like to be part of a community.
You can usually ask the representative you're communicating with to connect you with current residents. Good facilities won't hesitate to do it!
If you're moving to the Dayton area, Oberer Homes can help you find the home that's right for you. We build customized patio homes perfect for empty-nesters and retirees looking to downsize or enjoy HOA amenities! Contact us today to get started!