The bathroom has evolved from a functional space in the home to one that we use for relaxing and unwinding from the stresses of life. Designing a new bathroom, then, feels like a project you want to get just right.
A big part of that is choosing the bathroom size that works best for your home and the fixtures you want in it. That's what we'll cover in this article. We'll go over:
Types of bathrooms and their average sizes
How to measure your bathroom
Choosing the right-sized fixtures for your space
Finishing touches
Quick Takeaways
Master, full, ¾, and half baths all have different standard bathroom sizes that serve as baselines for design or renovation.
Measuring your space — including walls, height, and fixtures — is an important first step as you envision your new bathroom.
The right-sized fixtures for the space depend largely on homeowner preference (i.e. a huge shower vs. a larger vanity, or vice-versa).
Windows, glass shower enclosures, and light paint colors can all make a bathroom space feel more spacious.
Master vs. Full vs. ¾ vs. Half Bath: What's the difference?
The size of your bathroom will largely depend on its place in your home and the purpose you need it to serve. For example: Is the bathroom you're planning a master suite or a powder room for guests?
Bathrooms are divided into three categories that suggest their purpose: full, ¾, or half. Here's what you'll find in each:
Full bathroom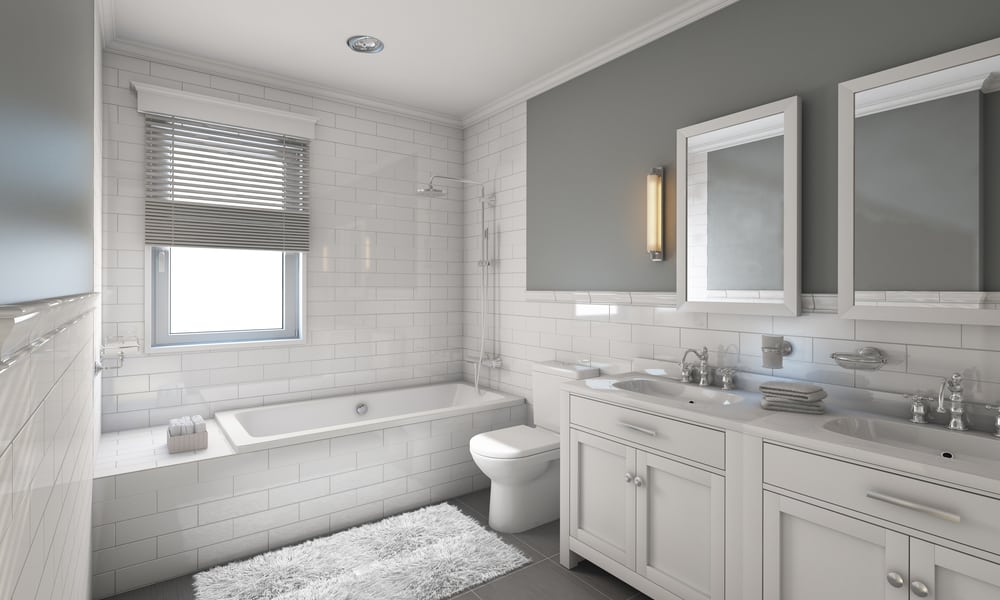 Full bathrooms have a bathtub, shower, vanity, and toilet. They're usually found in or near a home's bedrooms, serving as a main bathroom for residents.
As far as layout, a full bathroom typically has a shower and bathtub positioned together away from the door, against a wall or under a window. The vanity separates the shower and tub from the toilet, which is positioned closer to the door.
Standard full bathroom size: 36-40 square feet
Master bedroom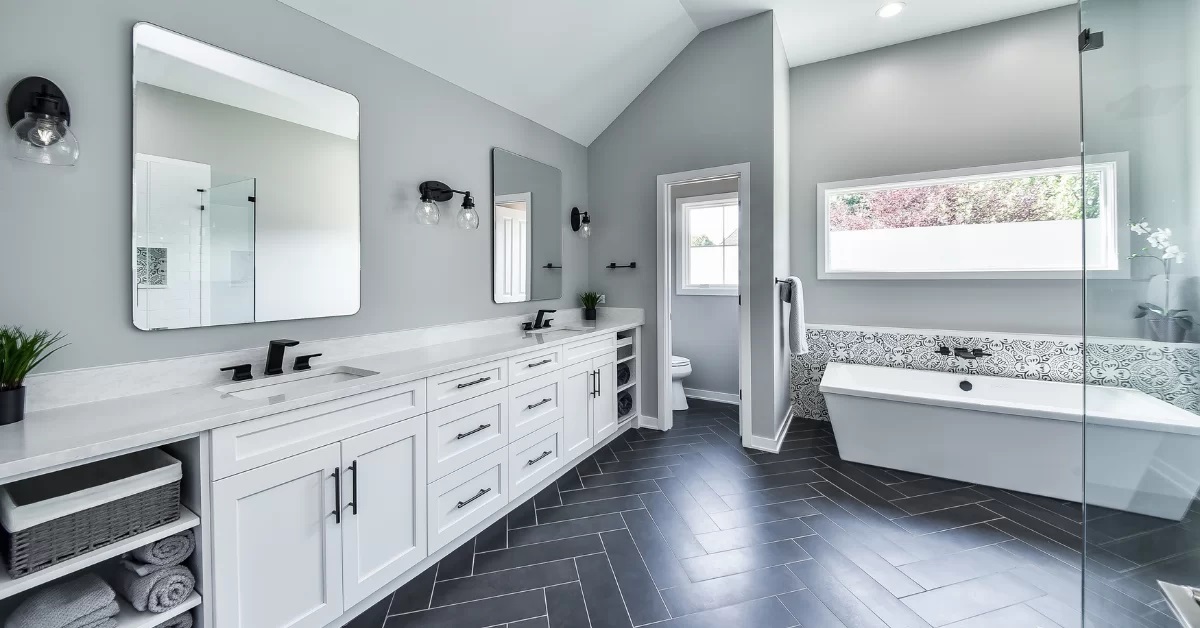 A master bedroom is usually a full bathroom with additional space allotted for storage, seating, or other purposes determined by builder or homeowner preferences. It's attached to the largest bedroom in the home, requiring someone to actually go through the bedroom to get to it.
Depending on the home, some master bedrooms are more functional, but in many cases they're designed to be spacious and feel luxurious — a sanctuary space for homeowners to relax and unwind.
Average master bathroom size: 40-100 square feet
¾ bathroom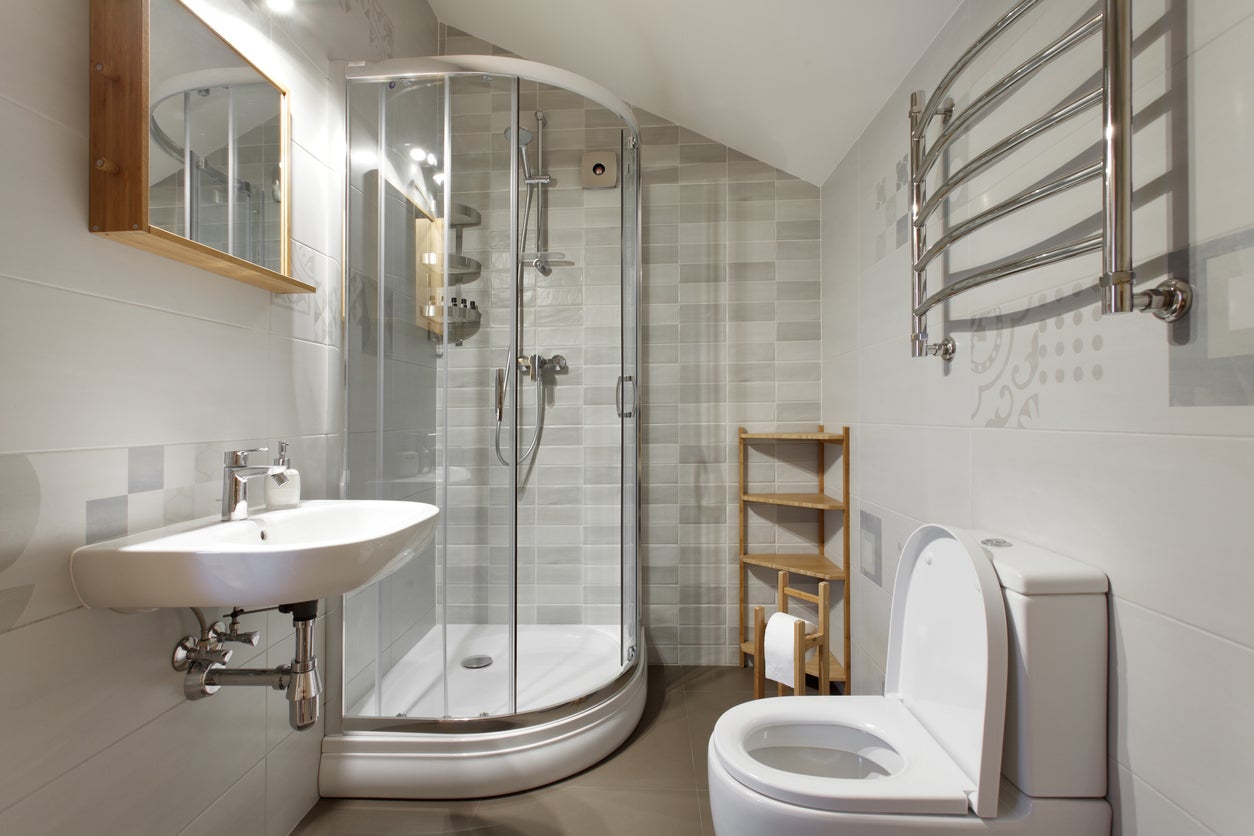 A ¾ bathroom is a great option in cases where you want to save some space but still need the space to be a fully-functioning bathroom. It includes a shower, vanity, and toilet (no bathtub) and follows a similar layout to the full bathroom.
Average ¾ bathroom size: 30-36 square feet
Half bathroom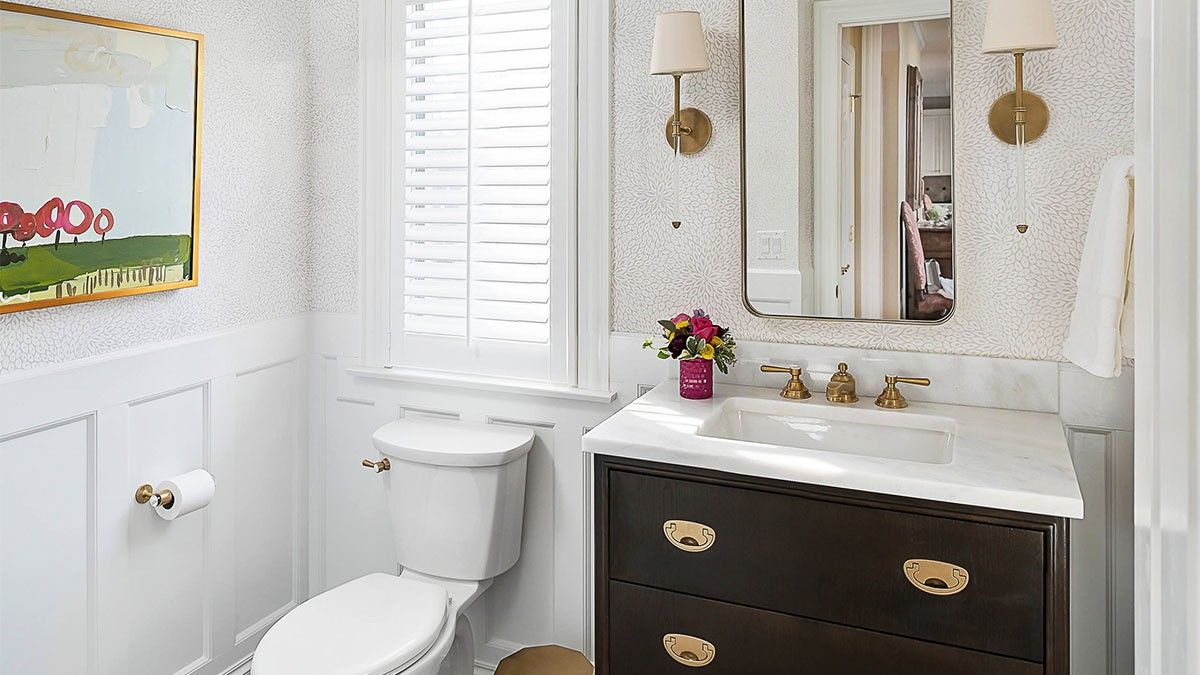 Half bathrooms are spares — bathrooms built in addition to the full or ¾ bath used by the people living in the home. Half-baths are usually built for convenience (ex: having a bathroom downstairs when bedrooms are all on the second floor) and for guests.
Half bathrooms have a toilet and a vanity, and are small and compact, with a toilet and vanity positioned close together.
Standard half bathroom size: 16-20 square feet
Taking the right measurements
Once you've decided on the type of bathroom you're building or renovating, it's important to take the right measurements so you can optimize your space. This is a step you can take before you even hire a contractor, in the beginning stages of planning and envisioning your space.
What you'll need: a tape measure, paper, pencil, and a second pair of hands (if possible).
Start by measuring each separate wall, moving in one direction around the perimeter of your room. Then measure the height of your room from floor to ceiling. If the ceiling slopes, your floor has more than one level, or you otherwise have varying heights in the space, be sure to measure each one.
Next, measure all windows, doors, and entryways. Be sure that you measure doors themselves as well as the actual archway space surrounding it.
Finally, measure all of the existing fixtures in the space, including their height, width, and depth. This will give you a baseline for comparison when deciding how big you want new fixtures to be.
It's best practice to also have your contractor measure the space professionally, but doing so yourself as a first step is helpful for picturing potential layouts and fixture options, as well as for getting price quotes from potential contractors.
Choosing the right-sized fixtures for your space
First and foremost, use the measurements you and your contractor took to be sure you select fixtures that actually fit in your bathroom. Beyond that, decide on your fixtures depending on your preferred layout how you want the space to feel.
For example: if you want a minimalist space, you may choose cleaner, smaller fixtures for more open space in your bathroom. If you want to make the room feel full and cozy, you may choose bigger fixtures that make a statement.
Fixture size also depends on what's most important to you — some homeowners may consider a large walk-in shower nonnegotiable, while others may prefer a large double vanity and ample counter space.
Making additional touches
No matter what size your bathroom space is, you can add a few design touches to make it feel bigger and more spacious than the measuring tape says it is. These include:
Windows – If you can, install a window to let more natural light in.
Glass shower enclosures – Increases visibility, welcomes natural light where you have it.
No shower enclosures – Makes your room feel like one big space.
Light bathroom paint colors – Known to make rooms feel more open and spacious.
Over to You
Thinking about building a home in Dayton that's designed just for you? The team at Oberer Homes can help! Contact us today to learn more and get started on your dream home.