Building a home comes with many moving parts — and knowing how to make and track your overall budget is essential.
Between land and building costs, customizations, incidentals, and other personal costs related to the build, it can feel overwhelming to manage an entire new home construction budget and keep track of how the actual construction is going.
This article will help you get prepared. First, we'll cover what should be included in your budget. Then we'll jump into best practices for tracking it throughout the building process.
Let's get started!
Quick Takeaways
The cost of land is typically calculated per acre, which here in Ohio is around $30K.
Site preparation is a separate cost that includes things like flattening land, removing debris, and readying soil for construction.
Line items often bundled into building expenses charged by your builder (which come in at around $150 per square foot of home) include materials, permits, and labor.
New construction home budgeting typically requires close partnership with your builder.
Spreadsheets are an effective way to track your budget and keep it updated.
What should be included in your new home construction budget?
Land
The cost of land for your new home depends on your location, but if you're buying here in the Buckeye State, you're in luck — it's one of the more affordable states to build. An acre of land in Ohio costs about $30K on average.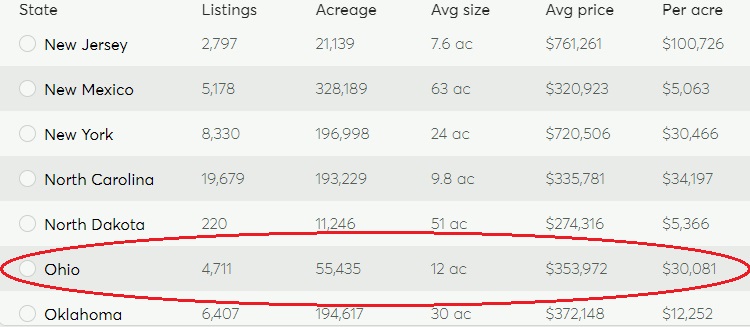 Of course, your exact costs will also depend on how much land you buy. Some homeowners plan to purchase enough land for their home and outdoor space surrounding it, while others buy a plot for their home only.
To budget for land costs, have an idea of the planned square footage of your new home as well as how much acreage you'd like to own around it.
Building expenses
Depending on where you're building, you'll either need to hire your own builder or work with one provided by the developer (if you're building in an existing community). Either way, building expenses fall around $150 per square foot of your home, according to Realtor.com.
That means a 1500-square foot home would include building expenses totaling about $225,000 to cover labor, permits, materials, and home design.
Permits
Like the cost of land, permit expenses depend on where you live, mostly because the actual permits also vary by location. In Ohio, you need an occupancy permit, utility permit, and septic permit.
On average, permit costs are estimated to be around $7000-$10,000. In many cases, they're bundled in with building expenses from your builder — but it's important to be sure they're all included and you have the paperwork you need before you start to build.
Site preparation
Your land will need to be professionally prepared for building, which includes readying the soil and flattening terrain for your foundation. These costs are often sometimes bundled in with building expenses, but alone can cost anywhere from $3-$15 per square foot, or between $2000 -$6000 per acre.
Tree removal will incur additional costs, as will removal of vegetation, rocks, or other debris. It's a good idea to get an estimate on site preparation costs before you actually purchase your land as part of your budgeting process.
Foundation
The first step to any new build is breaking ground and laying the foundation. Depending on the exact type of foundation you choose (for example, whether or not you dig out a basement), your costs will vary — but expect this line item to come in at least around $10,000 with the possibility of reaching well over $20,000.
Customizations
While interior and exterior finishes are largely covered in your building expenses, customization and upgrades can add to your budget. Particularly in cases where you're buying a semi-custom or custom home in an existing development, it's important to know what the cost is for builder grade finishes as well as the cost of upgrades. Then, decide which upgrades are most important to you and work them into your budget before you start building.
Incidentals
Inevitably, you'll experience unexpected expenses throughout the home building process, and you'll need to be prepared for them financially. Leave room in your budget for things that come up throughout the building process so you don't have to pause or worry that you can't meet cost requirements.
How to Build Your Budget
Maintaining your budget in a spreadsheet helps you centralize cost tracking in one place. It's as easy as building an Excel sheet and entering costs as they come up. As you think about how to set your budget limits for each expense area, a good way to segment things is by percentage of total budget.
Here's a sample from The Vanderveen House, a Canadian real estate investor, that mocks up a new home construction budget spreadsheet for a $400,000 home.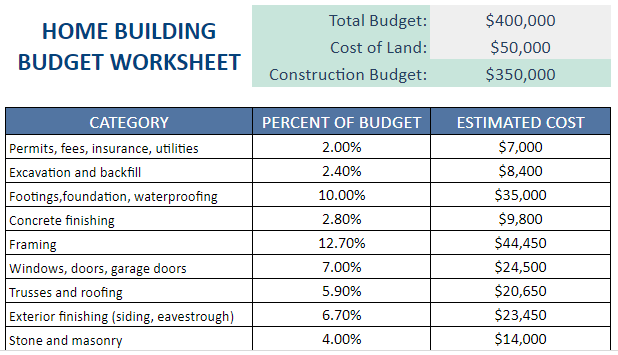 As you can see above, many of the line items are part of building expenses that your builder will take care of — and that you'll pay for as part of a bundled cost. For this reason, to fully understand and have control over your budget, you'll need to work together with your builder.
Have your builder share their budget breakdown of things like labor, permits, building materials, etc., then add in your own expenses. You may have separate personal costs related to building your new home that you'll also want to include in your overall budget — such as rent (if you are staying in temporary housing) or storage for your belongings.
In addition, you'll have expenses related to furniture and decor once your home is built, which you'll want to plan for ahead of time. Once you have your actual building costs outlined in your budget spreadsheet for building a new home, add these indirect but related expenses so you can see and track your larger financial situation.
Last but not least, keep your budget updated. The budget you create at the start of your build will almost certainly look different from the one you end with. Material costs change, unexpected expenses come up, and as the homeowner you may decide to add or change orders for certain finishes.
Ultimately, you want your new home construction budget spreadsheet to always be a real-time, accurate representation of what you already spent and what you'll spend in the future.
Over to You
Looking to buy a new construction home in the Dayton area? The team at Oberer Homes can help! Contact us today to find (or build!) a home you love.