Online paint visualizers take the guesswork out of choosing a paint color — something even the most experienced home renovators and decorators want to avoid. Though their exact features vary, pain visualizers generally allow users to upload a photo of their room to see how the paint color they're considering will look in that space.
Backed by advanced augmented reality technology, these tools help homeowners choose paint colors with confidence. It saves tons of potential time spent having to repaint a room when the paint color doesn't work, or living with a room design that doesn't fit your original vision.
Today, most paint manufacturers and hardware stores have their own paint visualizers offered for free online. In this article, we'll walk through the X options to choose from and the features that make them great.
6 Best Paint Color Visualizers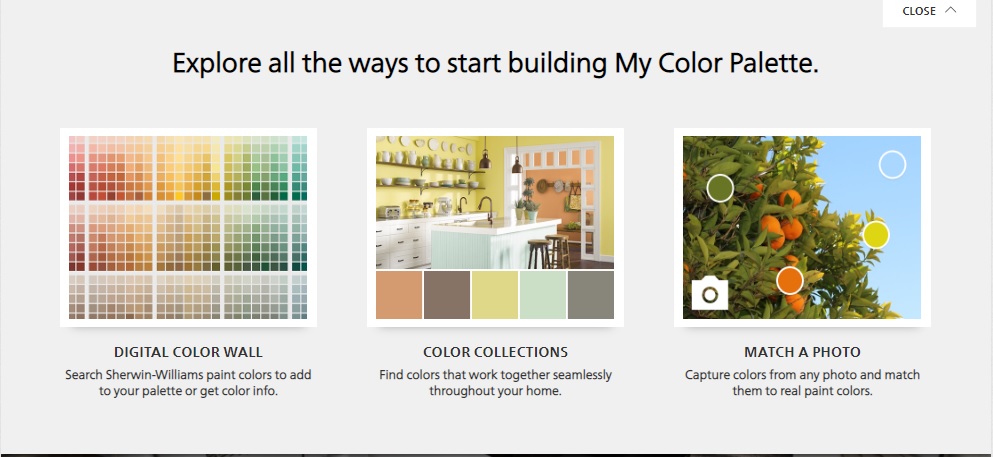 The Sherwin Williams ColorSnap Paint Visualizer is one of the most comprehensive tools you can use to find the right paint color and see exactly how it will look in your space. If you have a color in mind, you can get right to the visualizing with a photo provided by the tool or by uploading your own.
If you need inspiration, you can choose a color from the expansive Sherwin Williams digital color wall, check out trending colors chosen by experts, get advice on full color palettes that go well together, and even find a paint color to match a color from a photo.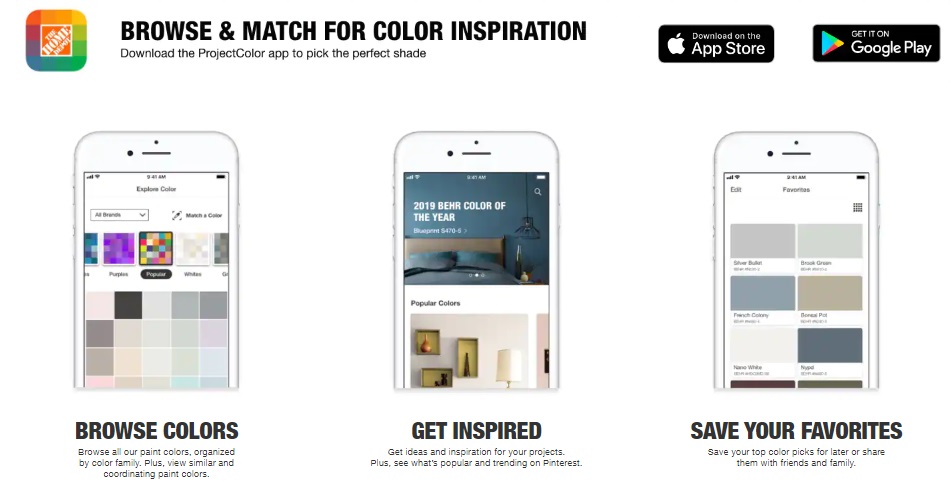 Home Depot's Project Color is a mobile app with great features that make choosing a paint color easy and fun. In the app you can browse every color available at Home Depot, see what's trending on Pinterest and other design inspiration sites, and explore coordinating color palettes.
When you upload a photo to the Project Color app, you can match different paint colors to a particular piece of furniture or decor in your room. While you can't see the paint exactly how it will appear in your own space, you can use provided photos to see the paint in different rooms (i.e. bedrooms, kitchens, bathrooms) to get a sense of how it appears in real life.
Another helpful Project Color feature is the ability to save photos and favorite color options so you don't lose progress when you leave the app.

Benjamin Moore's Personal Color Viewer is one of the simpler tools on this list, but still easy-to-use and helpful for selecting a paint color you love. When you pull up the tool, you can choose to upload your own photo or select one of their stock photo options.
The stock options include several design aesthetics for each kind of room so you can align it with the space in your home (i.e. "Rustic Country Bedroom" vs. English Romantic Bedroom").
In the next step, you can select a color by family and then by specific shade, easily clicking and viewing each color in your photo. The tool allows you to save projects and come back later to continue or view again.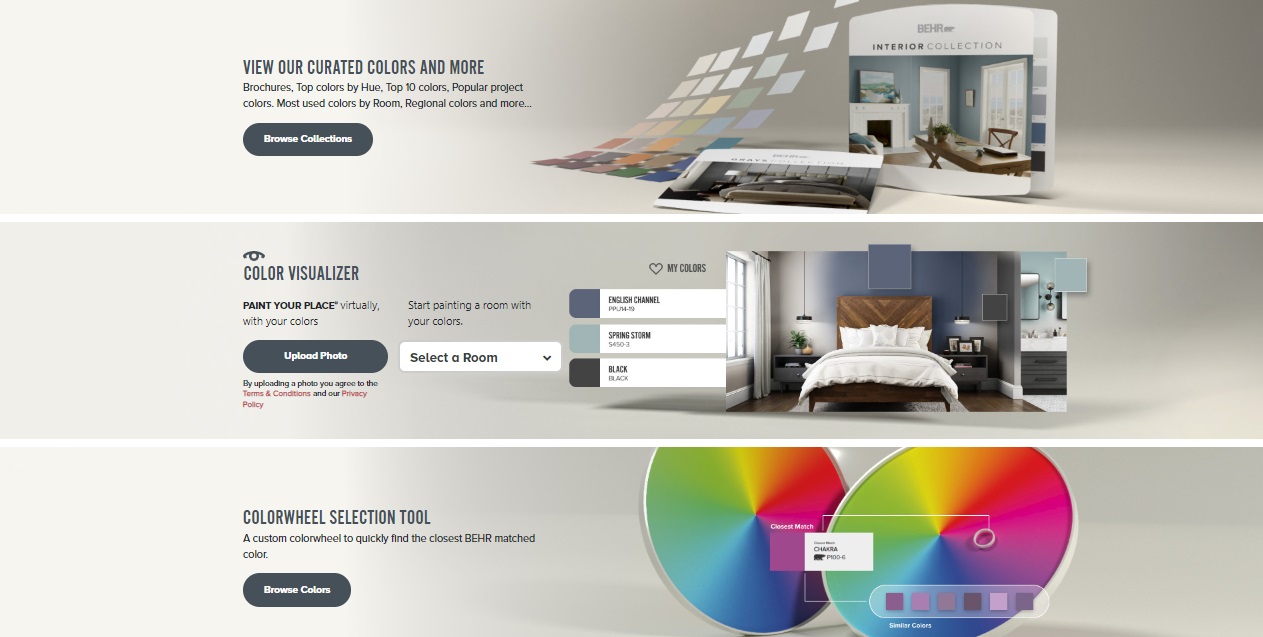 Behr's ColorSmart paint color visualizer has all of its features conveniently displayed on a single page. You can start by selecting a color family, then browsing colors within that family. You can sort by popular shades or view them all to choose your own favorite.
Then, you can upload your own photo or use a Behr photo to see what potential paint colors will look like in each room. Finally, the Color Wheel tool allows you to choose any color and match it to an actual Behr shade.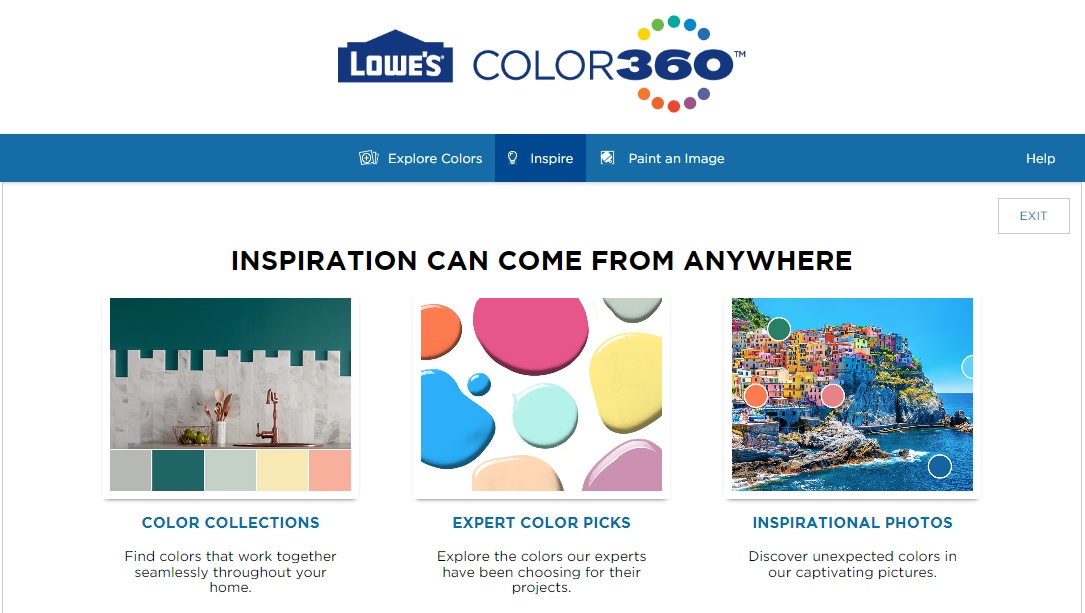 Lowe's Color360 paint visualizer allows users to explore colors from both Valspar and HGTV Home by Sherwin Williams (both sold at Lowe's stores). You start by selecting a color from an easy-to-view color wall. You can choose to look at all shades at once or sort by color family.
If you need help choosing, you can get inspired by color collections, expert picks, or photos that can be matched with a paint color sold at Lowe's.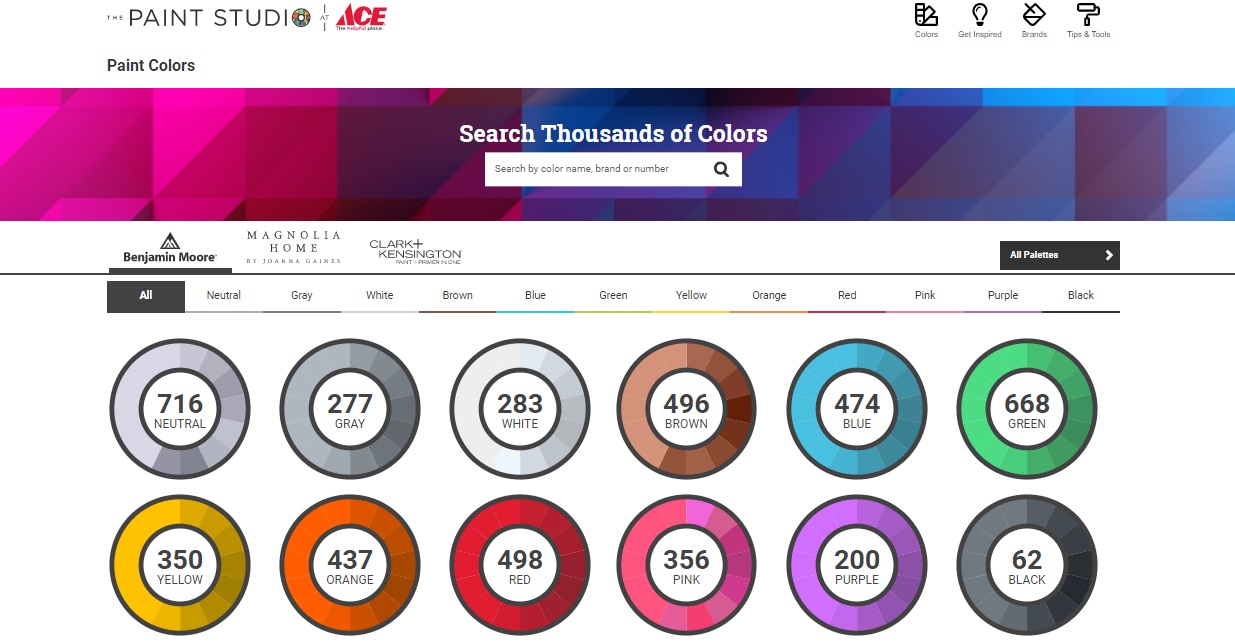 Ace's Paint Studio has a comprehensive color collection you can browse that includes three paint brands: Benjamin Moore, Magnolia Home by Joanna Gaines, and Clark + Kensington. You can get inspiration from expert picks, DIY influencers, or selected colors of the month.
Like many of the other tools on our list, the Ace paint visualizer also allows you to view your color choices in your own space by uploading a photo, or in sample spaces in Ace stock photos.
Over to You
If your dream is to design a home you love (paint colors included!) Oberer Homes can help you find or build the perfect one for you. Contact us today to learn more and start your search.