One of the best things about the Dayton area is proximity to some of the state's most beautiful natural scenery. State parks near Dayton, Ohio offer unique natural features like waterfalls, gorges, lakes, and trails along with activities the whole family can enjoy — swimming, horseback riding, golf, hunting, and dog parks for pets that come along for the trip.
Let's explore seven of the best state parks to visit near Gem City.
Quick Takeaways
Dayton is located within an hour's drive (or less) to several of Ohio's most prized natural scenery and state parks.
Many state parks near Dayton allow water activities like boating, fishing, and swimming.
State park visitors near Dayton have ample options for daytime picnicking (with reservable shelter areas) or overnight stays in cabins or at traditional campsites.
Hunting is permitted in some state parks in Ohio in designated areas.
Man-made activities to enjoy at Ohio's state parks include archery, disc golf, play areas for children, and dog parks for pet companions.
7 State Parks Near Dayton, Ohio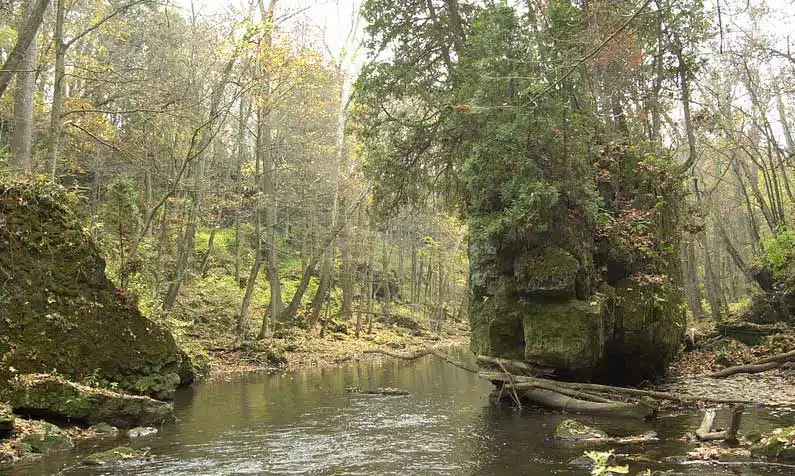 John Bryan State Park is one of the most popular parks in Ohio, located just a half hour from Dayton in nearby Yellow Springs. It features ten scenic hiking trails and a public rock climbing area, designated fishing and paddle boating areas, and its hallmark site — the stunning limestone gorge cut by the Little Miami and National Scenic Rivers.
Daytime visitors can reserve the park's newly renovated day lodge for group gatherings and special events. Other man-made activities in the park to enjoy include:
Storybook Trail – Tells a children's nature story along a short path
Disc Golf Course – 9-hole course, requires visitors to bring their own equipment
Picnic areas – Complete with tables and grills. Some also have playgrounds.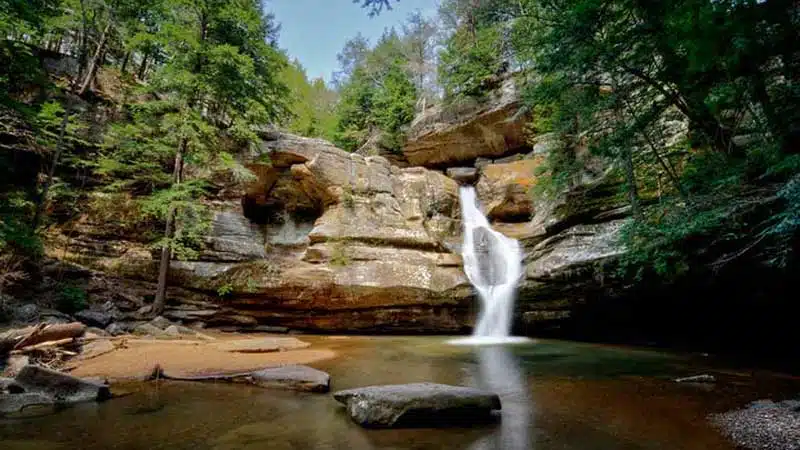 Hocking Hills State Park is a bit further from Dayton (about a two hour drive to Logan, OH) but its scenery and remarkable natural features make it worth the trip. It's known for its stunning waterfalls — there are about a dozen throughout the park — and unique features like sandstone gorges and recess caves.
Other activities to check out at Hocking Hills include:
Archery range – Open dawn till dusk, bring your own equipment
Boating – Available on the park's 17-acre Rose Lake
Hunting – Allowed in designated areas throughout the park
Mountain Biking Trails – Option for moderate or difficult path
Picnic areas – Have tables, grills, and latrines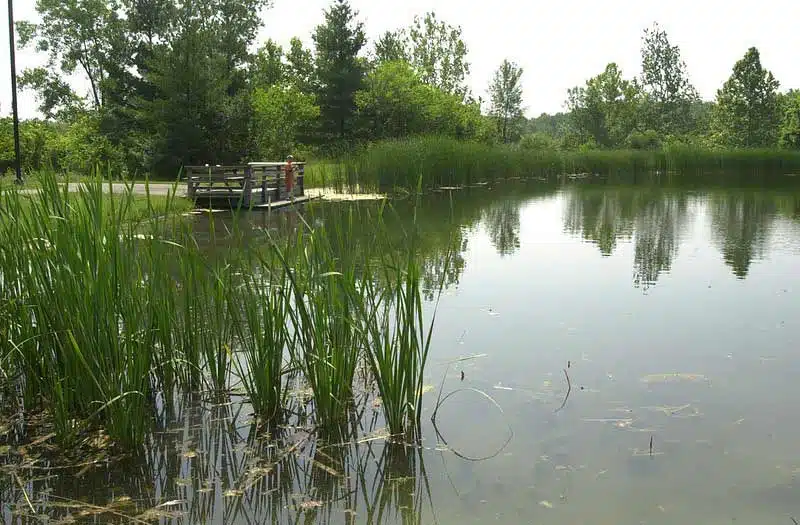 Sycamore State Park offers convenient access to Daytonians, located on the northwest side of Gem City (about 25 minutes from Downtown). It's known for its quiet, peaceful scenery amidst expansive farmland.
Activities for daytime visitors at Sycamore include horseback riding, fishing, archery, hiking, and paddle boating. The park features several picnic areas and, like John Bryan, a Storybook Trail for children.
Sycamore is also a great choice for anyone who wants to try overnight camping, too, as there are several designated group camping sites across the park.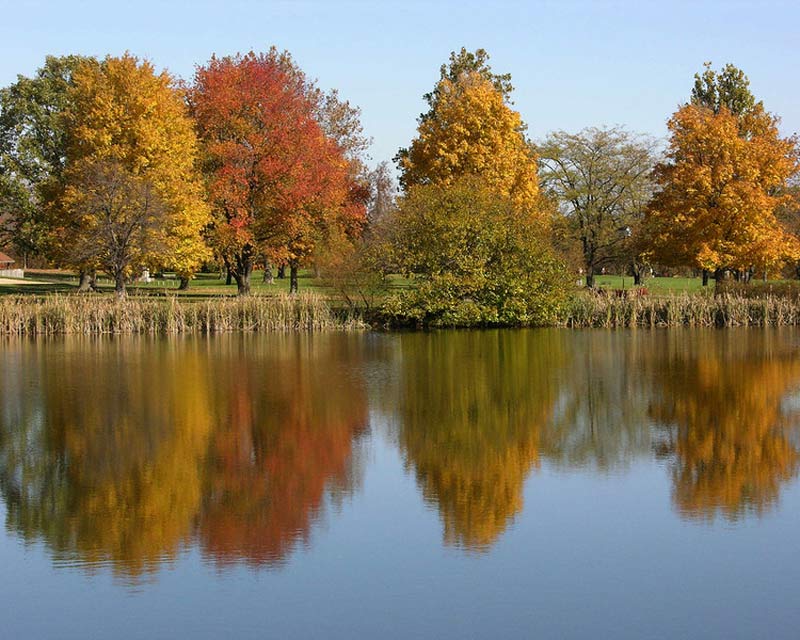 Hueston Woods is another great option for overnight visitors — but it comes with a bit more luxury! Guests can stay in regular campsites or choose a cabin or lodge room stay. There's plenty to do for the whole family at Hueston Woods, including 12 miles of hiking trails, fishing and boating on Acton Lake, disc golf, archery, and even a dog park for those that want to bring their furry friends!
Hueston Woods State Park also offers a unique fossil collecting activity along the park's creeks, where you'll find fossils of ancient marine animals.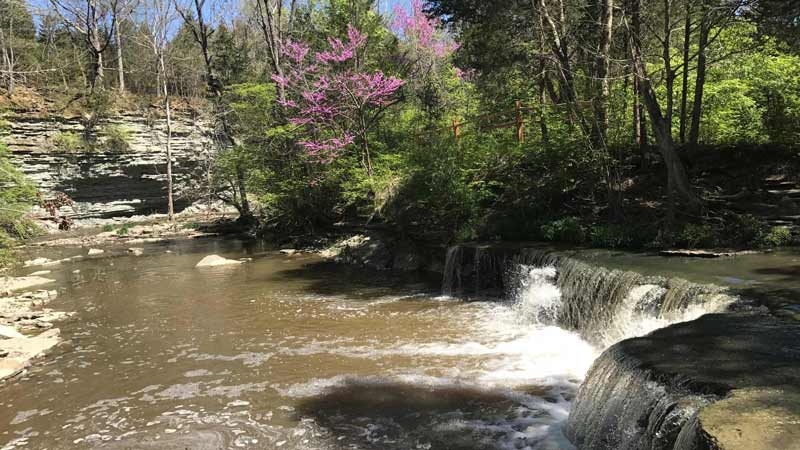 Caesar Creek is a popular state park for boaters, with a nearly 3000-foot lake and unlimited horsepower designation. The Marina at Caesar Creek offers both leased and transient docks from April through October.
Nearby to the docks visitors can enjoy retail areas (with boating equipment and clothing) as well as concession areas and scenic deck seating. The park also has a 1300-foot public beach where swimming is allowed in the lake.
Other park features include hiking and mountain biking trails, picnicking, archery, and playgrounds.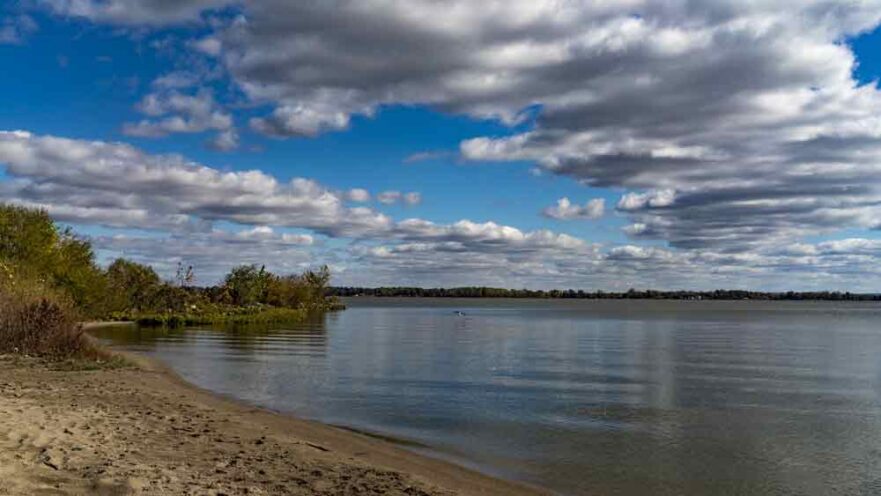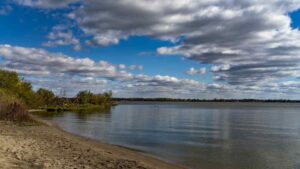 Indian Lake State Park is another popular destination for water lovers, offering a number of on-the-lake activities like boating, jet skiing, swimming, and fishing. It's also a great place for bird watching as it lies along a major avian migration route — birders can expect to see Canada geese, herons, swans, egrets, grebes and even bald eagles.
Like most of the other Ohioan state parks on our list, visitors can also enjoy hiking trails, archery, disc golf, picnicking areas, and a dog park for pet companions.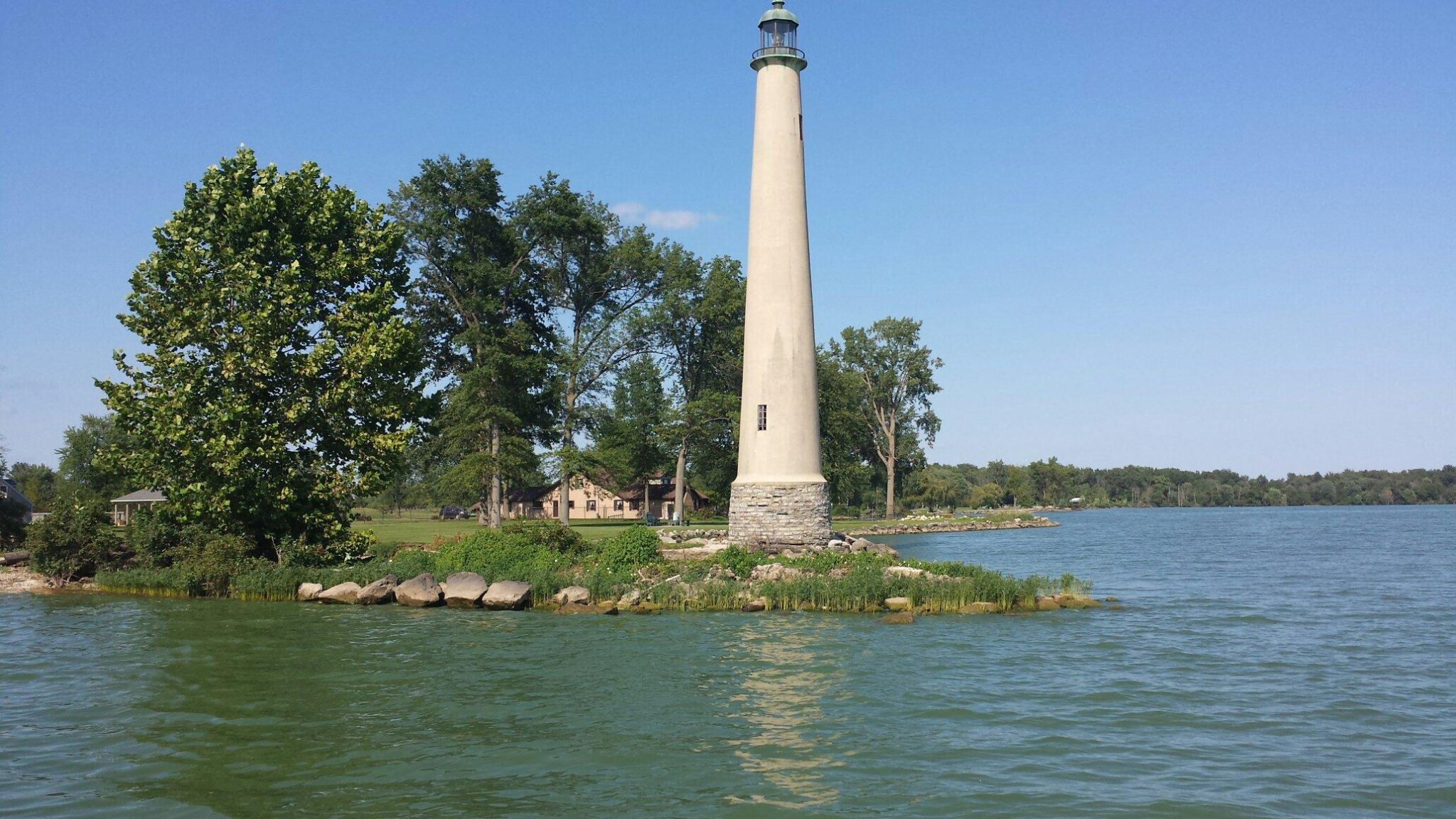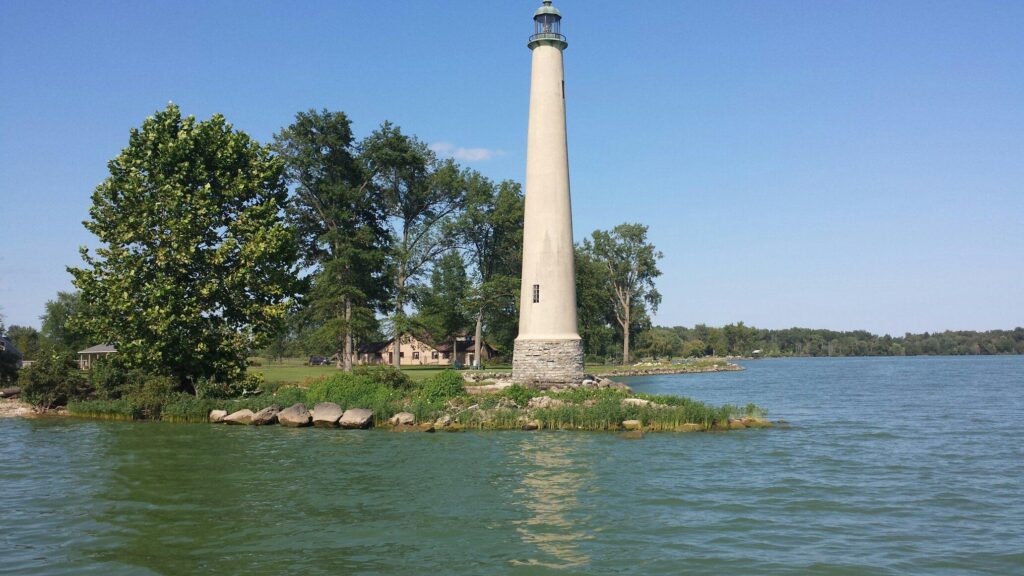 Located about an hour north of Dayton, Grand Lake St. Mary's was once the world's largest reservoir and today features an expansive 52-mile shoreline, where visitors can enjoy boating, fishing, and swimming.
It's friendly for casual walkers who want to enjoy the natural scenery, offering three easy-to-navigate paved trails throughout the park. Campers can stay overnight in the park's Cedar Cabins or Camper Cabins, or opt for one of the standard campsites (electric and non-electric sites are available).
Hunting is also available and dogs are welcome to enjoy the two fenced-in dog parks on the east and west bank of the lake.
Moving to the Dayton area?
Dayton is one of Ohio's best places to live and work. If you're planning to move to Gem City, Oberer Homes can help you find (or build!) a home you'll love.
Contact us today to start your search!