Did you know winter storms were responsible for a whopping $15 billion in damages in 2021? It's why pre winter home maintenance is one of the most important responsibilities that comes with home ownership. Preparing your home for extreme weather conditions prevents costly damage and keeps it in better condition long-term.
It also makes the winter more enjoyable and stress-free. When you proactively ensure your home is ready for winter weather, you don't have to worry about unexpected related repairs or expenses popping up later on.
Read on for a quick guide on weatherizing your home, including 7 tasks you should include in your pre winter home maintenance plan.
Quick Takeaways
Nearly a quarter of U.S. homeowners experience damage to their homes from snow and ice alone each year.
Before winter arrives, you should inspect your heating system, fireplace, and chimney (or hire a professional to do it for you).
Winterizing pipes and cleaning gutters prevents costly water damage to your home.
Sealing doors and windows with caulk and/or weatherstripping keeps your home warm and lowers utility bills.
Untrimmed trees surrounding your home pose a safety risk during winter storms.
Why do you need to winterize your home?
Winter weather conditions can impact your home in many ways. From frozen pipes to flooding to higher utility bills to fire hazards, there is no shortage of reasons to complete pre winter home maintenance every year to keep your safe. In the U.S., nearly a quarter of homeowners experience damage to their homes from snow and ice alone.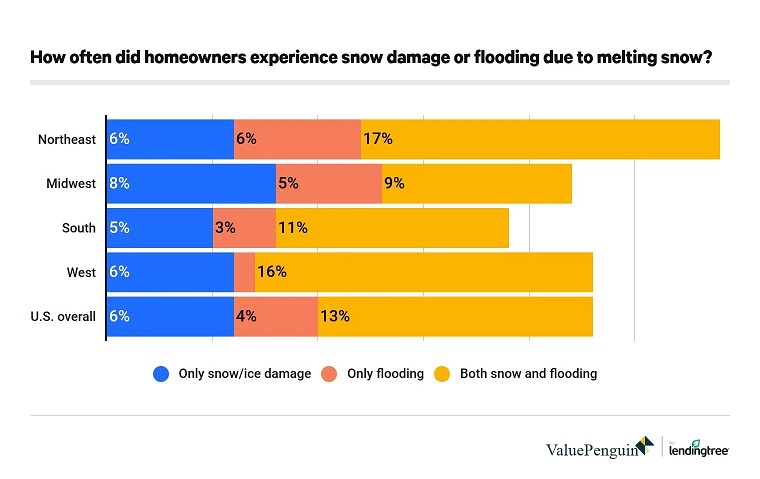 Those percentages are higher in areas that experience more cold weather, like the northeast region. Even more startling, more than 60% of those that experience damage are still dealing with the consequences months later.
Pre winter home maintenance can be time consuming and labor intensive — there's no doubt about it. But it's well worth the effort to avoid costly home damage and safety risks as the cold weather sets in.
7 Pre Winter Home Maintenance Tasks to Do Every Year
Check your heating system
Keeping your heating system in great condition significantly lowers utility costs and ensures safe heating of your home throughout the winter. Start by checking your furnace filter and replacing it if it's dirty. Be sure to inspect your boiler and HVAC system as well. To be certain everything is winter-ready, hire a professional to do the inspection for you.
Clear your gutters
Clogged gutters can cause water damage at any time of year, but the cold winter months are especially risky due to the possibility of ice dams. Ice dams occur when ice builds up in your gutters and stops the flow of water off your roof. When left unaddressed, ice dams can cause leaks and other serious damage. They can also fall and injure people passing by outside.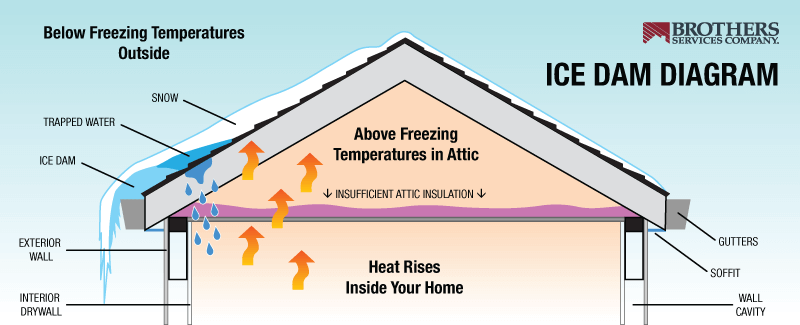 Clean your fireplace and chimney
There's nothing cozier than a warm fire on a cold winter day. But if your fireplace and chimney aren't regularly tended to, they can be a fire hazard. In fact, more than 25,000 chimney fires occur in the U.S. every year. Before the winter officially sets in, have a professional clean both your fireplace and chimney, and ensure they don't need any repairs.
Winterize outdoor pipes
Pipes that burst from frozen water are extremely costly and can cause structural damage to your home. That's why it's important to winterize them before cold temperatures set in. This is especially important in places where temperatures often drop below freezing during the winter months.
To prevent damage to pipes, drain your hose and sprinkler system in the fall, then turn it off for the winter. Insulate indoor pipes wherever possible to protect them from extreme temperatures and prevent heat loss. In unheated areas of your home (like the attic or basement), check your pipes periodically throughout the winter to be sure they show no signs of freezing.
Seal your doors and windows
Even small gaps in your door and window frames can bring chilly drafts indoors and cause heat loss that overworks your HVAC system and ups your utility bills. You can prevent this with some easy steps to insulate these gaps with caulk or installing weatherstripping where needed. This can be done pretty easily yourself, or you can hire a professional if you'd prefer not to DIY.
Trim tree branches
Trimming your trees may not be the first pre winter home maintenance job that comes to mind when you think about weatherizing your home, but it's important for a few reasons. First, pruning your trees keeps them healthier overall and helps them thrive during spring, summer, and fall months of the year.
Second, trimming tree branches prevents dangerous damage to your home from winter storms or heavy snow that cause them to break.
Deep clean your home
Last but not least, deep clean your home to get it ready for all the time your family will spend indoors during the wintertime. Giving your home a good cleaning makes it more enjoyable to spend time in, and it prevents you from having to do it during chilly winter months.
You may even want to hire a professional once per year to clean your home and get to all of those hard-to-reach and forgettable places you may not include in your normal cleaning routine.
Moving to the Dayton area? Oberer Homes can help you find (or build!) a home you love. Contact us today to get started.