Housing markets have seen no shortage of uncertainty over the past two years. For many cities in the U.S., pandemic impacts linger and continue to affect the health of their markets. Some of the most popular cities to live in on both coasts are struggling to find buyers who can afford rising prices. Other regions that have been experiencing longer declines saw those challenges accelerate during the pandemic with no sign of slowing down.
In the sections that follow, we'll walk through what qualifies as a poor housing market, plus three places — west coast metros, rust belt states, and NYC — with the worst housing markets in the U.S. in 2022.
Quick Takeaways
Poor housing markets are defined by having more houses for sale than buyers who want to purchase them.
Housing markets can experience long-term declines or be negatively impacted by timely events (such as COVID-19).
West coast cities in California and Washington are pricing out buyers thanks to increased sale and rent prices due to urban flight and other pandemic-related issues.
Some cities in rust belt states like Pennsylvania, West Virginia, Illinois, and Indiana are experiencing long term home value declines.
What defines a poor housing market?
Before we dive into specific U.S. housing markets that are struggling right now, let's consider what makes for a poor housing market in the first place. Typically, a poor housing market is one in which there are more houses for sale than buyers who want to purchase them, resulting in declining sale prices and property values.
In worst case scenarios, this problem has long-term negative effects on a city or town. Lower home prices mean homeowners are less motivated to invest in home improvements. As home sales decline in an area, businesses often move elsewhere. Both of these issues accelerate the larger problem. Eventually, it can become a downward spiral that's difficult to stop.
In other situations, timely external factors may impact housing markets in what are otherwise high-quality places to live. The COVID-19 pandemic is a perfect example of this. Some of the most popular cities in the country have experienced unexpected and unprecedented struggles related to their housing markets.
In the next section, we'll look at three U.S. regions where housing markets are experiencing the greatest challenges, both from long-term decline and current market volatility.
The Worst Housing Markets in the US
West Coast Cities Struggle
Bolstered by year-round mild weather, the Silicon Valley job market, and scenic oceanside terrains, California cities like Los Angeles, San Jose, Central Valley, and San Diego — as well as their northern Washington neighborhood, Seattle — have experienced some of the most consistently healthy housing markets in the U.S. during pre-pandemic years.
Now, even as we begin to truly emerge from the pandemic period, housing markets in these cities continue to struggle. The rise of remote work has created urban flight in many cities and caused already rising rental rates to increase sharply. Couple that with the current housing shortage and it's no surprise that affordable places to live are harder and harder to come by.
Redfin's 2022 list of the 10 fastest-cooling housing markets is 80% California and Washington cities. Another recent analysis by Bankrate identified the best and worst housing markets for current first-time homebuyers, and more than half of the bottom 10 metro areas were west coast cities.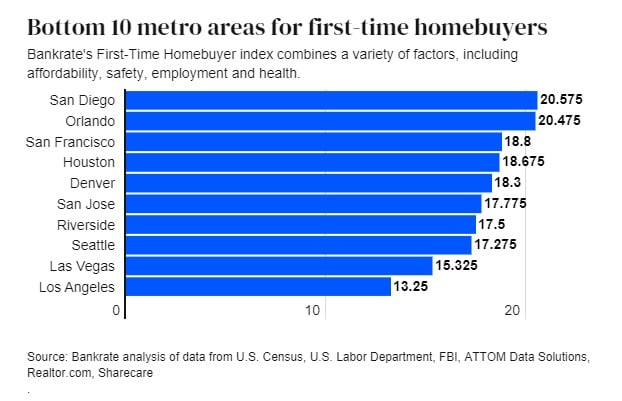 While other U.S. cities have experienced similar challenges, already high costs of living in west coast cities have made the impact on homebuyers even greater.
Rust Belt Towns Continue Decline
Rust belt regions have long been feeling the effects of a dwindling U.S. manufacturing economy, and 2022 has proven a year in which the tough times continue. Cities in states like Pennsylvania, West Virginia, Illinois, Michigan, and even our own Ohio (Mansfield, Toledo, and Cleveland) are finding themselves on industry worst-lists when it comes to housing market health.
While the west coast cities from the previous section will eventually bounce back from their current housing market challenges, these rust belt cities are likely to struggle for the foreseeable future. SmartAsset recently ranked the bottom 15 metro areas for long term home value, and the list was made up entirely of rust belt cities. All showed high odds of value loss for buyers who purchase homes in those areas.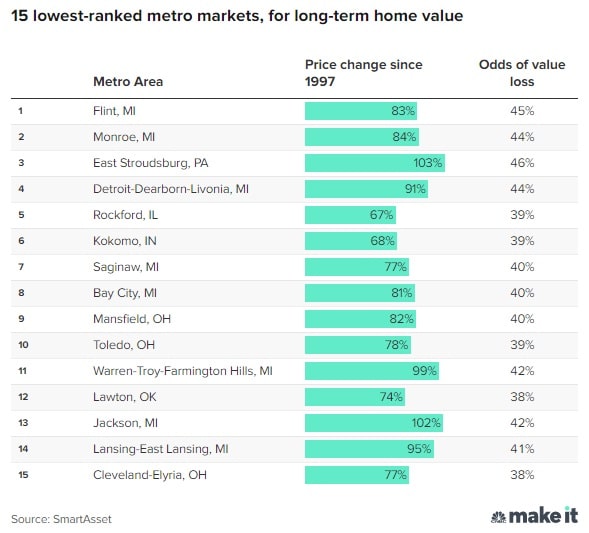 NYC Still Trying to Recover
New York City, NY has had one of the most unique and volatile housing market experiences over the past two years. As the epicenter of the COVID-19 pandemic, NYC felt urban flight earlier and more intensely than any other city in the U.S.
Add to that a complete months-long shutdown of their entertainment economy, strict pandemic restrictions, and hesitancy to return to the close living environments of the city, and it's clear why their housing market is slow to recover.
This is primarily due to skyrocketing rental rates that are pricing both current and potential residents out of the area. Two-thirds of Manhattan residents are renters, and year-over-year rent prices rose an incredible 31% between 2021 and 2022. Median rental rates are nearly $4000, meaning renters need to make nearly $160K per year to apply for an apartment in the city.
After making a bit of a comeback in late 2021, New York City's housing sales market is also cooling. CNBC reports that in June 2022 sale contracts dropped by nearly a third.
As with its west coast counterparts, New York City will bounce back and its housing market will recover. Still, dramatic price changes and two years of volatility have likely made lasting impacts on both buyer and seller confidence.
What to Look For in Potential Housing Markets
It's important to do your research about housing markets where you're shopping for a new home. While many markets are experiencing lingering uncertainty from the pandemic, you can look at other factors like long-term home value predictions, job market trends, and safety ratings to determine whether a given location is a good place to purchase.
If you're looking for a home in the Dayton area, Oberer Homes can help you find or build a home you'll love. Oberer Homes communities are located close to Dayton metro in some of the area's most sought-after suburban neighborhoods.
Contact us today to learn more or get started!