Are you looking at homes for sale in Washington Township, Ohio? If so, you've come to the right place. In this article, we'll explore why Washington Township has become one of the top-rated places to live in the greater Dayton area and all of southwest Ohio.
Boasting high affordability, excellent schools, expansive public outdoor spaces, an engaged community, and many other benefits, Washington Township is a top choice for people and families of all ages. When you're done reading, you'll know all about the Township's best benefits for residents, and even read testimonials from people who already live there.
Quick Takeaways:
Washington Township offers best-of-both worlds living: a spacious suburban community that's located conveniently close to the big city in Dayton.
The Township is bordered by other top communities like Centerville and Kettering.
Washington Township is an affordable place to live, with a median home value well under the national average.
School-age residents attend Centerville City Schools, a top-ranked district in the Dayton region.
Washington Township boasts 50+ parks with expansive outdoor space for residents to enjoy.
Washington Township, Ohio: A Quick Overview
Washington Township, Ohio is a suburb of Dayton, and is the largest of the nine townships located in Montgomery County, Ohio. Located in the southeastern part of the county, it's bordered by other great communities such as Centerville and Bellbrook.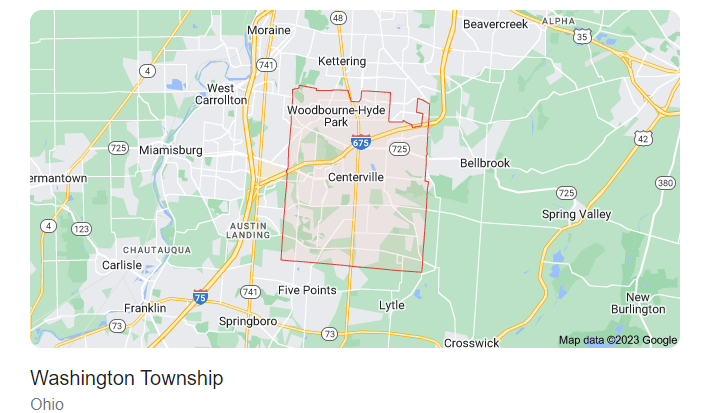 For many, Washington Township offers a best-of-both-worlds lifestyle: A suburban community of about 60,000 people, where residents have plenty of living space but also enjoy close proximity to the big city in Dayton (less than a half hour's drive away).
Plus, with an active township administration, engaged public organizations, local restaurants and shops, and frequent community events, there's plenty to do and enjoy right in Washington Township itself.
Now, let's explore 5 of the most important benefits of buying a home in Washington Township, and learn what current residents have to say about living there.
5 Benefits of Buying a Home in Washington Township
Affordable Cost of Living
The median home value in Washington Township, Ohio is $231,000 and median rent is $1,055—both well under the national average.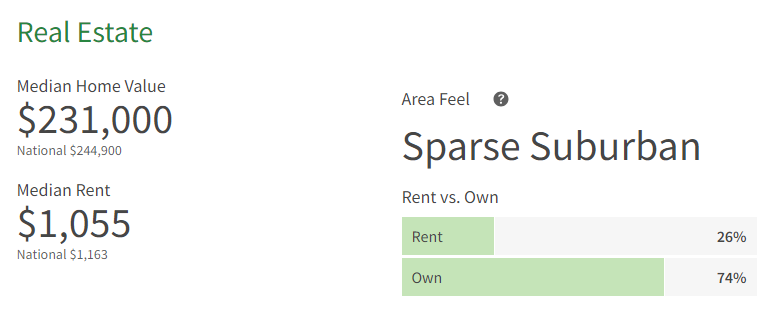 With excellent public schools (more on those next) and a location that's convenient to plenty of grocery and other shopping options, it's easy for residents to access what they need while staying on a budget.
Top School Districts
Children who live in Washington Township attend Centerville City Schools, which are consistently ranked as some of the best schools in the entire state of Ohio. Niche ranks the school district as #2 in the entire Dayton area, giving it excellent grades for academics, teachers, clubs and activities, and more.

What residents say: "We have the most caring teachers! They put their all into engaging all students to make learning fun. I have two students in the district at opposite ends. My student who struggles has found the extra help he needed. My student who excels [had] teachers who recognized this and stepped up. Centerville offers so many extra curricular options . . . so many ways for students to find their niche . . . Centerville schools are a safe place [to] grow, learn and nurture friendships." —Niche school district review
Parks and Outdoor Space
The Centerville Washington Park District manages 51 parks in the area, meaning there's plenty of green space for Washington Township residents to enjoy. Even better is that the District runs outdoor programs like Hound Hikes for local pets, Trunk or Treat night near Halloween, hiking challenges and races, and bird watching (among many others).
Nature is a big part of the community in Washington Township. Whether you prefer to explore it on your own or be part of formalized events, there's plenty to do outdoors when you live there.
What residents say: "My house is across the street from a Nature Reserve. The Nature Reserve has several buildings for tourist interest to research animal species or simply enjoy the scenery. This reserve also has many trails leading in and out of the woods. These trails come equipped with small scavenger hunt activities and sightseeing." —Niche community review
Shops and Restaurants
Washington Township offers vibrant neighborhoods and a great mix of locally-owned restaurants and shops, as well as national chains for greater convenience. This mix is another best-of-both-worlds aspect of living in the community, allowing residents to support small businesses and easily access what they need from larger stores.
What residents say: "There are a lot of great restaurants in the area . . . the local Restaurant Association does a great job of promoting independent restaurants. There are also many microbreweries and brewpubs that have become a fun option." —Niche community review
Close Proximity to Dayton
As mentioned before, Washington Township is just a short 20-30 minute drive to Dayton, Ohio. The city is rich in history and offers all the amenities of a big city—restaurants, shopping, theater, sports games, and a beautiful urban metro park along the Great Miami River that hosts tons of events for community members in the Dayton area.
Looking at Homes for Sale in Washington Township, Ohio?
If you're looking to move to Washington Township, Oberer can help you find the home that's right for you. We have new construction and move-in ready homes available in our Washington Trace and Reeder Grove communities. These communities offer home options perfect for every kind of family, from the empty nester to the active single to the newly married and growing family.
Contact us today to start your search.