Planning a night out on the town? You're in luck. If you're looking for what to do in Dayton, Ohio at night, you have plenty of options to choose from. Downtown Dayton is a hub for dining, shopping, music, and entertainment for all ages. Whether you're in for a special date night or an outing with the entire family, you'll find something you'll love on our list!
7 fun things to do in Dayton, Ohio at night
Go Out on 5th
Did you know that Dayton's 5th Street has been named one of America's Greatest Places? Located in the Oregon District, 5th street is a hub for shopping, dining, and entertainment in the Downtown Dayton area. Even better? It shuts down to vehicular traffic every weekend so Daytonians can enjoy all it has to offer.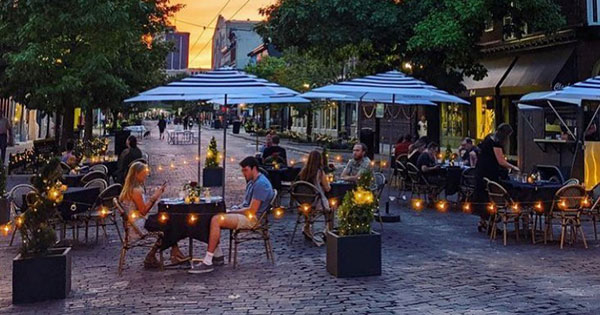 Out on 5th allows restaurants and bars to expand their outdoor seating into the streets, allows retail stores to set up outdoor displays for sidewalk shopping, and provides plenty of public seating for people to enjoy the entertainment happening right out on the street. It's one of the city's most unique experiences, giving visitors and locals alike the chance to experience the real feel of Gem City.
Follow the Dayton Ale Trail
Craft beer enthusiasts will love following the Dayton Ale Trail, which includes 31 craft breweries in Dayton and the surrounding areas. You can pick up your "passport" at any participating location, then follow the trail and collect stamps along the way. Stop at its final destination, the Yellow Cab Tavern, to complete the trail and receive your prize — a 16oz stainless steel pint glass. The Trail is one of the coolest ways you can enjoy a night out on the town (or a few — we don't recommend the whole Trail in one night!) while supporting local businesses in Dayton.
Check out First Fridays
Daytonians can kick off every month with a night out in the city at First Fridays, a free event across several locations in DowntownDayton. Participating art galleries, restaurants, retail shops, and entertainment venues offer discount specials and event-exclusive exhibitions and performances for attendees.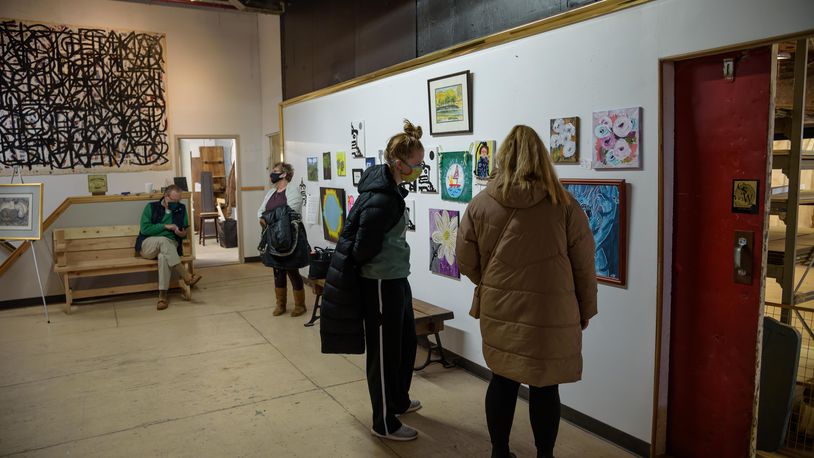 Even better? The lineup and features change every month to keep things new and exciting. First Fridays is the perfect option for a fun night out and a great way to get to know all that Dayton has to offer!
Visit Riverscape MetroPark
RiverScape MetroPark is one of Dayton's most unique and engaging features, with sweeping river views, green spaces and nature trails, and plenty of night-out entertainment, dining, and shopping options. In the summer, the RiverScape Pavilion features outdoor concerts on Thursday and Friday nights that feature something for everyone, from bluegrass to rock to R&B.
The MetroPark's festival grounds host festivals and outdoor events throughout the year, many that include vendor booths and food trucks from some of Dayton's best artisans and restaurants. The Five Rivers Fountain of Lights features an impressive permanent display all on its own and the MetroParks Ice Rink turns into a winter wonderland when it gets cold outside.
In short: no matter what kind of activity you're in the mood for, you can probably find something at RiverScape MetroPark to enjoy.
Catch a movie
Catching a movie in Dayton, Ohio isn't just an activity — it's a full experience. Of course you can visit one of Gem City's many traditional movie theaters, but for a date night or special outing with the family you can try one of the several drive-in theaters in the area, visit The Neon to see an indie flick.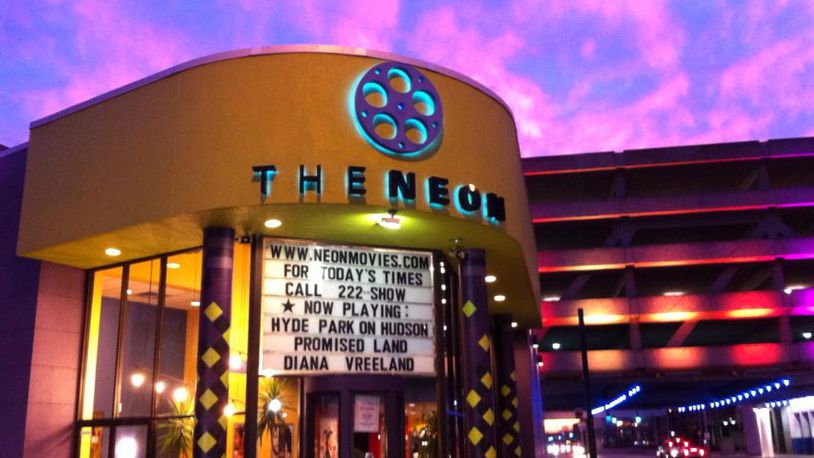 Check out our list of the 6 coolest movie theaters in Dayton and take your pick!
Grab dinner Downtown
Dayton might be in the midwest, but you'll find just as diverse a food scene in Gem City as you will in any big city on either coast! From fancy downtown restaurants to family friendly neighborhood spots, you'll have no problem finding a place to make a reservation for a night out in Dayton. The real challenge is choosing from so many great options!
We've put together a few lists you can peruse to get you started, including these 10 family owned restaurants in Dayton and 13 must-try restaurants for gourmet food lovers.
See a show
No matter what kind of entertainment you enjoy most, you can be confident you'll find it in Dayton! For a laugh, you can catch a comedy show at the Dayton Funny Bone or Wiley's Comedy Club. If you're in the mood for a concert, check out what's headlining at one of the city's many concert venues. For performing arts (or just about any other type of live entertainment), see the lineup for the Schuster Center. Love them all? Choose something different every time!
If you're moving to the Dayton area, Oberer Homes can help you find the home that's right for you. Contact us today to get started!