When is the best time to buy a house? Truthfully, it depends. The housing market definitely experiences seasonal changes — at certain times, you can expect inventory to be higher (but the market to be more competitive), while other times will have lower competition (but less homes on the market, too).
The best time to buy a house for you really depends on your needs and your preferences for what the homebuying experience will be like.
In this article, we'll evaluate factors that impact the housing market at different times of year (and how) so you can get your timing right to find a new home you love at a price you can afford.
Quick Takeaways
Housing markets have the highest inventory (but also the most competition) during the spring and summer months.
Winter is generally the slowest season on the housing market, with low inventory levels (but lower prices, too).
Fall is a more balanced season, with decent inventory levels and motivated sellers.
Larger market trends (such as recent low interest rates) impact local markets, too.
Ohio's housing market has become increasingly competitive as inventory levels continue to drop for the fifth year in a row.
Choosing the Best Time to Buy a House: 3 Perspectives
If you're looking for plenty of choices . . .
Spring is the hottest time of year for sellers to put their homes on the market. You can expect inventory to reach its peak during the spring season. Zillow's housing market inventory research shows that spring months (April, May, and June) consistently have the most homes listed for sale.
This inventory hike carries into the summer months, but if you want the first pick of new listings, you should look in the spring.
The thing is, you can also expect competition to be more fierce during the spring season. It's one of the reasons March, April, and May are recommended for sellers as the best time to put their homes on the market.
So, if you want plenty of options during your homebuying search, spring might be the best time to buy a house for you — but expect higher prices, more competition, and even bidding wars for the best homes on the market.
Here in Dayton, for example, you can see that the number of homes sold over list price peaks in May/June of both 2021 and 2022.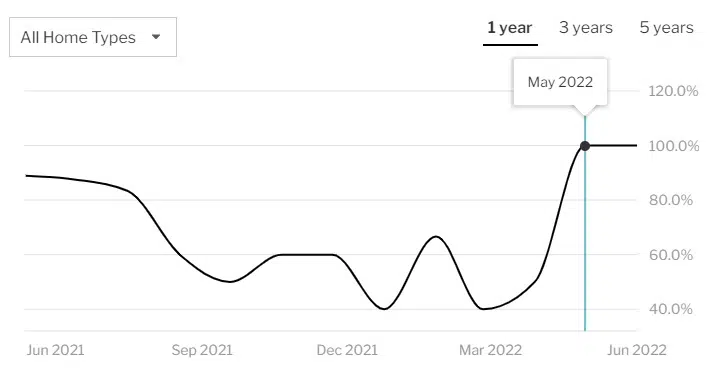 If you're looking to save on costs . . .
If you're less worried about having tons of options and more concerned about staying on budget, the best time to buy a house is during the winter months, when the market is slower.
There are less buyers on the market, so sellers listing their homes at this time are likely highly motivated to sell. Similarly, real estate agents are eager to close deals during this period to meet their sales targets. In both cases, you'll have an easier time negotiating costs and fees than you would in a hot spring or summer market.
Keep in mind that if you're buying in a low-inventory market, you may need to compromise on your must-have lists for your new home. You can absolutely still find a great house, but with less options to choose from, you may not have one that checks every single box on your list.
If you want the best of both worlds . . .
Early fall is one of the best times to buy a house because the markets still have a fair amount of inventory, and both sellers and agents are more motivated to close deals before the holiday season and winter months arrive. This leaves you room to negotiate.
You'll also find less competition from other buyers in the fall because families with school-aged children typically don't look to move during the start of the school year.
You definitely won't find as much inventory as the spring or the low prices common in the winter, but this more balanced time of year on the housing market can be a great time to look at more options without the stress of other buyers beating you out for homes you love.
Other Considerations
Larger market trends
It's important to know the larger trends on the U.S. housing market that could impact your homebuying experience and the best time to buy a house. The past few years are a prime example of how the larger market impacts listing prices at every level — low interest rates and low inventory drove home prices up while keeping the market competitive.
Even as interest rates begin to rise, the market has continued to be full of eager buyers looking for new homes in a low-inventory environment. In Ohio, for example, inventory has been on the downward trajectory since before 2017.
Knowing what's happening in the larger housing market is important when deciding on the best time for you to buy a house. The past two years happen to demonstrate this more than ever — low interest rates and low inventory have driven home prices up while keeping the market extremely competitive.
For this reason, many homeowners have been motivated to sell more quickly and buyers have had to navigate fierce market competition.
While interest rates are starting to increase, the market has stayed hot and inventory has continued to dip. Here's the trajectory of housing inventory here in Ohio over the past few years: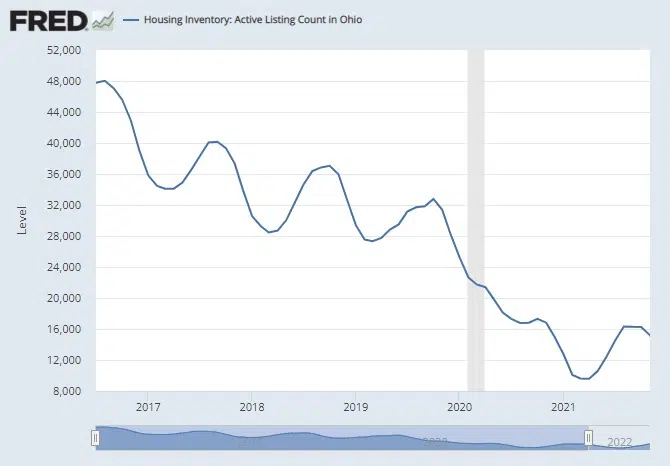 Alt-Text: Housing inventory in Ohio has been on the decline for several years.
If you're an Ohioan, this might be a reason to consider buying in the spring, when inventory is at its highest.
Local factors
Local factors can play a role in home prices and the best time to buy a house in a particular area. Vacation home prices, for example, often peak in-season or just before it starts as people look to buy and use them during that year. Things like neighborhood gentrification, new construction, and even local weather can impact how active a market is at any given time of year.
Timeline
The final — and perhaps most important — factor: what is your personal timeline for buying a home?
Some buyers need to buy more quickly for a number of reasons (a new job, for example, or the start of a new school year). Other buyers can wait until market conditions suit them best.
Our advice is this: be aware of how the time of year can impact the homebuying experience, but don't let it dictate your decisions. There are benefits and drawbacks to every season on the market. An experienced real estate agent can help you navigate any market conditions and get you a good deal on a home you love.
Moving to the Dayton area? Oberer Homes can help you find (or build!) a home you love. Contact us today to get started.