What does it cost to build a house in Dayton, Ohio?
If you're thinking of going the new construction route and live in the Greater Dayton area, this is likely the first question on your priority list. The truth is that building a home involves a variety of costs that differ depending on the exact location of your new home, which building materials you choose, varied home builder fees, and other factors.
To help you determine how much your home will cost, we'll walk through the most common expenses that go into any new construction build, analyze specific average costs for the Dayton area, and compare them to other places in the United States.
Quick Takeaways
The cost of land varies by region similarly to the cost of an existing home. Ohio falls in the middle compared to national averages.
Other standard costs of building a new home include plans and permits, foundation, framing and roof, essential systems, and fixtures/finishes.
Semi-custom homes are a more affordable alternative to total custom homes that still allow buyers to design a home that's uniquely their own.
8 Costs to Build a New Custom House in Dayton, Ohio
Land
The first step to building your new home is buying a plot of land. Cost of land varies similarly to the cost of buying an existing home — it depends on the area, and where the cost of living is higher, the cost of building will be too. In Ohio, the average cost per acre of land is about $30K, which is middle-of-the-road compared to United States averages.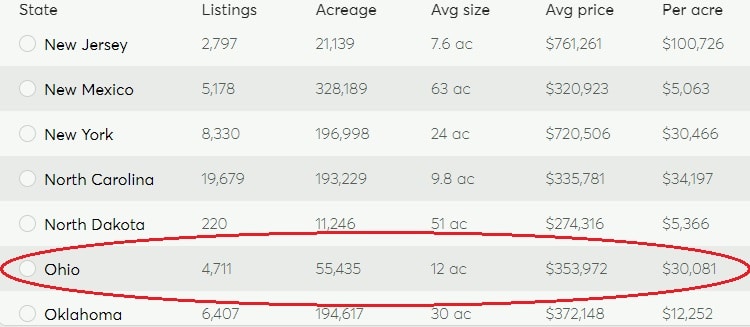 In North Dakota, for example, an acre hovers around $5K (see above). In New Jersey and Massachusetts, the price spikes to more than $100K!
Purchasing already-developed land (such as in a new construction community) can help you save on land costs since you won't have to pay as much for land preparation (the land is ready for build) and the lot cost is often already included in the cost of your new build.
Plans and permits
Next, you'll need an architect to draw up plans for your home and a builder who will construct the home. This part of the process requires research on the part of the buyer, and you should shop around to find a home builder you trust.
Building plans and permits are estimated to cost around $7000-10,000 combined, although this also varies by builder and area.
Foundation
Building a new construction home requires first laying the foundation. If you research costs you'll find varied estimates ranging from just under $10,000 to well over $20,000.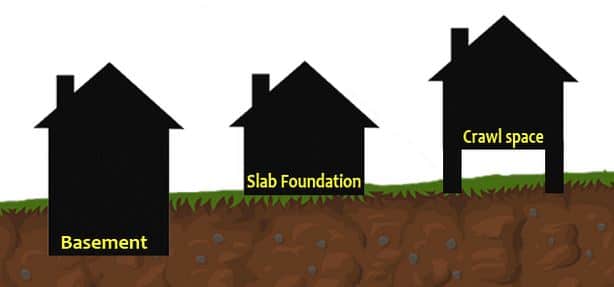 If you decide to go with a simple slab foundation, you'll land on the lower end, while plans to build a basement require additional excavation and higher costs.
Framing and roof
On average, framing costs anywhere from $20,000-$30,000 (or more if you're building an especially large home) and roofing can cost about $10,000-$20,000. The variability in these prices depends largely on two factors:
The materials you choose (for example, a slate roof is more expensive than traditional asphalt) and the cost of commodities (the past few years have seen rising lumber prices, meaning that framing is currently more expensive).
HVAC, plumbing, and electricity
This critical expense depends largely on the size of your home, the type of systems you choose to install, and existing infrastructure in your area. Prices range so widely depending on these factors that it's difficult to provide an accurate estimate, but you can expect to pay at least $10K (or more) for HVAC and plumbing, while electrical may be slightly lower and charged per square foot of your home.
Fixtures and finishes
Fixtures and finishes are two areas where your personal preferences and budget play a big role. Everything from countertops to hardware to appliances (and more) can vary by thousands of dollars depending on the selections you make. If you're building a brand new home, odds are you've saved up to pay for the premium fixtures and finishes you care about most, but going with the builders' grade for some items can be an easy way to save on cost.
Other costs
Of course, building your home is only part of the process. Once it's complete, you'll still have some exciting projects to tackle — furniture, paint colors, and home decor to name a few. While you can spread these expenses out over time, it's a good idea to plan ahead for the most essential (like living room and bedroom furniture) by making them part of your home building budget.
Semi-Custom Homes: An Option to Save
A popular option for homebuyers seeking a new construction home is going the semi-custom route — or choosing a home with a pre-existing floor plan (most builders offer multiple options) and saving through a bundled building costs.
When you buy a semi-construction home, you still get to choose many of the things that make it feel uniquely your own — exact floor plan details, fixtures, finishes, and exterior color or material.
At the same time, you won't have to take on the responsibility of making a home building budget from scratch or managing a builder on your own. In a semi-custom home purchase, you can hire your own real estate agent to negotiate for you.
Looking to buy a new construction home in the Dayton area?
Oberer Homes offers a number of semi-custom floor plans in multiple communities across the Dayton area. Contact us today to learn more and get started on finding your dream home!