House flipping is an investment strategy focused on buying, renovating, and selling a property as quickly as possible in order to turn a profit.
The financial opportunity has been significant for those who are able to implement a smart house flipping strategy in the right place at the right time, and in 2023 more people are trying than any other time in the past 5+ years.
By the middle of last year, flips accounted for nearly 10% of all home sales. Momentum for flipping continues to grow as people look for new and creative ways to earn additional income post-pandemic.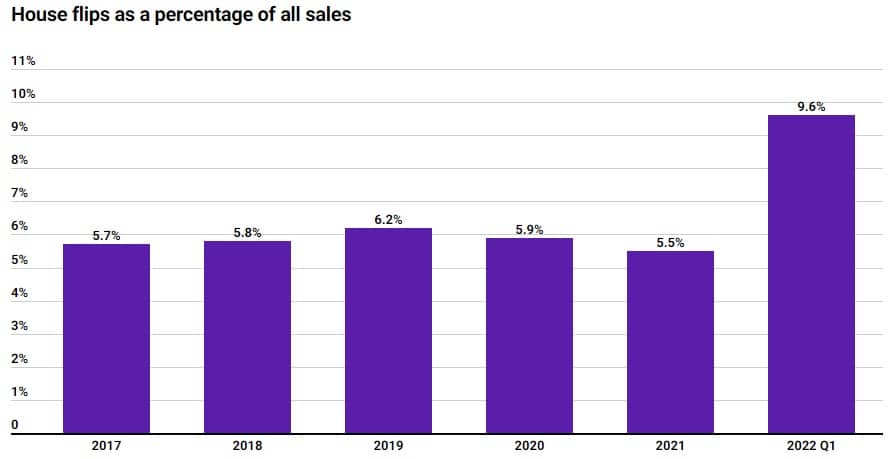 But it's important to note that taking on house flipping without the right knowledge and plan can lead to serious trouble — including financial loss. Anyone can learn to flip houses, but newbie flippers must take time to learn the ropes, prepare their finances, and build the right team around them before taking on their first project.
In the next section, we'll walk through a step-by-step guide on how to flip houses for beginners — including the right steps to prepare, who you need on your team, and how to maximize profit on your investment.
Quick Takeaways
Take time to research your market and comparable property values in your target area.
Attend industry networking events (like meetups and conferences) to meet and learn from experienced house flippers.
Follow the 70% rule — never pay more than 70% of after-repair value minus repair costs for a new investment property.
 Build a solid support team that includes a real estate agent, general contractor, plumber, electrician, designer, and home stager.
After you make your first purchase, develop a renovation timeline and stick to it in order to maximize profit.
How to Start Flipping Houses in 2023
Get to know your real estate market
The beginning of your house flipping journey should be spent doing research on the housing markets where you plan to purchase property. You'll want to become an expert on property values in your target areas as well as short- and long-term market trends (local and nationwide).
Spend time on listing sites like Zillow, Redfin, and Realtor.com, where you can look at comparable properties to the ones you'd like to flip and get an idea of what's in your budget. Research the house flipping market, too, and zero in on areas where demand is high and time on the market is short. This varies a ton from city to city and even area within a certain municipality.
By the way — our very own Dayton area was recently rated the 9th best market to flip houses in the United States, ahead of any other metropolitan area in the Buckeye state!
Talk to experienced house flippers
There are some things that can only be learned through experience, and talking to seasoned house flippers is the best way to learn those things for yourself. By doing so, you can avoid many of the common growing pains and mistakes made by beginners.
Here are some tips for finding and learning from successful house flippers:
Attend networking events and conferences (check out these meetups hosted by Real Estate Hackers and conference events by Think Realty).
Get active on online message boards for real estate investors and house flippers (like this Real Estate Investing Beginners forum).
Reach out directly to talk about mentorship. Many experienced flippers will be willing to offer advice and even let you visit their own active properties to see how it happens firsthand.
Organize your own finances and set a budget
House flipping always involves financial risk, so it's critical to have a clear understanding of your personal finances, what you can afford, and your options for financing upfront costs of acquiring your first property.
A common rule of thumb in the house flipping world is the 70% rule — an investor should never pay more than 70% of the after-repair value (ARV) of a home minus the cost to repair it. The calculation looks like this: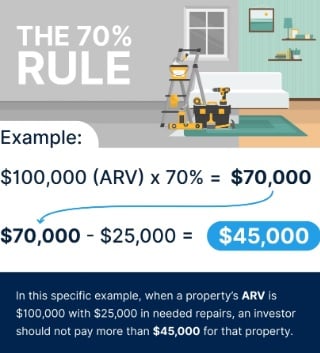 To accurately estimate ARV, you'll need to look at comparable properties in the area. Estimating repair costs likely requires insight from your contracting team (more on that next), who can provide expertise on the exact expenses involved in a given renovation plan.
But before you start diving into ARVs and home repair costs for particular properties, you'll need to know what you can afford personally and how you intend to fund your purchase.
Many investors prefer to pay cash for their properties, but you may not be able to do that until you turn your first profit. When you're getting started, you may choose to finance your purchase through avenues like traditional bank financing, home equity lines of credit, or personal loans.
It's important to keep in mind, however, that the more debt you take on for your house flip, the riskier your investment becomes.
Build your team
Your support team is a big factor in whether your house flip will succeed. Make sure that yours includes:
A great real estate agent with knowledge of the house flipping process who can help you find great properties to buy and resell them successfully after they're renovated
A general contractor to help you set your renovation budget and execute repairs, and a reliable plumber and electrician
A designer and home stager to prepare the property aesthetically for potential buyers.
Determine the skills you have yourself to help you determine who you should hire on your team (for example, if you're a general contractor yourself, you might choose not to hire one).
As a general rule, though, don't try to tackle parts of the renovation you're not truly qualified to handle without help. Doing so can lead to costly mistakes and longer-than-planned renovation times that dig into your profit.
Search for a property and make a purchase
Once you've done your research, set your budget, planned your finances, and built your support team, it's time to finally look for your first property. Your real estate agent can guide you through the search process. Most real estate investors intending to flip a house look for homes that have been foreclosed and thus will have lower list prices.
You can find foreclosed homes on regular real estate listing websites (the same ones you used to research your markets) or at sheriff's sales, where local law enforcement hold auctions of repossessed homes. Sheriff's sales can be competitive for house flippers because they offer so many high-potential properties at low cost. Put your bidding hat on before you get there!
Develop a timeline and plan for your flip
Once you've purchased your first property, develop a timeline and plan for your renovations and resale. Most flips take anywhere from 6-12 weeks, depending on the level of repairs needed. Making and sticking to your plan is critical to managing costs and maximizing profit on your flip.
Be sure to share your plan with your renovation team, monitor progress closely, and build in some flexibility for inevitable unexpected challenges along the way so you can still meet your deadline.
Make your sale
Now for the fun part  — it's time to make your sale. Turn to your designer, home stager, and real estate agent to make your listing successful. They'll have insight into what buyers are looking for, and their work makes a serious impact on your sale price potential. The National Association of Realtors says home staging alone can increase sale prices by 20 percent!
Choose the next house to flip!
Your first flip is the hardest — once you've made your first sale, you'll have your own firsthand knowledge and experience of the process, lessons learned, a solid team, and a profit to put toward your next investment. You'll be ready to find your next great property (or two or three) and grow your new house flipping business. Best of luck!
Moving to the Dayton area? The team at Oberer Homes can help you find (or build!) a home you love. Contact us today to learn more and start your search.