Mudrooms have existed for over 100 years, though they didn't become popular in suburbia until the 1950s. Today, a mudroom floor plan provides various benefits, especially in Bellbrook and other places where snow is common.
How can you design a mudroom that works for your home and family? Take a look at these innovative ideas from experts.
Key Takeaways:
Mudrooms confine wet and dirty clothes to one space, making it easier to keep a clean house.
Keeping coats, shoes, and accessories in the mudroom ensures you have everything you need for an impromptu outing.
To provide optimal convenience, the flooring must be durable, moisture-resistant, and low-maintenance.
Combining the laundry room and mudroom is an excellent way to minimize mess.
Due to their many cabinets, cubbies, and shelves, mudrooms are great for storage.
Reasons To Add a Mudroom Floor Plan to Your Home
As you might imagine, mudrooms are areas designed for dirty clothes. A rainy day in Sugarcreek Township can lead to muddy shoes and dripping umbrellas, ruining carpet and upholstery. Instead of tracking mud through the front door, why not create a specific room designed for easy cleaning?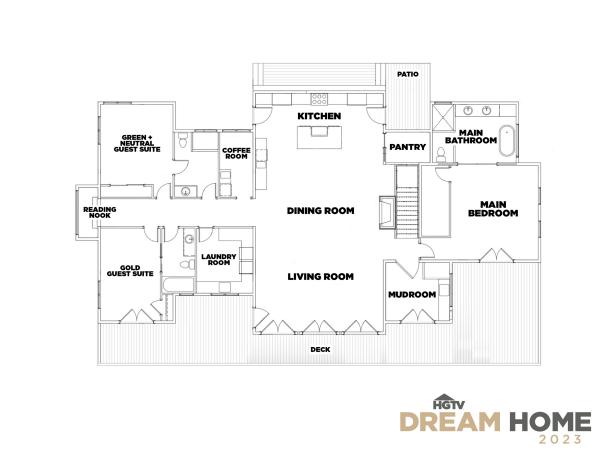 A mudroom floor plan includes access to the outdoors or garage via a side door, providing an alternative path for visitors with muddy clothing. The low-maintenance nature of a mudroom also means you don't have to immediately wipe up messes or worry about puddles accumulating under dripping raincoats. Instead, you can focus on getting everyone inside and return at a more convenient time to clean.
Since it's a separate space from the entrance hall, you also avoid showcasing your literal dirty laundry to anyone who stops by. Due to its utility, a mudroom may be attractive to potential buyers, especially those with children. Adding a mudroom can even boost the value of your Washington Township house, a boon for anyone looking to sell or take out an equity loan.
Additionally, a mudroom provides organization by keeping certain items in one place:
Jackets and raincoats
Rainboots and umbrellas
Bags, hats, and scarves
With everything you need for a safe trip right by the door, you don't have to worry about losing items.
Design Ideas for the Perfect Mudroom
When looking at homes in Centerville, consider whether the accompanying mudroom floor plan accommodates your needs. For example, if you have mobility issues, you'll likely want a bench to make shoe removal easier. You'll need a mudroom with a built-in bench or enough room to add one.
The good news is that as long as your mudroom has the basics, you can customize it with additional design elements. Among the features to look for is low-maintenance flooring. Cleaning your mudroom should be a breeze, so look for moisture-resistant options that can withstand a good scrubbing. Your flooring must also be durable, as it will see a great deal of foot traffic.
As a result, you should steer clear of laminate and hardwood. While durable, both are vulnerable to moisture. Sealing hardwood can protect it to some extent, but there's still a risk of water absorption, which can cause the planks to swell and warp.
Carpet is another poor flooring choice for a mudroom. Even low pile carpets can absorb water, and fibers are notorious for holding allergens and dirt. Carpet also shows wear quickly, so you'll likely have to replace it every five years.


To get the most out of your mudroom floor plan, consider these flooring options instead:
Vinyl
Porcelain tile
Ceramic tile
All three are highly moisture-moisture resistant, allowing you to clean up with a quick mop. They're also extremely durable and come in various styles, ensuring you find an option that matches your decor.
When creating a floor plan for your mudroom, you should also consider what additional functions you want from the space. Two popular options are combination laundry-mudrooms and extra storage areas.
Combined Laundry-Mudroom
For many homeowners, combining the laundry room and mudroom makes sense. When you get home after a day of rain or snow, you can simply take off your wet clothes and throw them in the hamper.
If you want to turn your mudroom into a combined laundry room, the first step is adding a washer and dryer. Should you have the space, you can also add a countertop for folding. Installing a sink is another excellent idea, as it provides a space to handwash delicates and wash up before heading into the house.
Remember that if you use this space for laundry, you'll need to dedicate some of your mudroom floor plan to storing detergent, dryer sheets, and other washing-related items. That means less space for outdoor gear. To compensate, you may need to add shelving, cabinets, and enough room for hampers and laundry baskets.
Extra Storage
Speaking of cabinets, many homeowners utilize their mudrooms as overflow storage. Garages and sheds are popular storage locations but aren't usually climate-controlled, which can wreak havoc on delicate belongings. Since mudrooms are fully inside the house, they're less vulnerable to temperature fluctuations, excess moisture, and pests.
There are also plenty of ways to maximize mudroom storage, ensuring you have enough space for your outdoor gear and odds and ends. Hooks are one of the most common storage solutions, as they utilize vertical space without taking up too much room. Be generous when adding hooks to your mudroom floor plan, as you want to ensure guests have enough space to hang their belongings in addition to your usual items.
Wicker baskets are another great organizational tool. You can store them on top of cabinets, in cubbies, or under benches, and every family member can have a designated spot.
Houses With a Mudroom Floor Plan in Dayton, OH
Are you looking for a new home with a mudroom floor plan in Dayton or the surrounding area? If so, Oberer Homes can assist. With over 70 years in construction, this company builds top-quality homes in flourishing neighborhoods. You can even customize your floor plan for a truly tailored residence. To learn more, visit Oberer Homes online or call 937-531-5505.