Dayton often gets lost in the mix of the big three Ohio C's — Cleveland, Columbus, and Cincinnati.
But Dayton's "Gem City" nickname is quite fitting. The city features neighborhoods that are rich in personality, a thriving downtown music and arts scene, diverse cuisine, and an affordable cost of living.
Dayton is conveniently nestled between Columbus and Cincinnati (about an hour to both), meaning Dayton residents have easy access to so much of what Ohio cities have to offer.
Dayton is also next door to some of Ohio's best suburbs and school districts, including Bellbrook and Centerville.
Ready to start looking for your new home? Here are 4 charming homes available to buy right now in the Dayton area!
Quick Takeaways
The Maxwell home, located in Reeder Grove, offers both home-specific luxuries and community amenities.
The Greyson home, located in Woodland Ridge, is perfect for anyone seeking a private, quiet place to live with convenient access to busier towns and activities.
The Bradford II is a larger home, with 4 bedrooms and an upstairs laundry and game room.
The Hudson at Cornerstone Villas is coming soon, and offers quick access to lots of activities and luxury conveniences like HOA-covered landscaping and snow removal
4 Charming Homes in Dayton You Can Buy Today
The Maxwell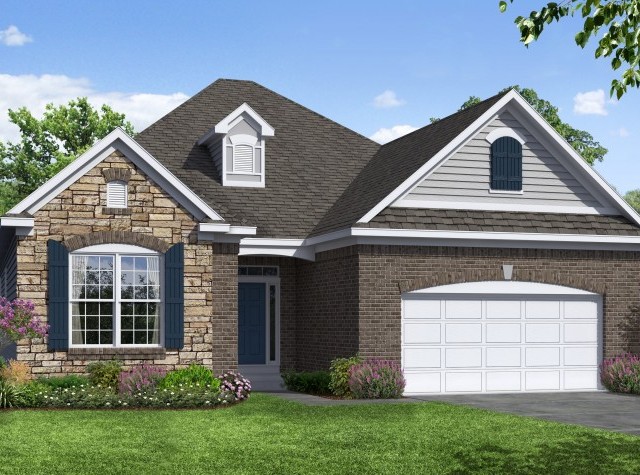 Address: 1002 Reeder Circle
Price: $469,900
Community: Reeder Grove
Located in the Reeder Grove community in Washington Township, this 3-bedroom, 2-bath Maxwell model is under construction and ready to buy! The home features a 2-car garage, gas fireplace in the great room, Florida room, walk-in pantry, top-of-the-line appliances in the kitchen, and more!
The Reeder Grove community is a patio home community and features amenities like scenic ponds and greenery, a clubhouse with a spa-like swimming pool and exercise facility, biking and walking trails, and tennis and basketball courts.
The Greyson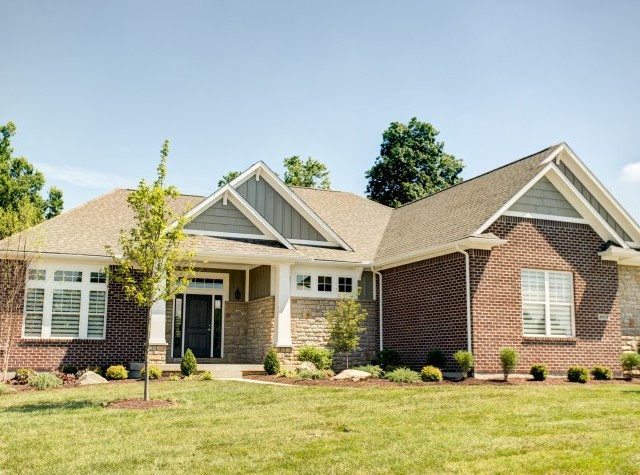 Address: 4018 Woodland Ridge Court
Price:  $644,900
Community: Woodland Ridge
Located in Woodland Ridge, this Greyson model is move-in ready today! The Greyson is a 3-bedroom, 2.5-bath home with features like a 3-car garage, walk-in pantry and oversized kitchen island, covered patio outside the dining area, and finished basement with a full bathroom and bar!
Woodland Ridge offers the best of both worlds when it comes to location. The community is conveniently situated close to major highways like 675, 35, and 75 and has nearby shopping and entertainment options in Centerville and Sugarcreek. It's also located in the desirable Bellbrook school district.
At the same time, it backs right up to the beautiful Sweet Arrow Reserve, which features acres of prairies, meadows, and woodlands, making Woodland Ridge the perfect spot for anyone who loves the outdoors or is seeking a private, peaceful place to live.
The Bradford II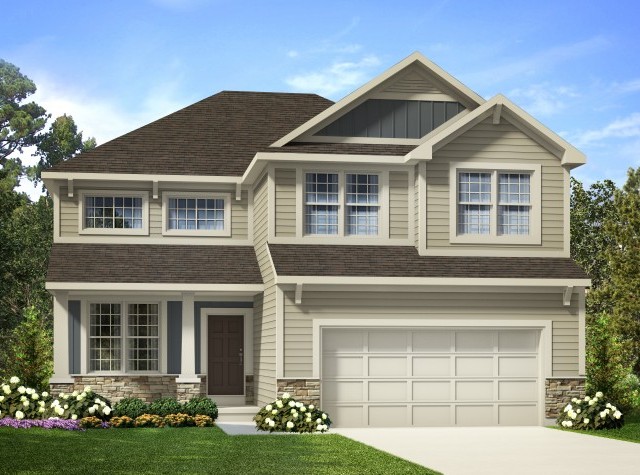 Address: 929 Sweeney Drive
Price:  $419,900
Community: Washington Trace
This Bradford II model is currently under construction and located in the Washington Trace community. It features 2 stories, 4 bedrooms, and 2.5 baths. It also offers an open concept floor plan, an outside patio off the kitchen, a gas fireplace, 2-car garage, and second-floor laundry and game rooms.
Washington Trace is located in Washington Township and falls within the Centerville school district. It's a quick drive from both downtown Dayton and Cincinnati, making it the perfect combination of city access and suburb living (ideal for commuters working in the city).
Like in Reeder Grove, residents at Washington Trace enjoy plenty of community amenities including a pool, exercise room, walking and biking trails, and clubhouse.
The Hudson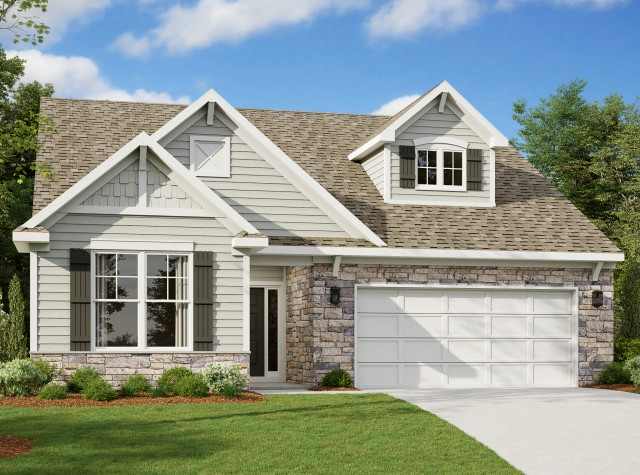 Address: Several available
Price:  $399,900 (base price)
Community: Cornerstone Villas
You can find the Hudson model in the new Cornerstone Villas community, now open! The Villas are in Centerville with convenient access to shopping, restaurants, nightlife, parks, and more. Nearby Sugarcreek Township is especially known for its outdoor scenery and public parks, featuring greenery as well as walking and biking trails to enjoy.
The Cornerstone Villas community will also keep a focus on luxury, with HOA-maintained properties to keep home facades looking beautiful (includes landscaping, trimming, mowing, fertilization, mulching, and snow removal — maximum convenience!) and the maintenance of the common outdoor spaces, too.
The Hudson model itself is a one-story home with 3 bedrooms, 2 baths, and a 2-car garage. The Hudson also features an open concept floor plan, an island in the kitchen, and patio off the back of the house.
Build Your Dream Home
The best part? All of these homes have customizable features that allow you to create a home that's perfect for you and your family. They have a perfect balance between community living and unique homes suited just for the people living in them.
Ready to learn how you can build your dream home? Contact Oberer Homes to get started.