Are you thinking about moving to Dayton? If so, you're likely wondering about the cost of living. Fortunately, there's good news: Dayton is one of the most affordable cities in Ohio. In fact, it's 9.8% below the average cost of living in the U.S.
Of course, there's more to explore in this complex topic. To help you make an educated decision, here's a breakdown of the various aspects of Dayton's cost of living.
Key Takeaways:
The cost of living is the total living expenses in a particular area.
Dayton has a lower cost of living than the national and state average.
Centerville and Oakwood are Dayton suburbs offering desirable benefits in exchange for the slightly higher cost of living.
What Does "Cost of Living" Mean?
Cost of living is the amount of money you need to maintain a particular lifestyle in a specific place. It takes into account every kind of living expense: mortgage or rent, groceries, taxes, transportation, education, healthcare, entertainment, and more.
Cost of living calculations compare income levels to the cost of goods, services, and housing in that location. Average income, even for the very same job, varies by city and state. For example, the median salary for a public school teacher in Los Angeles, CA, is $64,091. Someone with the same position in Birmingham, AL, earns a median wage of $57,449. This disparity indicates a difference in the cost of living.
You can compare the cost of living from one place to another using a cost of living index, which tracks and measures many data points related to income and cost in a particular area. There is no one "official" cost of living index, and there exist varied methodologies to calculate them, but you can find some reliable resources in the following places:
While they might use different methods, these indexes generally agree on the more and less affordable areas across the United States. The Missouri Economic Research and Information Center created a color-coded map where you can easily see how cost of living affordability shakes out throughout the country: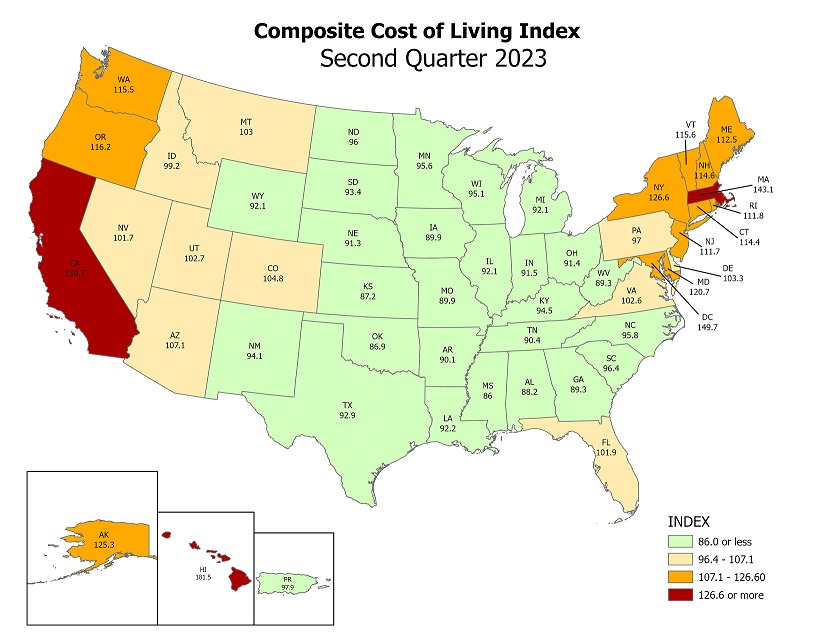 In most cases, calculators assign the national average cost of living the number 100 and score cities based on their comparison.
What Is the Cost of Living in Dayton, Ohio?
Overall, the cost of living in Dayton, OH, is lower than the national average. Best Places gives it an overall score of 71.1, making it more affordable even than the state of Ohio's average (82.7). Payscale reports that Dayton's cost of living is 6% lower than the national average.
Dayton's affordability is what makes it such an attractive place to live and work, especially given the many top careers it offers, particularly in areas like healthcare and technology. It's also just west of the Wright-Patterson Air Force Base, Ohio's largest single-site employer. A CBRE report recently recognized Dayton as the #1 city in the country for rising tech talent and is home to two of the area's largest healthcare systems: Kettering Health and Premier Health.
Dayton is also a city of great neighborhoods and surrounding suburbs, such as Washington Township. Your cost of living in the Dayton area will depend quite a bit on where exactly you choose to live. As you can see on the map from Best Places below, even within the Dayton area, you'll find quite a range in the cost of living index score.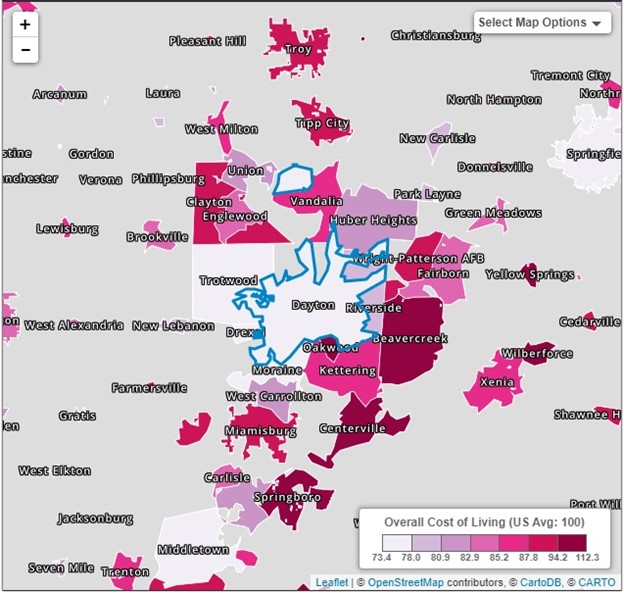 Dayton Metro
Dayton Metro has the lowest cost of living index score on the map, primarily thanks to the range of neighborhoods within the metro area. While areas like Downtown Dayton, the Oregon District, and Pheasant Hill will have above-average living costs, neighborhoods like South Park are more affordable but still desirable.
Oakwood and Centerville
Oakwood and Centerville are two of the most established and desirable suburbs in the Dayton area. Both come with a higher cost of living than the metro area, but the numerous benefits make it worthwhile. Both cities also boast school districts among the best in the state, especially Oakwood, which consistently ranks in the top 20 school districts in Ohio.
In both Oakwood and Centerville, move-in-ready homes are generally bigger, and most have plenty of outdoor space. Rather than the hustle and bustle of the big city, you'll find quieter residential streets. At the same time, there's easy access to amenities like restaurants, shopping, coffee shops, bars, and more. For professionals working in Dayton but raising their families in the suburbs, the commute is a quick 10 to 20-minute drive. It's the best of both worlds!
Beavercreek
Like Oakwood and Centerville, Beavercreek offers the convenience of being close to the city while providing the slower lifestyle of suburban living. Beavercreek has a slightly lower cost of living than the suburbs mentioned earlier, mainly because it's considered up-and-coming.
Beavercreek is an excellent choice for newcomers to the Dayton area or anyone looking for a change. Here, you'll find tree-lined neighborhood streets, 20+ parks and playgrounds, and The Green Towne Center, a retail hub where residents can live, shop, dine, and enjoy a buzzing community atmosphere.
Bellbrook
Bellbrook aligns with Beavercreek as another Dayton suburb with a middle-ground cost of living. Comparatively, living expenses are higher than Dayton Metro overall but lower than its neighbors, Oakwood and Centerville.
In Bellbrook, you'll find a tight-knit community with a population of just under 8,000, but still have plenty to do thanks to its many parks and charming downtown featuring restaurants, bars, and coffee shops. It's also close to Sugarcreek Township, which boasts SugarcreekMetro Park. Beavercreek is a perfect place for anyone wanting to enjoy the convenience of being close to Dayton Metro with the day-to-day quiet of small-town living.
Why Choose Oberer Homes for Your Dayton Area Residence?
If you're moving to the Dayton area, Oberer Homes can help you find the right home. With over 70 years in home construction, Oberer Homes delivers beautiful floorplans in inviting neighborhoods. Whether you want to design your residence from the ground up or prefer a move-in-ready house, these experts can help. To discuss your dream home, call 937-531-5505 or reach out online.