Are you thinking about moving to the Dayton area? Like any smart homebuyer, you're likely wondering about the cost of living in Dayton, Ohio compared to where you live now. We've got good news: Dayton is one of the most affordable cities in Ohio and the United States.
At the same time, it offers some of the best career opportunities, neighborhoods, outdoor green spaces, and community atmospheres you could ask for in a big city!
In this article, we'll take a look at what it really means to evaluate your cost of living, then dive into cost of living scores for the Dayton metro and some of its most popular suburbs.
What does cost of living mean?
Cost of living is the amount of money you need to maintain a particular lifestyle in a specific place. It takes into account every kind of necessary living expense: mortgage or rent, groceries, taxes, transportation, education, healthcare, entertainment and more.
Cost of living calculations are based heavily on how income levels compare to the cost of goods, services, and housing in that location. Average income, even for the very same job, varies by city and state. For example: the median salary for a public school teacher in Los Angeles, California is $68, 625. Someone with the same position in Birmingham, Alabama earns a median salary of $57, 449. This disparity indicates a difference in the cost of living.
You can compare the cost of living from one place to another using a cost of living index, which tracks and measures many data points related to income and cost to determine the cost of living in a particular area. There is no one "official" cost of living index and varied methodologies are used to calculate them, but you can find some reliable resources in the following places:
While they might use different methods, these indexes generally agree on the areas that are more and less affordable across the United States. The Missouri Economic Research and Information Center created a color-coded map where you can easily see how cost of living affordability shakes out throughout the country: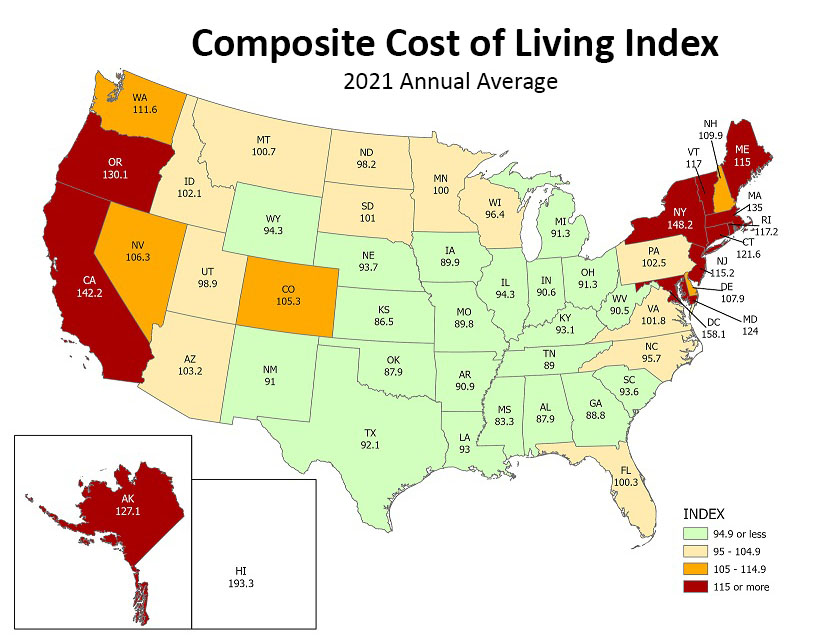 In most cases, the national average cost of living is assigned the number 100, and cities are scored based on their comparison to that number.
What is the cost of living in Dayton, Ohio?
Overall, the cost of living in Dayton, Ohio is lower than the national average. Best Places gives it an overall score of 71.4, making it more affordable even than the state of Ohio's average (82.6). Payscale reports that Dayton's cost of living is 9% lower than the overall national average.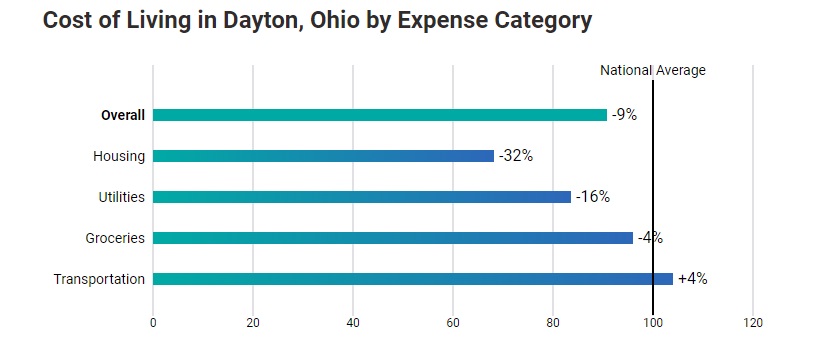 Dayton's affordability is what makes it such an attractive place to live and work, especially given the many top careers it offers, particularly in areas like healthcare and technology, and at the Wright-Patterson Air Force Base (Ohio's largest single-site employer). Dayton has recently been named the #1 city in the country for rising tech talent and is home to two of the area's largest healthcare systems: Kettering Health and Premier Health.
Dayton is also a city of great neighborhoods and surrounding suburbs. Your cost of living in the Dayton area will depend quite a bit on where exactly you choose to live. As you can see on the map from Best Places below, even within the Dayton area, you'll find quite a range in the cost of living index score.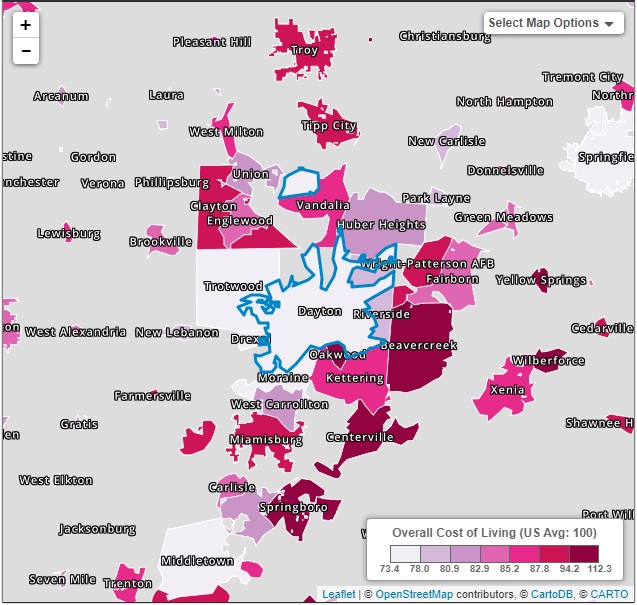 Let's focus in on some of the most popular areas in and near Dayton to see what the cost of living is like in each.
Dayton Metro
Dayton Metro has the lowest cost of living index score on the map, primarily thanks to the range of neighborhoods within the metro area. While areas like Downtown Dayton, the Oregon District, and Pheasant Hill will have above average costs of living, neighborhoods like South Park are still desirable but more affordable.
Check out our guide to Dayton's neighborhoods to learn more about some of the most popular places to live in Dayton metro.
Oakwood and Centerville
Oakwood and Centerville are two of the most established and desirable suburbs in the Dayton area. Both come with a higher cost of living than the metro area, but this higher cost comes with numerous benefits that make it worthwhile. Both areas also boast school districts among the best in the state (especially Oakwood, which consistently ranks in the top 20 school districts in Ohio).
In both Oakwood and Centerville, homes are generally bigger and most have plenty of outdoor space as well. Rather than the hustle and bustle of the big city, you'll find quieter residential streets. At the same time, there's easy and quick access to amenities like restaurants, shopping, coffee shops, bars, and more. For professionals working in Dayton but raising their families in the suburbs, the commute is a quick 15-minute drive. It's the best of both worlds!
Beavercreek
Like Oakwood and Centerville, Beavercreek offers the convenience of being close to the city while offering the slower lifestyle provided by suburban living. Beavercreek has a slightly lower cost of living than the aforementioned suburbs, mainly because it's considered more up-and-coming than long-established.
For newcomers to the Dayton area or anyone looking for a change, Beavercreek is a really great choice. In the area you'll find tree-lined neighborhood streets, 20+ parks and playgrounds, and The Green Towne Center, a retail hub where residents can live, shop, dine, and enjoy a buzzing community atmosphere.
Bellbrook
Bellbrook aligns with Beavercreek as another Dayton suburb with a middle-ground cost of living: higher than Dayton metro overall but lower than its neighbors, Oakwood and Centerville. In Bellbrook you'll find a tight-knit community feel (its population is just under 8,000 total) but still have plenty to do thanks to its many parks and charming downtown featuring restaurants, bars, and coffee shops. Beavercreek is a perfect place for anyone wanting to enjoy the convenience of being close to Dayton metro with the day-to-day quiet of small-town living.
If you're moving to the Dayton area, Oberer Homes can help you find the home that's right for you. Contact us today to get started!