The Dayton area has plenty to offer when it comes to exploring the great outdoors, including mountain biking areas featuring trails for all experience levels! Whether you're new to mountain biking or you're an experienced rider, you'll enjoy the scenery and on-trail activity features on Dayton's many trails.
The best part? These areas were designed specifically with mountain bikers in mind.
Here are three great areas for mountain biking — Five Rivers MetroParks, John Bryan State Park, and Duke Park in nearby Troy — and a guide to some of their most popular trails.
MetroParks Mountain Biking Area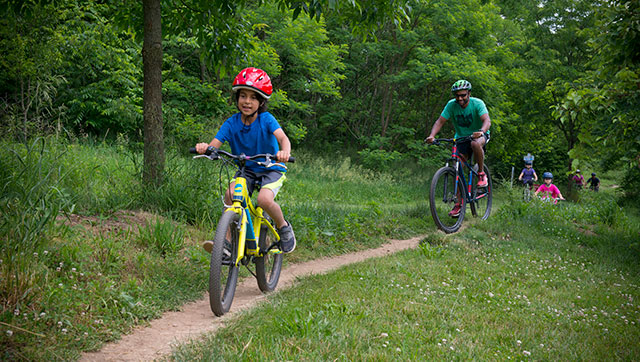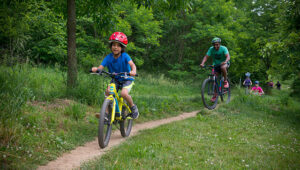 The MetroParks Mountain Biking Area (MoMBA) is located in Huffman MetroPark and features 9+ miles of mountain biking trails for riders of all experience levels. The trails include a variety of terrains that go through ridges, creeks, and hills. Pedestrians aren't permitted on the mountain bike trails, so riders can enjoy a less-trafficked area without the safety concerns that come with sharing the trail.
Here's a quick guide to the MoMBA trails by experience level:
Beginner
Tot Track
Perfect for children learning to bike, the Tot Track is specially-designed for balance bikes and gives young beginners a place to ride on natural terrain that mimics what they'll find on larger trails.
Hilltop Flow
This half-mile route only takes a few minutes to complete and is a perfect first trail for beginner riders of all ages. Hilltop Flow also features optional progressions that serve as great practice for riders getting ready to try some more difficult trails.
Voodoo
Voodoo is a flatter trail also great for beginner riders. More advanced riders on the Voodoo Trail can take the optional jump to expert-level trail Hawk's Lair.
Twisted
Twisted is good for beginners but also works as a transition trail for riders preparing for the single-track style of the higher-level traditional trails. Named after the twisted grape vine that once ran along its route, Twisted is a quick (less than half mile) trail that leads to Five Points Junction.
Intermediate
Upper and Lower Stealth
Upper and Lower Stealth trails are both intermediate level. Upper Stealth is a hilly route with wide turns, leading on one end to Five Point Junction and on the other to Creekside Trail. Lower Stealth also has its share of turns and uphill climbs. It connects Five Points Junction and Wild West Junction, where more advanced riders can access Hawk's Lair.
Mr. Zig Zag
Mr. Zig Zag trail is one of the best downhill rides in the park or a challenging uphill route, depending on which way you take it. Start counterclockwise out of Five Points Junction to go down or clockwise to go up. Either way, Mr. Zig Zag is a closed loop and a quick trail for riders who want to start and end in the same place.
Creekside
Creekside is the longest intermediate trail in the MetroParks Mountain Biking Area. It's a fun route positioned on either side of a scenic rock-bottom creek, featuring two large bridges, five total creek crossings, and several intermediate-level uphill climbs.
Difficult
Hawk's Lair
More advanced riders will love Hawk's Lair trail, which features some of the best rock riding in the area. The rocks in Hawk's Lair are diverse — you'll find cobble, exposed bedrock, and limestone boulders. Riders will also be challenged by the trail's quick elevation changes, polymer bridge crossing over Hamilton Ravine, and climbs along a wooded cliff at The Spiral.
The Talon
The Talon trail is the most advanced trail in the MetroParks Mountain Biking Area, built for the most experienced riders. It's accessible from Hawk's Lair and features a long, elevated wooden skinny and nearly vertical rock climbs.
John Bryan State Park
John Bryan State Park MTB Trails (video)
John Bryan State Park is already a favorite for hikers in the Dayton area. Mountain bikers will also enjoy the Park's nearly 10 miles of biking trails built and maintained by the Miami Valley Mountain Bike Association (MVMBA) in partnership with the Park itself.
Here are some of the trails you'll find at John Bryan:
Abracadabra
Abracadabra trail is just over two miles and well-suited for beginners, featuring a flowy route and mostly downhill track. Riders on Abracadabra will also enjoy the plant communities that run along the course.
Powerline
Powerline is appropriate for beginner and intermediate riders and has plenty of twisty turns. It also features creek crossings, a boardwalk, and elevation changes throughout. It may not be the best option for a very first ride, but it's great for riders working on their balance and turning skills.
Great Scott
Great Scott is John Bryan State Park's longest mountain biking trail at just over 7 miles. It's appropriate for both beginner and intermediate level riders. Great Scott has the biggest ramp in the park and also features creek crossings, boardwalks, and a few climbs.
Troy Mountain Biking Area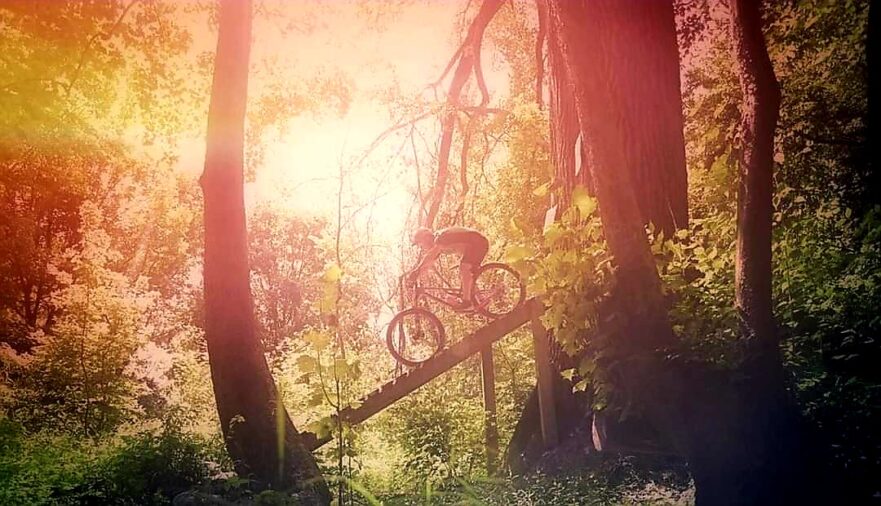 The Troy Mountain Biking Area (TMBA) is located in Duke Park, about a 25 minute drive from Dayton proper. It features several trails in a wooded area along the Great Miami River. Since it was founded in the 1990s by local biking enthusiasts, it has undergone several upgrades and today is a great spot for riders of all experience levels.
The Troy Mountain Biking Area features 10+ bidirectional trails. Here's are some of the most popular:
Adventure Loop
Adventure Loop is popular for beginners thanks to its simplicity. It's a quick 1.25 mile loop without bells and whistles but perfect for new riders testing out their ability on natural terrain.
Skills Trail
Skills Trail is considered easy but features tons of twists and turns. Riders will have fun on its pump track, skinny, and rock garden features.
Barn Trail
Barn Trail is a straight-shot route that's just over a half mile and appropriate for both beginner and intermediate riders.
Duke/Robinson
Duke/Robinson is a scenic, flowy route and the longest of the Troy Mountain Biking Area trails at just under 3.5 miles. It's a good trail for both beginners and intermediate riders.
Swampy Ridge
Swampy Ridge is one of the Troy Mountain Biking Area's original trails. It's a quick .52-mile route that's better for intermediate riders with some experience.
Find Your Dayton Dream Home
Are you moving to the Dayton area? Let Oberer Homes help you build your dream home. Contact us today to get started!