Curb appeal is what gives guests, neighbors, and potential homebuyers their first impression of your home. It also increases your home's value. A recent study by the University of Alabama and the University of Texas at Arlington found that homes with high curb appeal sell for 7% more on average (and up to 14% in slower markets!) than those without it.
And one of the biggest determiners of your curb appeal? Your landscaping!
Landscaping doesn't have to live only in the garden, either. It can extend to your driveway and the edges of your property so that it looks appealing from every view. We've put together a list of driveway planting ideas that are sure to spruce up your home's appearance in no time!
Quick Takeaways
Driveway plants increase curb appeal but serve other purposes too, like guiding visitors and providing privacy.
The USDA Plant Hardiness Zone Map helps gardeners and landscapers identify which plants can thrive in their location.
Homeowners should consider their irrigation system's reach and available sunlight when choosing driveway plants.
Evergreens, flowering herbs, annual and perennial flowers, shrubs, and ornamental grass are 5 popular types of driveway plants.
Things to consider when you plan driveway landscaping
Before you begin planting, there's a few things to keep in mind as you look for driveway planting ideas that work for your home. Here are some of the most important considerations:
Purpose
Why have you decided to add driveway plants? Are you simply looking to up your curb appeal? Do you need to guide visitors toward a certain entrance to your home? Do you want more privacy? The reasons behind your decision to landscape your driveway area will largely affect the types of plants you will choose.
Style
What is the style of your home? Sleek and modern? Country cottage? Mediterranean? Classic colonial? You want your driveway plants to be an extension of your home and accurately reflect its style. Think about your personal style, too. Do you have favorite colors you want to include? A type of aesthetic you've always pictured? Steer your landscaping plan in the right direction by knowing what works well with your home and fits with your unique preferences.
Irrigation
Different plants need different amounts of water. If you're depending on an irrigation system to be the water supply for your plants, make sure your system extends to the driveway areas where you'll be planting.
HSDA Plant Hardiness Zone
The HSDA Plant Hardiness Zone Map was created to help gardeners understand which plants can thrive in their particular location. The map is based on minimum winter temperature. Most of Ohio (including the Miami Valley) falls under Zone 6.
Shade vs. Sun
No matter what the temperature, plants need varying amounts of sun to grow and thrive.
Full sun plants – 6 hours of direct sunlight every day
Part shade plants – 3-6 hours of direct sunlight every day
Full shade plants – Less than 3 hours of direct sunlight every day
It's important to track how much sunlight your driveway areas receive so you can choose plants that will succeed on your property.
5 driveway plans that increase your curb appeal
Evergreens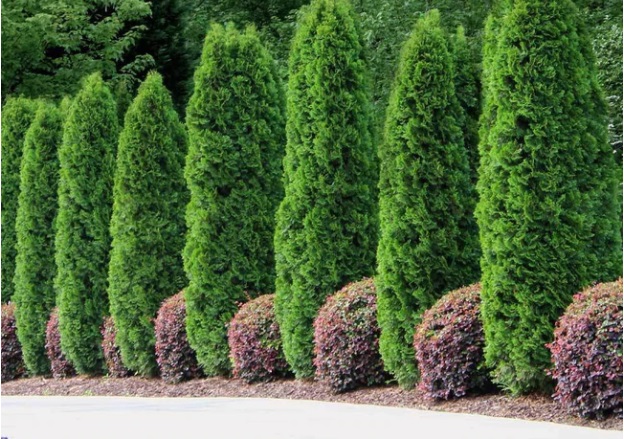 If privacy is your priority, evergreens should be a top driveway plant choice for you. They make perfect plants for driveway borders, provide a tall and lush privacy screen, and offer the added benefit of blocking cold winds and other elements from your home.
Popular evergreen choices include the Leyland Cypress, Norway Spruce, Emerald Green Arborvitae, and Wintergreen Boxwood.
Flowering herbs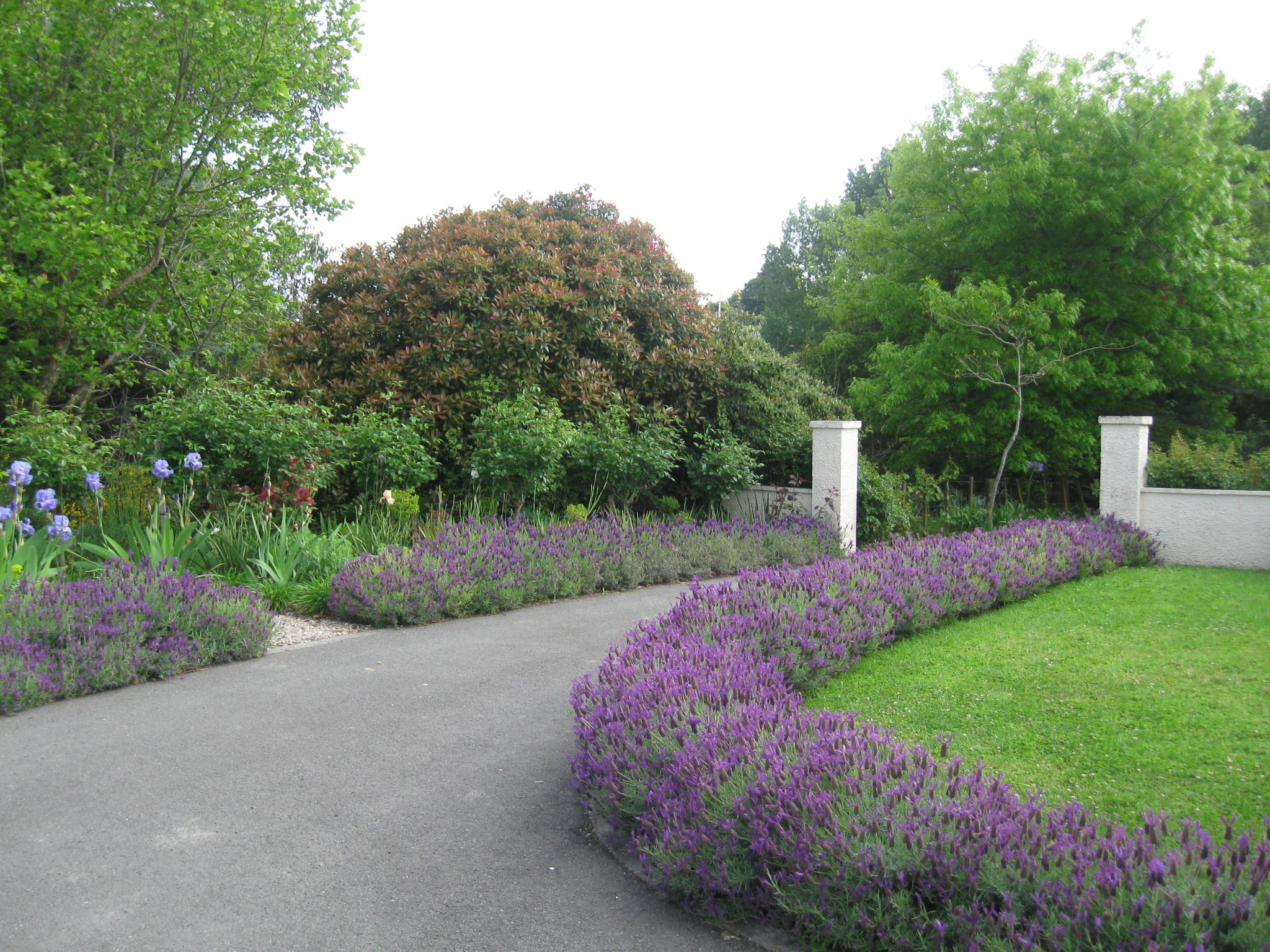 Flowering herbs are a driveway plant that plays to the senses! They look beautiful, have strong scents, and taste fantastic. Herbs are an easy choice for beginner gardeners — they're quite independent and can withstand a wide range of temperatures to boot. Not to mention that they serve the dual purpose of providing fresh ingredients for the home cook's kitchen!
Herbs that would specifically make great plants for driveway borders include sage, lavender, silver thyme, and rosemary.
Low-growing annuals and perennials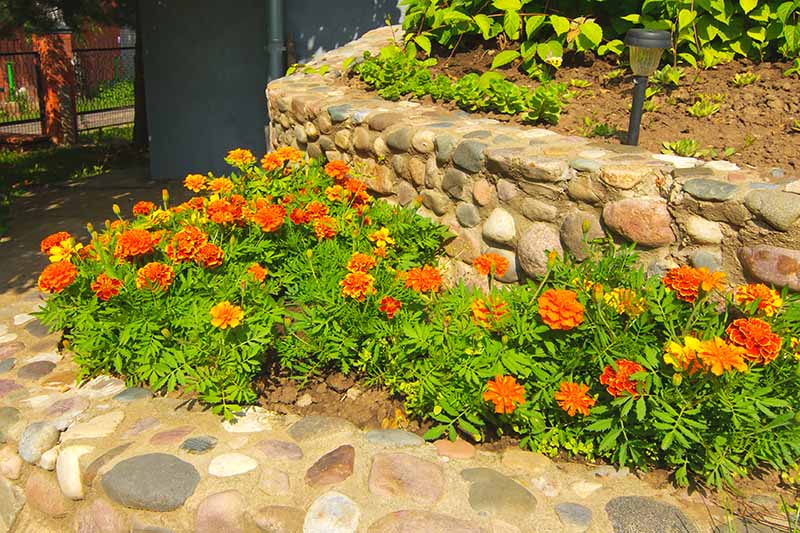 Low-growing annual and perennial flowers work really well positioned in the front of your driveway landscaping areas. They provide a welcome pop of color without growing too high so that taller plants behind them can still be seen.
Annuals like marigolds, geraniums, and impatiens are beautiful but complete their life cycle in one season, so they'll need more care in order to grow again (and sometimes need to be replanted completely). Perennial flowers like peonies, black eyed susans, and daylilies can be counted on to return on their own.
Flowers are a fun addition because you can mix and match and use them to accent your larger, more permanent driveway plants.
Shrubs
Shrubs are another great choice for homeowners looking to add privacy to their property. Taller and lush in texture, shrubs are also an excellent way to cover lots of ground with plants that don't require too much work. In fact, shrubs are often referred to as "can't- kill" plants because they do so well surviving on their own.
They can also add a big pop of color to your driveway border! Some popular favorites include forsythia, hydrangeas, summersweet, bottlebrush buckeye, and spirea.
Ornamental grasses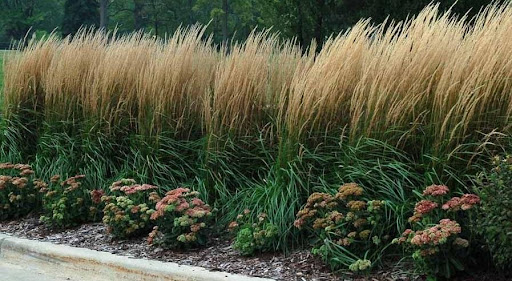 Last but not least are ornamental grasses. They're a bit like the middle-child of driveway plants, accenting the evergreens, shrubs, and flowers that catch more attention. But ornamental grasses can add beauty to your driveway and be the final filler that makes your landscaping look complete.
Even better, most are hardy and easy to care for. Some popular ornamental grass options include blue fescue, silver feather maiden grass, feather reed grass, and tufted hair grass.
If you're moving to the Dayton area, Oberer Homes can help you find the home that's right for you. Contact us today to get started!