The summer months are fast approaching! As we finally shake off another midwest winter and get ready for weeks spent in the sun, you might be wondering where you can find swimming holes in Dayton, Ohio to help beat the heat.
If so, you're in luck — Gem City is just a short drive from many of the state's best places to swim. They're perfect for enjoying sunny summer days surrounded by the stunning nature at Ohio's parks and lakes.
The natural swimming holes in areas surrounding Dayton in southwest Ohio offer unique outdoor experiences and the option to make it a day trip or a weekend-long getaway.
In this article, we'll check out 6 of the best swimming holes near Dayton to try out this summer!
6 of the Best Swimming Holes in Dayton, Ohio
Mineral Springs Lake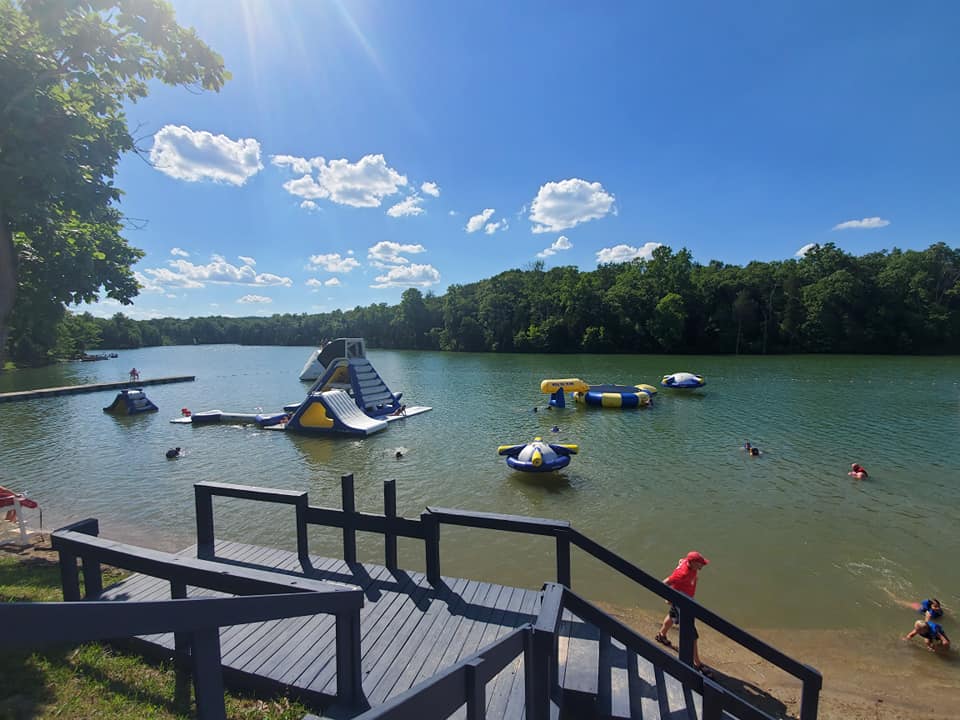 Mineral Springs Lake Resort is a bit of a drive for Daytonians — a little under two hours southeast of the city — but it's worth it for a day or weekend of swimming fun. Located on a 500-acre campground, visitors can swim, boat, kayak, canoe, and fish in the clear, refreshing spring-fed waters at Mineral Springs.
The beach and swimming area itself features a fun inflatable water park. There's a store and snack bar where beachgoers can grab a bite to eat during their visit. And if you'd like to stay the weekend, there are 421 campsites surrounding the lake.
Caesar Creek State Park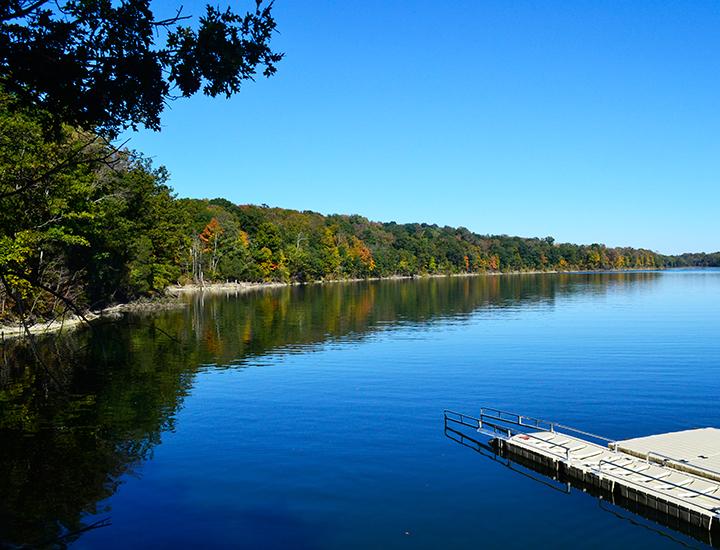 About 40 minutes southeast of Dayton is Caesar Creek State Park, a favorite swimming hole for people living in the greater Dayton and Cincinnati areas. Caesar Creek State Park features a 1300-foot public beach with designated swimming areas. The lake also has a marina and allows boating, canoeing, kayaking, and fishing.
If you need a break from the sandy beach you can enjoy lunch at one of the several picnicking areas located around the park (tables and grills available) or spend time exploring shadier areas throughout the surrounding woods.
Like Mineral Springs, you can also make a weekend out of your trip to Caesar Creek by staying at their campgrounds.
Indian Lake State Park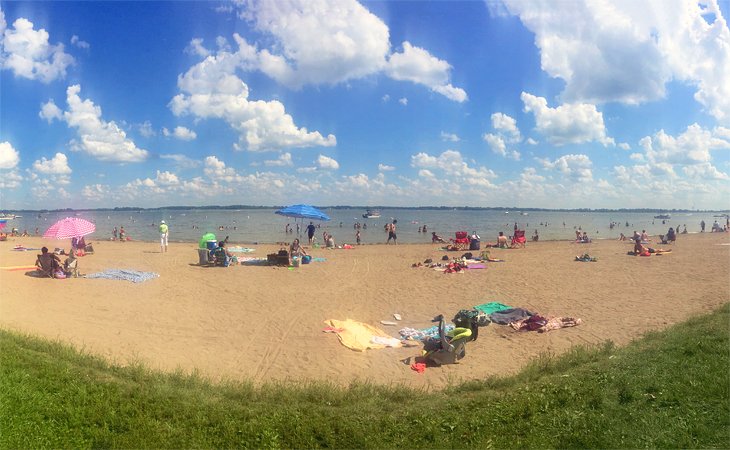 Indian Lake State Park also features a public beach spanning 1,400 feet of uninterrupted lake access. About an hour north of Dayton, here you'll find many of the same amenities as Caesar Creek, including picnic areas with tables and grills. At Indian Lake you can also reserve shelter houses with electrical outlets, tables, grills, and parking areas.
Other features of the park to enjoy are its many scenic walking trails, playground, archery range, and disc golf course. Campsites are available if you want to stay overnight, and there's even a dog park for your furry friends who may be joining you on the trip (keep in mind, dogs are not permitted on swimming beaches).
Grand Lake St. Mary's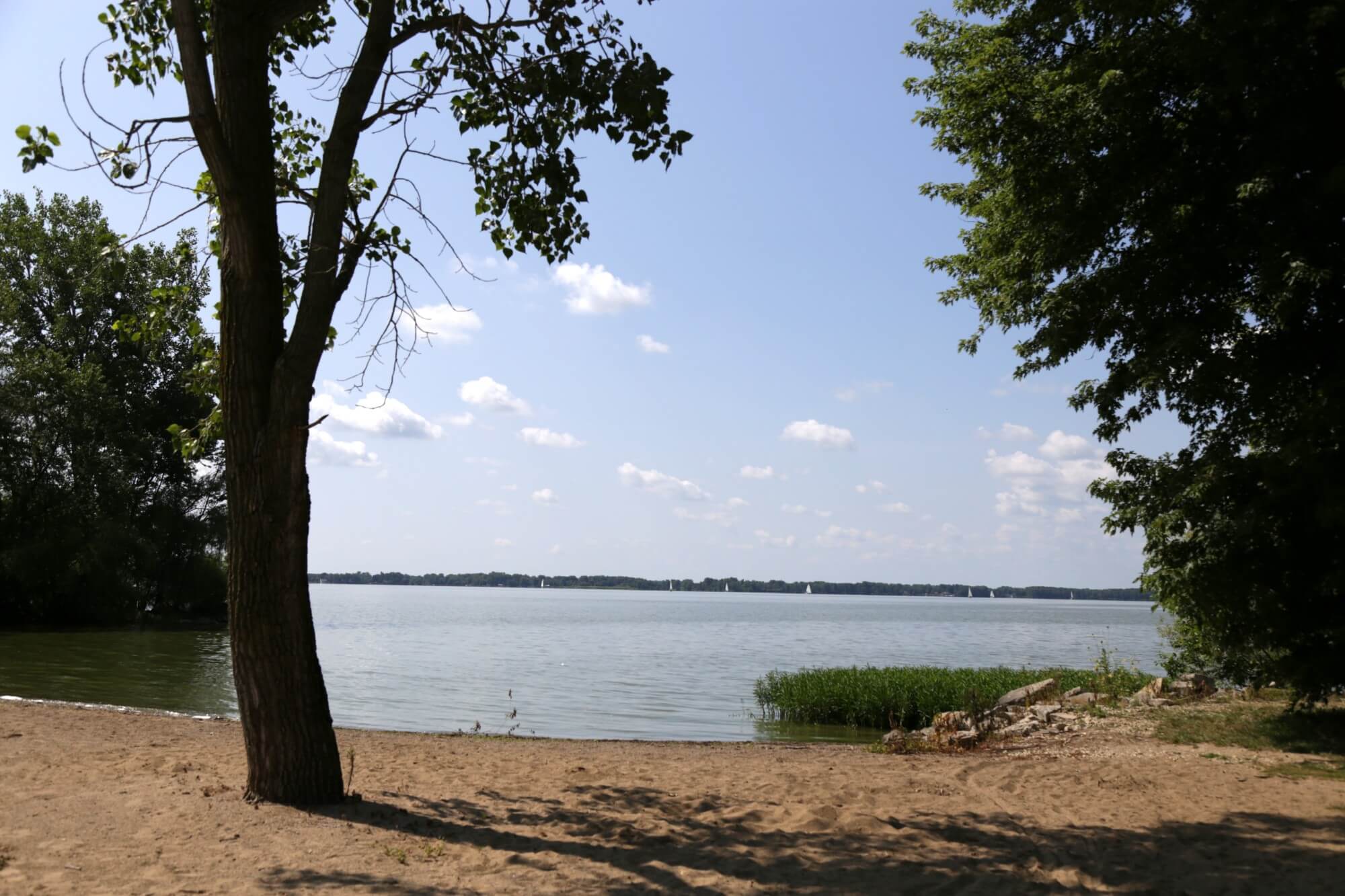 Also north of Dayton (and a little to the west) is Grand Lake St. Mary's State Park. The park features four designated swimming areas surrounding the lake (as well as other swimming areas for boaters). Visitors can take a break at the picnic areas (with tables and grills) or, like at Indian Lake, reserve one of their four shelter houses.
If staying in the great outdoors overnight isn't your thing, Grand Lake St. Mary's may be the best choice of campground for you if you plan to make your trip a weekend-long getaway — they offer cabins on their campground. Dogs are also permitted in the park at Grand Lake St. Mary's but are not allowed on the swimming beaches.
Buck Creek State Park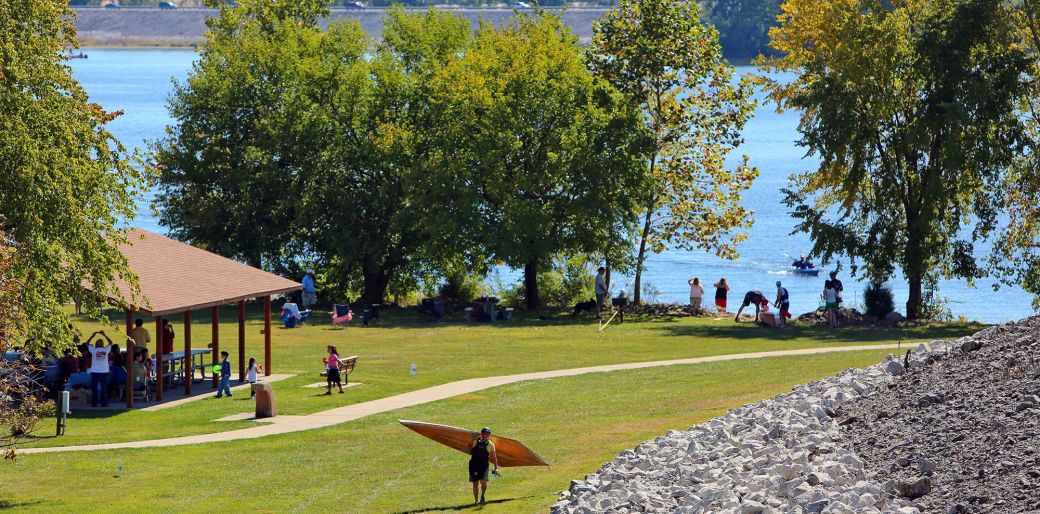 Buck Creek State Park is about a half hour northeast of Dayton in nearby Springfield. It features an expansive 2,400-foot beach around the lake — one of the largest in the area. Swimming is allowed at designated spots, and in other areas you'll find boaters, anglers, kayakers, and water skiers out on the waters.
Like the other state parks on our list, Buck Creek also features picnicking areas and reservable shelters, walking trails, 25 cabins, and regular campsites.
Hueston Woods State Park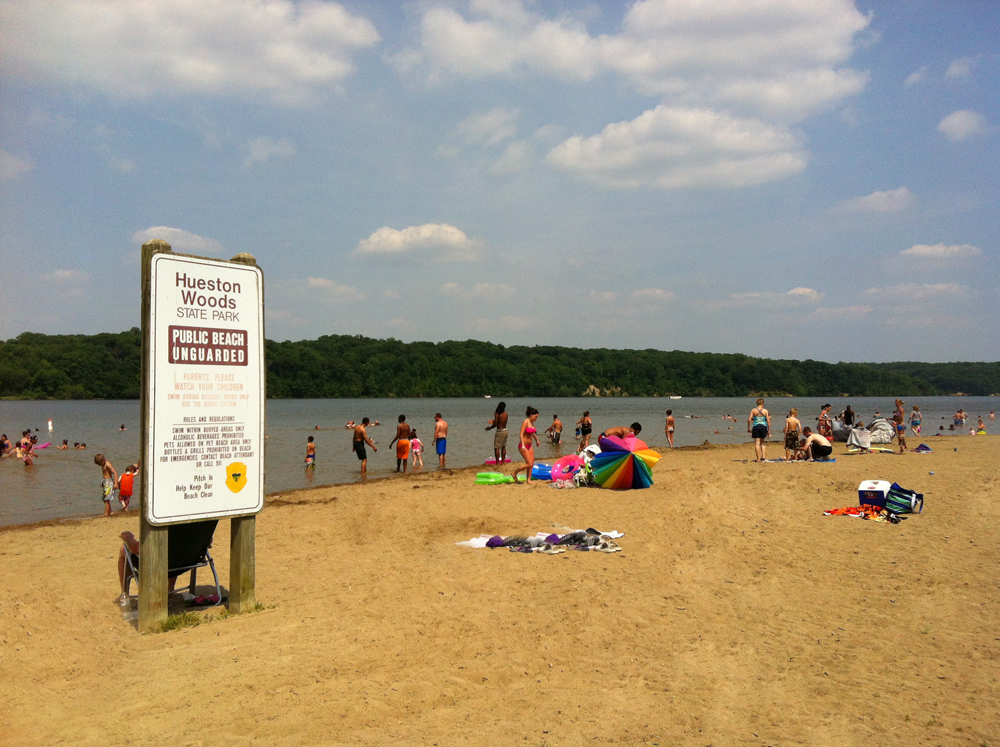 Hueston Woods State Park has a few different swimming options. Visitors can take a dip in Acton Lake and relax on the 1,500 foot beach that surrounds it. There are several picnic areas where day-trippers can park their cars, cool off throughout the day, eat lunch, and use the restrooms.
Overnight guests also have access to the swimming pools at the lodge. There is an indoor pool, outdoor pool, and children's wading pool (there is a lifeguard on duty at the outdoor pool).
If you're planning a move to the Dayton area, Oberer Homes can help you find the home (or build!) the home that's right for you. Contact us today to get started!