Fishing in Dayton, Ohio is one of the most popular outdoor activities every month of the year. From the Five Rivers MetroParks to lakes in nearby areas, you'll find anglers dropping their lines no matter what the temperature or outdoor conditions.
We've put together a list of 4 important things to know before you go fishing in Dayton — best spots to choose, license requirements, and more!
Quick Takeaways
Trout, sunfish, catfish, bass, and crappies are popular fish found in Dayton, Ohio waters.
Five Rivers MetroParks features tons of options for fishing spots in Dayton and surrounding areas.
You need a license to fish in most places in Dayton, unless you're under age 16 or it's one of Ohio's official Free Fishing Days.
Ice fishing is a popular activity in Dayton's winter months, and popular spots include Indian Lake and Grand Lake St. Mary's.
Fishing in Dayton, Ohio: 4 Things to Know
What kind of fish will you catch in Dayton waters?
Dayton is known for its populations of Rainbow Trout, Bluegill Sunfish, Channel Catfish, Smallmouth Bass and Crappies. But depending on which spot you choose, you can expect to find a wide range of fish species in addition to those most commonly found.
What are the best spots to fish?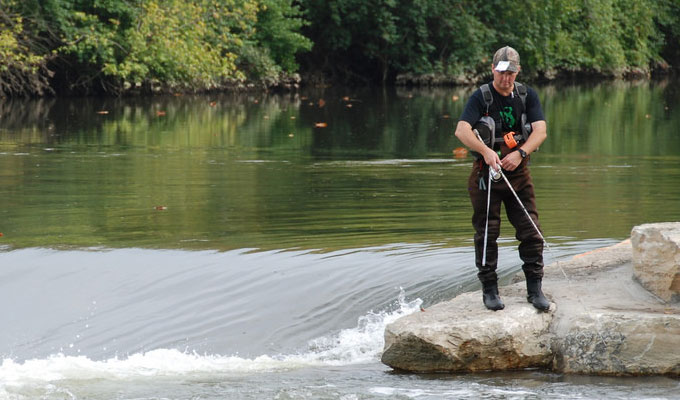 The short answer: there are too many to list! Dayton's expansive Five Rivers MetroParks system and numerous surrounding lakes make for a long list of options for anglers looking for a place to cast a line.
Some of our favorites include:
Eastwood Lake and Blue Lake – Fed by the Mad River, these smaller lakes are deep, with colder water and bigger fish. If you prefer a boat to fishing from shore, this is a great spot to try. From April through October you can even night fish on the lakes — they're both open 24/7 during that season.
North Park and Martindale Ponds in Englewood MetroPark – Another great place for bass, these ponds are tucked away in a wooded area and benefit from Great Miami River overflow when it rains.
Great Miami River – Dayton's most popular destination for Smallmouth Bass, the Great Miami bait fishing, fly fishing, and spinning. You can choose to fish from shore or use a kayak or paddle boat to get to deeper waters.
Twin Creek MetroPark – Twin Creek features three great fishing spots in Twin Creek, Lake George, and Dogwood Pond. You'll find bass, catfish, and crappie in these spots, and Lake George features an ADA-accessible pier.
Check out our full list of Where to Fish in Dayton, Ohio.
Where do you need a fishing license (or not) in Dayton?
In most places of Dayton's top fishing spots, you will need a license. There are some exceptions, though, including:
Argon Lake and Ponds at Possum Creek MetroPark – Fish here free of charge and without a license. They're stocked with catfish during the summer and trout in the winter.
Cedar Lake and North Woods Pond in Carriage Hill MetroPark – No license is required here, but bass do need to be thrown back. You can keep sunfish and crappie from this location.
Dogwood Pond and Lake George at Twin Creek MetroPark – Unlicensed anglers can fish here, but must catch and release. Here you'll find bass, carp, and bluegill.
Of note: anyone age 15 or under is not required to have a license to fish (but they should have a state issued identification card). There are no license requirements for private ponds. In addition, the Ohio Department of Natural Resources offers free fishing days (this year's just past on June 18th and 19th).
How do you get a fishing license in Dayton?
A fishing license in Ohio is $25 and good for one year after purchase. They can be bought online or at any hunting or fishing agent location.
To buy online, visit the website for Ohio's Wildlife Licensing System.
What about ice fishing?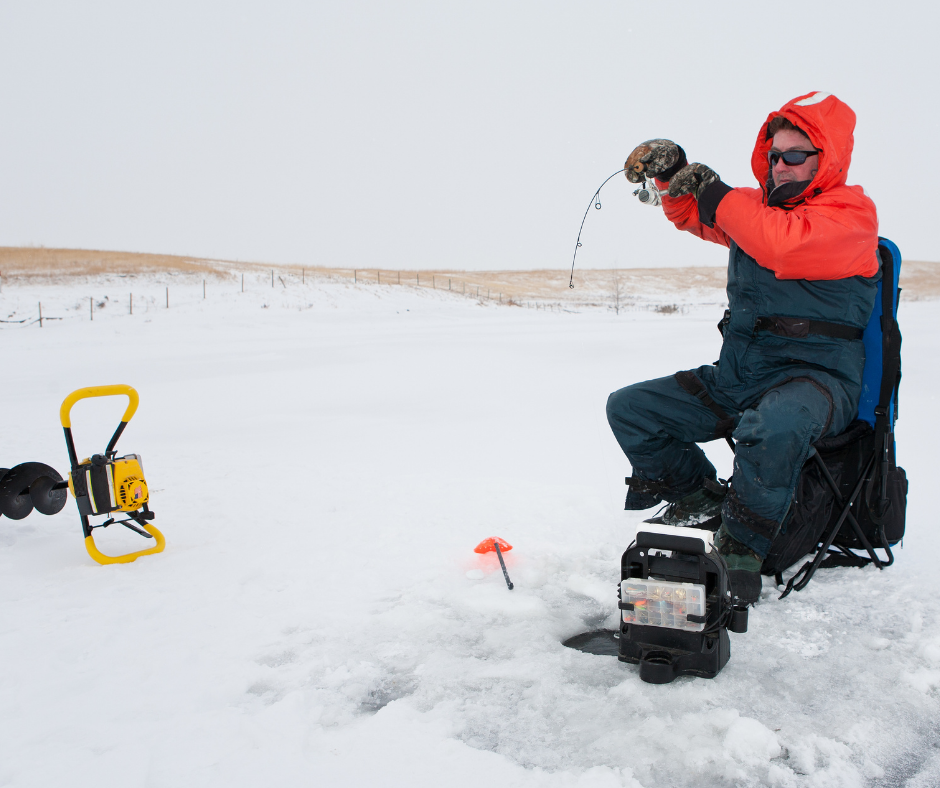 For many anglers in Ohio, skipping the winter is not an option — it can go on for many long, cold months! Fortunately, ice fishing is allowed in many of Ohio's top fishing spots and is a popular activity in the Dayton area. The best time for ice fishing in Dayton is after the first ice of the season (because the temperature is right but the snow cover isn't too deep) but it's not limited to that time, and many anglers ice fish at all times during the winter.
Some top ice fishing spots in Dayton include:
Five Rivers MetroParks – Top spots for ice fishing in Dayton's MetroParks are Cedar Lake and Pond at Carriage Hill MetroPark, Englewood MetroPark fishing ponds, and Possum Creek fishing ponds.
Indian Lake at Indian State Park – One of the most expansive spots for ice fishing near Dayton, it features 5,800 acres of lake surface.
Grand Lake St. Mary's – This spot can be a bit more unpredictable due to its more southern location. But when the lake does freeze, you'll find plenty of fishers hunkering down to ice fish.
Kiser Lake State Park – Located just under an hour from Dayton, Kiser Lake itself is a popular ice fishing spot, and the park also offers other winter activities like hiking, ice boating, and sledding.
Check out our full list of great Ice Fishing Spots Near Dayton, Ohio.
Moving to Dayton? Oberer Homes can help you find (or build!) a home you love. Contact us today to get started!