Paint may be one of the easiest DIY projects and an affordable way to upgrade the look of your space — but forgetting to test paint colors before you use them can lead to a headache. There's a high likelihood the color you choose will look different on your walls than they do on samples. Failing to test them on your actual walls may mean additional time and effort spent changing the color after it's finished, or else settling for a paint color you don't truly love.
In the sections that follow, we'll cover the ins and outs of testing paint colors and 7 tips for testing them the right way to guarantee the results you want and expect.
Quick Takeaways
Paint looks different on actual walls than it does on swatches or test strips.
It's best to choose more permanent finishes (especially flooring) before paint colors.
Paint has different finishes and you should test paint colors in the finish you intend to purchase.
Using primer and painting a double coat ensures you get the truest shade.
Natural light and time of day can impact the appearance of paint colors on a wall.
Why do you need to test paint colors before you use them?
It's a good idea to always test paint colors before you use them for a full wall or an entire room — even when you're using neutrals or shades you're almost certain you'll like. Not only do paint colors look different on walls than they do in a store, they can even look different on multiple walls within the same room.
Other factors like wall texture and natural light in the room can impact how paint will look once it's done. Before you invest the time and money into having your entire room painted (or doing it yourself), you want to be certain about how the color will look in that exact space.
Test paint cans typically only cost about $10 (or less). Many stores and brands now even offer an easier option — peel-and-stick paint samples made from a double coat of the actual paint color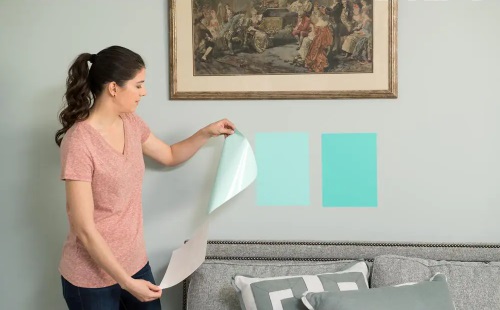 7 Tips for Testing Paint Colors the Right Way
Choose your flooring first
Paint is fun to choose — after all, the options are seemingly endless — so many homeowners jump to choosing their paint before other finishes, namely flooring. This is a mistake.
Whether you're planning to refinish hardwood floors, lay carpeting, or go with another option like stone or tile, you want to choose it first before you look for a paint color. It's much easier to find a paint color that goes with the flooring you choose than vice versa.
Take your time looking at options
Popular paint brands like Sherwin Williams or Benjamin Moore offer thousands of paint colors to choose from. Take your time and have fun with the process! Take a trip to the store to look at the actual paint swatches offered from different brands, and compare swatches before you select test paint colors to take home.
Get the right sheen
The sheen of your paint impacts the way it appears in your space and the overall feel of the room. The overwhelming majority of homeowners choose flat paint sheen, but you can also go with matte, eggshell, satin, or semi-gloss (listed in order of shiniest) if it's what you prefer.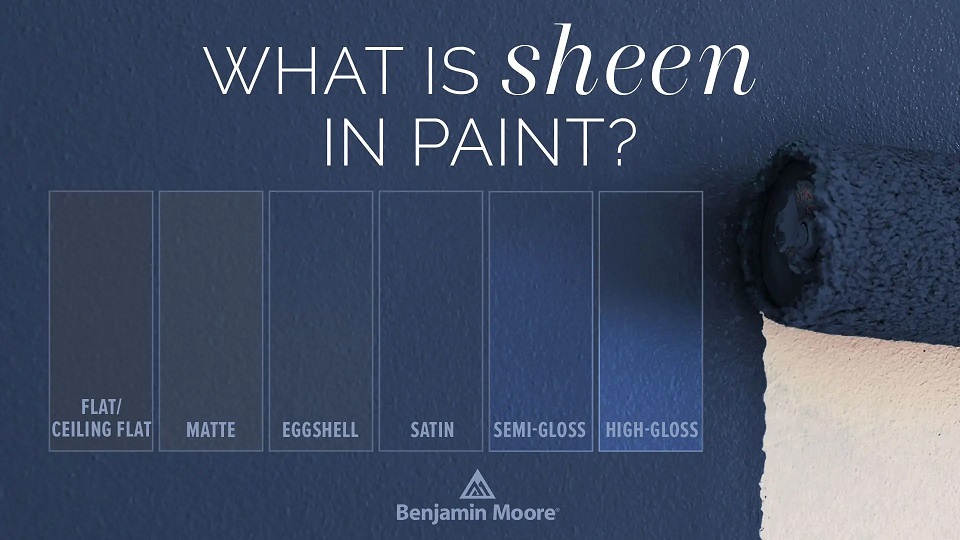 Keep in mind that glossier finishes typically make a room look more dated and also make imperfections in the wall and paint job more obvious. That said, they can be easier to clean, which is why you see them in many commercial spaces.
Test paint colors on the actual wall
Resist the urge to test paint on small wooden strips or white boards. As mentioned before, paint looks different on actual walls depending on the natural light of the room and the texture of the wall. Not only is it best practice to test paint colors on the actual wall, but it's even better to test on multiple walls to be certain about how it will look in a space.
Use primer
Paint primer is fairly inexpensive (about $10-$20 per can) and ensures the true shade you choose comes up on the wall and isn't impacted by the paint underneath. Some shades even require a primer in order to come up as expected.
Primer is particularly important if you already have a dark and/or rich color on the wall that will definitely affect the shade of the new color you choose when it's painted over.
Always do a double coat
Despite the claims of some paint companies and guarantees written on paint cans, you should always put a double coat of paint on the wall. It makes the color truer and creates the proper saturation so that your color appears even and in the shade expected. If you're using a bargain brand or a lighter color, you may even need three coats to get the color right on your walls.
Check at different times of day
Because the natural light in a room affects a paint color's appearance, it's important to check your test paint colors at different times of day and ensure you like them at every time. Depending on when you're usually home or the time of day you typically spend in a space, you may want to adjust your shade to make it appear exactly as you wish during a specific timeframe.
Over to You
When you build a custom home with Oberer, you buy a blank canvas for which you can choose paint colors you love. For further reading on paint color trends for different spaces in your home, check out the guides we've already written:
If you're ready to start your home search in the Dayton area, contact us today so we can help!